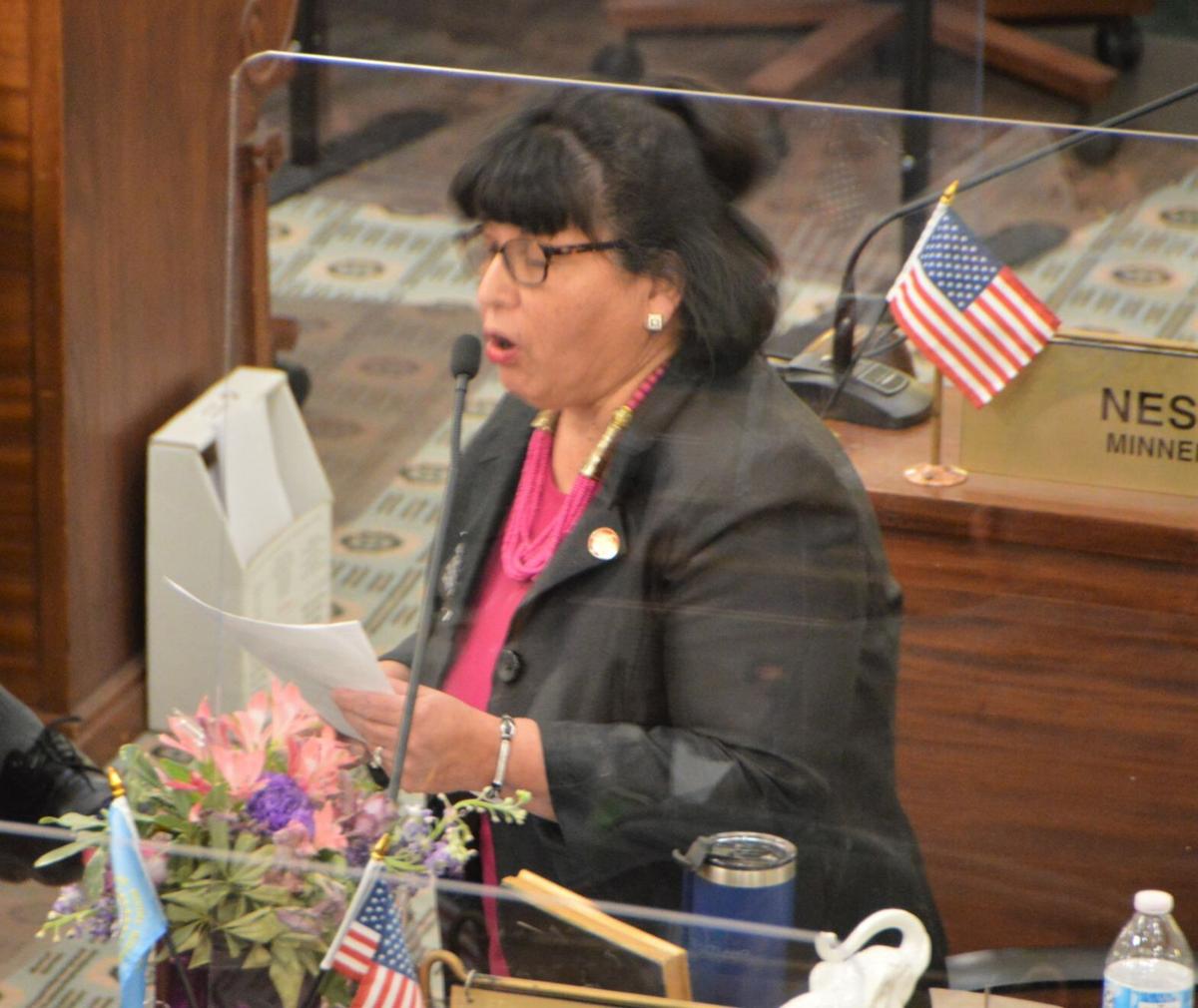 After being smoked out in the Senate, House Bill 1217 — a bill promoting fairness in women's sports by disallowing trans women to compete on women's teams — passed the Senate on Monday by a vote of 20-15.
Gov. Kristi Noem voiced her approval of the bill via Twitter and indicated she would sign it.
"In South Dakota, we're celebrating #InternationalWomensDay by defending women's sports! I'm excited to sign this bill very soon," Noem tweeted shortly after the bill's passage.
Sen. Maggie Sutton, R-Sioux Falls, is the bill's prime sponsor on the Senate side and gave the same arguments for the bill as in previous committees — the bill is about fairness and inclusion for women.
"In sports, it's biology that matters," Sutton said in her opening statement to the floor.
Other proponents for the bill repeated the sentiment that men have an inherent physical advantage over women and outlined different standards in men's and women's sports, such as the size of basketballs used and the height of track hurdles.
Proponents cast the bill as a lost opportunity for women.
"Forcing female athletes to compete against biological males isn't fair and destroys their athletic opportunities. Girls deserve the same opportunity as boys to excel and chase their dreams, allowing boys to compete with girls in sports shatters their dreams and steals those opportunities," Sen. Julie Frye-Mueller, R-Rapid City, said.
Sen. Reynold Nesiba, D-Sioux Falls, opposed the bill and quoted the Bible in his opposition.
"We're supposed to welcome the stranger. We're supposed to create a life where they're accepted, and sports is one good way to do that," Nesiba said. "And now you're going to say some groups of kids aren't going to be able to participate. You're just going to rule them out. I'm deeply concerned about that from a faith perspective. To me, we're not welcoming the stranger…We're not providing that supportive and accepting environment that trans people need in the state of South Dakota."
"I think part of the problem here is that there's a sense that some don't believe in gender dysphoria. A trans woman is a girl. And a trans boy is a boy. And we should treat them as such, and provide acceptance and support. If you care about fairness… I urge you to vote against this bill," Nesiba said.
Other legislators pointed out logistical concerns with the bill. Sen. Kyle Schoenfish, R-Scotland, said the bill puts more requirements on school districts and has no funding mechanism attached to help districts implement the law. He said the bill could have legal ramifications. Sen. V.J. Smith, R-Brookings, said the bill is premature as a similar law in Idaho is being challenged in federal court.
Sen. Troy Heinert, D-Mission, read from the current policy regarding transgender athletes and noted that when he coached wrestling and girls had to wrestle boys, some were "pretty salty," but no one complained about it.
"I think the [South Dakota] High School Activities Association did a wonderful job crafting policy that meets South Dakota values. It's working; let it continue to work. This bill is not needed, it's unnecessary, and it doesn't belong in front of us," Heinert said.
In her rebuttal, Sutton said she has a nephew who "identifies as a transgender" and that she does not look at him differently because of that fact. But, she said, the solution is not to "destroy fairness" for women because biology is what matters in sports.
"Sometimes it's hard to face facts. And what is even harder is doing the right thing. And that is to admit that sacrificing our daughters, our nieces, our sisters is a lower priority than protecting gender identity," Sutton said.
She later clarified that "studies show between 70% to 80% of children who expressed transgender feelings spontaneously lose those feelings."
The bill ultimately passed, with Sens. Blake Curd, R-Sioux Falls; Helene Duhamel, R-Rapid City; Mary Duvall, R-Pierre; Red Dawn Foster, D-Pine Ridge; Heinert; Jean Hunhoff, R-Yankton; Timothy Johns, R-Lead; Nesiba; Michael Rohl, R-Aberdeen; Arthur Rusch, R-Vermillion; Lee Schoenbeck, R-Watertown; Schoenfish; Wayne Steinhauer, R-Hartford; and David Wheeler, R-Huron voting against.