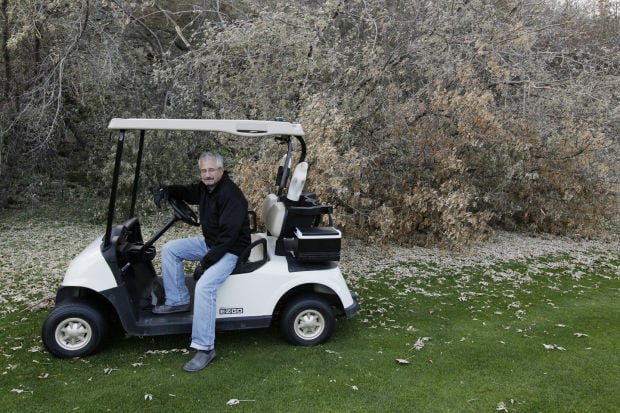 The Rapid City golf community's loss is certain to be Denver's gain.
Even though he is leaving his post as professional at Hart Ranch Golf Club, and is departing the Rushmore State altogether, Craig Hatch has made it abundantly clear that he is in no way retiring from golf.
Hatch is simply changing locations because of a family decision to move to Denver. His wife, Autumn, has been granted a new work assignment.
Denver lost Peyton Manning, but now will gain Craig. We'll have to wait a while to learn what the Rapid City area receives from our loss. Our hope is the replacement will grow into an equivalent trade.
On Saturday, Craig's friends, colleagues and fellow golfers held a party for Craig at the Hart Ranch pro shop. The purpose was to say "thanks" to Craig for a great job very well done. He deserves it.
His performance as an accomplished teaching professional was but one highlight in the West River chapter of Craig's life and golf story.
The first chapter started in our part of South Dakota on the Indian reservation at McLaughlin, where he learned to play on sand greens. Succeeding chapters found Craig at Sioux Falls, Yankton, Iron Mountain, Mich., and finally to Hart Ranch.
Thus far he has built up 34 years membership in the Professional Golfers' Association of America and three years as an apprentice. Craig has put his fingerprint on the development of the highly regarded golf course between U.S. Highway 16 and SD Highway 79 south of Rapid City. He has given the community an outstanding golf learning center and developed several aspiring teaching professionals along the way.
Like all area golf course operators in 2013, Hatch's mettle was tested by Winter Storm Atlas, a late-season blizzard which damaged hundreds of trees at Hart Ranch and elsewhere, and put a damper on the course's bottom line due to loss of greens fees and momentum at a time when golf was already declining some in overall popularity.
As he toured the course after the storm, Hatch showed his true colors in an interview with a Journal reporter, putting the loss of foliage and funds into poignant perspective.
"We are fortunate," Hatch said in October 2013. "We are well aware that people suffered real life damage from that storm. We deal with things that grow, and they will grow again."
If you press him as to his favorite accomplishments, he will tell you it has been the students he has taught and mentored — both the ones who have become outstanding layers and those who just enjoying teaching and promoting the game. As a fellow golf professional, let me thank you, Craig, for the lasting contribution to West River Golf. May your future be as bright as the past.
So, the time is approaching when Craig and wife, Autumn, pack up their 6-year-old daughter Holly and head southwest. You folks will be missed. We will be watching for your next chapter. (Oh, and Craig, if you come across any extra Bronco tickets — please let me know.)
Best of luck to you and your family.