A Hermosa pastor's son who is accused of running a six-figure fraud scheme came under investigation at least 10 years ago and allegedly fled to Guatemala for four years to avoid prosecution, according to recently unsealed court records.
David Astin, 36, was apprehended Oct. 22 in Houston and is now detained at the Pennington County Jail in Rapid City, where he is charged with 21 counts of federal wire fraud. He has pleaded not guilty.
Astin is accused of falsifying returns on foreign-currency trades he made for a Rapid City doctor from 2012 to 2013. An indictment says Astin's trading lost $433,877.06 of the doctor's money, while Astin collected $75,500 in compensation and misled the doctor into believing that the trading was successful.
The path to Astin's arrest stretches back at least a decade, according to previously secret court records that were unsealed around the time of his initial appearance at the Rapid City federal courthouse in November.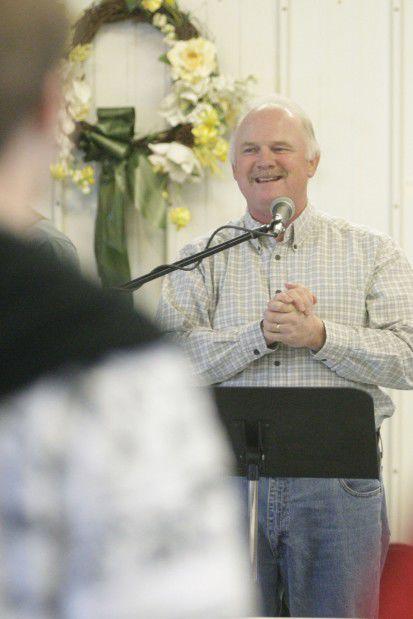 Investigators have been probing Astin's business activities since 2008, when he and his parents, Ward and Debra Astin, were charged with 20 felony counts apiece for failing to obtain a state sales-tax license for a business they were running. None of the three Astins hired a lawyer, and they all used defense strategies associated with an anti-government belief system known as the sovereign citizen movement.
Ultimately, Ward Astin — who has been the pastor of Christ's Tabernacle Church in Hermosa for 19 years — accepted a deal in 2009 and pleaded no contest to one felony count in exchange for the dismissal of the charges against Debra and David.
But instead of bringing closure, the resolution of the state sales-tax case prompted long-lasting federal investigations that could now send David Astin to prison.
Straw-man defense
The Astins' legal strife is rooted in a company called Arrow Associates. Public records maintained by the South Dakota Secretary of State's Office show that Ward, Debra and David Astin incorporated the company in 2002 and dissolved it in 2009.
The business of Arrow Associates was cleaning, snow removal and lawn care, according to court records. The services that the Astins provided were subject to state sales taxes, but the Astins did not obtain a sales-tax license or remit sales-tax collections.
By 2008, the South Dakota Department of Revenue had discovered the Astins' non-compliance and notified them of their obligation to obtain a license. But the Astins did not comply, so the State's Attorney's Office in Custer County filed criminal charges against Ward, Debra and David Astin.
Eventually, they were each indicted by a grand jury in 2009 for 20 felony counts of failing to obtain a sales-tax license after receiving a notification.
Rather than hiring an attorney, the Astins represented themselves in court, using tactics associated with the sovereign citizen movement. According to a description published by the FBI, sovereign citizens are anti-government extremists who believe they don't have to answer to any government authority.
A key sovereign citizen belief is the straw-man theory.
The theory says people have two sets of identities and names: a straw-man identity, created by a birth certificate with a name written in all-capital letters; and a flesh-and-blood identity, with a name written in standard upper- and lower-case form. Sovereign citizens contend that the flesh-and-blood person is not liable for the debts of the straw man.
The straw-man defense showed up in many of the Astins' court documents.
In April 2009, Ward and Debra Astin wrote a letter to a prosecutor that included this passage: "Our names are spelled as follows: Ward Julius Astin and Debra Lynn Astin. The parties named in the charges are WARD J. ASTIN and DEBRA LYNN ASTIN. Your letters are addressed to Ward J. Astin and Debra Astin. Who are you addressing? We are still trying to ascertain if we are the proper parties."
In court appearances, the Astins repeatedly antagonized Judge Thomas Trimble. At a January 2009 hearing, each of the Astins answered "no" when Trimble asked a routine question about whether they understood the charges against them. David Astin added, "I do not consent to this proceeding."
Judge Trimble asked several more variations of the same question, and the Astins persisted in claiming they lacked understanding. The judge became so frustrated that he threatened to send the Astins for examinations at the state mental hospital in Yankton.
Finally, the judge quit trying to extract pleas from the Astins and decided to enter not guilty pleas on their behalf.
"I do not consent to that," he told the judge, according to a transcript. "I do not consent to the court entering any kind of pleas for me."
"Well," the judge answered, "you don't have to. I'm going to do it anyway."
'Dishonorable' end 
Ward Astin ultimately accepted a deal and pleaded no contest in May 2009 to one count of failing to obtain a sales-tax license, in exchange for the dismissal of all charges against Debra and David. A judge ordered Ward Astin to pay $60,000 in restitution to the state Department of Revenue, minus $904.60 that the Astins' customers had paid on their behalf, leaving Astin owing $59,095.40.
The judge gave Astin two years of probation and a suspended imposition of sentence, which meant Astin was eligible to avoid a judgment of guilt and could have the matter sealed if he paid all the restitution within the two-year probation period.
When the end of the two-year period arrived, Ward Astin had failed to pay full restitution and was trying to argue his way out of the obligation. In a May 2011 letter to a judge, Ward Astin wrote, "To me, it is unconscionable that what has been done in this case could be done, placing such a hardship on me, and therefore affecting my whole family."
Later in the letter, Astin equated his prosecution with extortion and predicted it would provoke God's wrath.
"The Almighty God, Creator of heaven and earth, knows the reason and intent of the hearts involved both at the States Attorney's office, and the court, and will bring just recompense for all injustice in HIS time," Astin wrote.
Astin made several demands in the letter, including that his customers be asked to pay his restitution for him, and that his wife and son be compensated for the time they spent in jail before they posted a bail bond at the outset of the sales-tax case.
Incongruously, Astin ended the letter by asking for an extension of time to pay his restitution.
Meanwhile, interest was being applied to the restitution balance, and a court record said the balance had grown to $70,122.44 by May 20, 2011.
Despite the often-confrontational tone of Astin's correspondence, a series of judges who inherited his case showed patience with him. He was ordered to make payments of $260 per month and was granted extensions of his probation in 2011, 2012 and 2013.
In November 2016, Judge Craig Pfeifle dishonorably discharged Astin from probation, citing Astin's failure to pay full restitution. The dishonorable discharge meant that Astin had squandered, for the time being, his opportunity to have the case sealed. Judge Pfeifle left open the possibility of sealing the case in the future if Astin paid his restitution in full.
The current balance of the restitution owed by Ward Astin is publicly unknown. He did not respond to phone or email messages from the Journal, and the Journal could not find any reference in the court record to the current balance. Court officials directed a request for the information to the state Department of Revenue. That department denied the Journal's request, citing legal protections of private taxpayer information. The Journal has appealed the denial to the state Office of Hearing Examiners and is awaiting a ruling.
Meanwhile, during the years that Ward Astin was wrangling with officials in state court about his restitution, he and his son, David, were being investigated by federal authorities for other suspected crimes.
Feds investigate
Details of the federal investigations are contained in search-warrant applications that were secretly filed in 2012 and 2014 and remained sealed until the week of Nov. 26 this year, when a detention hearing was held for David Astin in his wire fraud case. He was ordered to be detained at the Pennington County Jail, where he remains; his attorney, Paul Andrews, declined to speak on the record with the Journal.
The 2012 search-warrant applications were filed by Anita Dobberstein, a special agent for the Criminal Investigation branch of the Internal Revenue Service. Dobberstein wanted to examine computer files that had been seized by state law enforcement officials at David Astin's rural Hermosa home in 2008, apparently during the sales tax investigation.
"I believe," Dobberstein wrote in an affidavit at the time, "there is probable cause to believe that the data retrieved from the device may contain evidence pertaining to the willful evasion of tax."
Dobberstein was referencing federal income tax. Her affidavit said Ward Astin had last filed a federal income tax return in 2002, while the Astins' company, Arrow Associates, had not filed any tax returns since its inception that same year. Yet, according to Dobberstein's affidavits, the state sales tax investigation had unearthed bank records showing that Ward Astin deposited at least $720,000 in his business bank account from 2003 to 2008.
The result of Dobberstein's income tax investigation is publicly unknown. A search of federal court records does not turn up any prosecutions of the Astins for income tax matters, and an IRS spokeswoman declined to tell the Journal anything about the investigation, citing taxpayer confidentiality.
Two years after Dobberstein's warrant applications, another IRS Criminal Investigation agent, Brian Pickens, sought a warrant to access a Google email account used by David Astin. A supporting affidavit from Pickens, filed in 2014, said there was probable cause to believe David Astin had committed wire fraud and money laundering.
Pickens' affidavit revealed some of the evidence that led to the federal wire fraud charges against David Astin. In that case, Astin is accused of defrauding David Blickensderfer, an anesthesiologist for Regional Health in Rapid City. Blickensderfer did not respond to messages from the Journal.
You have free articles remaining.
According to Pickens, Blickensderfer hired Astin for a residential painting job in 2011.
"During one of their conversations, Astin mentioned that he traded on the foreign currency exchange market ('forex'), which is a global, decentralized market used to trade in foreign currencies," Pickens wrote.
In 2012, according to Pickens, Astin met with Blickensderfer at a Starbucks. During that meeting, Astin allegedly claimed he had been making monthly forex returns of 8 percent during the prior seven to eight years.
Blickensderfer decided to open forex accounts under Astin's management, according to Pickens. About once per month thereafter, Blickensderfer and Astin met at Murphy's Pub and Grill in Rapid City, said Pickens' affidavit.
"At the meetings," Pickens wrote, "Astin would usually provide Blickensderfer with a printed spreadsheet that indicated the purported account balances and monthly return and performance information."
According to the indictment against Astin, he grossly over-reported the balances and returns he showed Blickensderfer. The indictment says Astin convinced Blickensderfer to invest $806,997.86 in forex accounts from 2012 to 2013, while Astin's trading lost $433,877.06 of Blickensderfer's money, even as Blickensderfer paid Astin $75,500 for managing the accounts.
Blickensderfer used credit cards, electronic transfers or wire transmissions to fund the accounts at Astin's direction, according to the indictment. Those transactions serve as the basis for 19 of the wire fraud counts against Astin. Text messages about forex trading that Astin allegedly sent Blickensderfer are the basis for the other two counts.
No other victims are mentioned in the indictment, but the 2014 search-warrant affidavit from Pickens said Astin may have invested money for other people, including $7,500 for Zach Lautenschlager. 
Lautenschlager is known to South Dakota politicos for his founding role in South Dakota Gun Owners, but the website of the National Association for Gun Rights says Lautenschlager now lives in Colorado and serves as that organization's vice president of political affairs. He did not respond to messages from the Journal.
Flight to Guatemala
The IRS investigations into David Astin culminated in an interview with him on April 25, 2014, according to FBI agent Michael McRoden, who testified at Astin's detention hearing on Nov. 26 this year in Rapid City.
Shortly before the 2014 interview, according to McRoden, Astin had renewed his passport and had written on the renewal application that he was planning a two-week trip to Guatemala, where Astin's wife has citizenship.
David Astin's father, Ward, has since filed a written declaration to the court about David's 2014 contact with the IRS.
"He was very concerned and scared because during the course of these meetings the agents threatened that he could lose his family," Ward Astin wrote. "He was particularly concerned that his wife would be deported because of him, even though she had obtained her 'green card' in 2010. The agents seemed to indicate that they could make that happen."
Several days after his 2014 interview with the IRS, Astin went to Guatemala, where his two-week stay stretched into four years, McRoden testified. Astin brought along his wife and their children (court records say the couple had six kids by 2014).
At Astin's recent detention hearing in Rapid City, Ben Patterson, the assistant U.S. attorney who is prosecuting the case, said Astin's time in Guatemala was evidence that he might flee again if given the chance.
"I do not think it's any kind of coincidence," Patterson said, according to a transcript, "that shortly after the defendant was interviewed by law enforcement he left for Guatemala."
McRoden testified that while Astin was in Guatemala, the FBI coordinated with a legal attache stationed in Central America to discretely track Astin's whereabouts.
"There was concern that if he knew for sure that we were looking for him that he may leave that country and go into another country where we don't have extradition treaties," McRoden testified.
Astin extended his stay in Guatemala by capitalizing on immigration laws that allowed him to renew his tourist visa with repeated trips between Guatemala and Mexico, according to McRoden. Court records also indicate that David Astin applied for permanent residency in Guatemala.
"I've traded Forex for 8 years," he wrote. "Have been marginally successful and lost big too."
He then offered some advice.
"Stay disciplined," Astin wrote, "and don't let greed or emotions allow you to deviate from your trading plan."
Arrest in Houston
Five months after Astin posted those comments on Quora.com, a federal grand jury in Rapid City indicted him in May 2016 for wire fraud against Blickensderfer. When the indictment was filed, Assistant U.S. Attorney Patterson filed a successful motion to keep it secret from Astin and the public.
"The Defendant has left the United States in order to avoid prosecution," Patterson wrote in the motion, "and is most likely monitoring the investigation in order to avoid law enforcement."
According to FBI agent McRoden, Astin was indeed trying to monitor his legal situation from afar.
McRoden testified that Astin submitted Freedom of Information Act requests to the IRS in 2014 and to the FBI in 2016 to learn if he was the subject of any warrants. The requests were made before Astin was indicted, but McRoden said even a post-indictment request would have been futile since the indictment was under seal.
At Astin's recent detention hearing, his lawyer, Paul Andrews, said the FOIA requests were not "surprising or necessarily concerning." Ward Astin, David's father, has filed a written declaration to the court stating that he himself filed the 2016 FOIA request out of concern for his son.
"I categorically deny that I made this request at the behest of my son to determine if the 'coast was clear' for his return to the United States," Ward Astin wrote.
Patterson, the assistant U.S. attorney, told a judge that the FOIA requests were part of David Astin's attempts to evade prosecution.
"I have never in my life, Your Honor, traveled outside the country and made a FOIA request before coming back to determine whether I had an active warrant," Patterson said, according to the hearing transcript. "He did it because he knew what he was facing here in the United States."
Patterson also alleged that David Astin timed his return to the United States to occur more than five years after the last of the alleged crimes against Blickensderfer, because a federal statute of limitations requires many types of crimes to be charged within five years of their commission.
"So he's coming back to the United States shortly after that five-year period," Patterson said at the detention hearing. "I certainly don't think that's a coincidence."
Apparently unbeknownst to David Astin, the secret indictment against him was filed in 2016 — about three years after the last of his alleged crimes and well within the five-year statute of limitations.
So, on Oct. 22, when Astin arrived in Houston on a commercial flight from Guatemala, he was arrested by a deputy U.S. marshal.
Facing a fight
According to the written declaration filed in David Astin's case by his father, Ward Astin, David's October return to the United States was for a family gathering.
Ward wrote that David's 86-year-old grandmother was planning a trip to South Dakota from Florida for a visit, so Ward made arrangements and paid for David and David's eldest son to fly from Guatemala to Rapid City. (Court records do not say where David Astin's eldest son is now, and a spokeswoman for the U.S. Attorney's Office for the District of South Dakota declined an interview request, citing a policy against commenting on ongoing investigations).
Flight information included in David Astin's public court file indicates that he flew from Guatemala City to Houston on the morning of Oct. 22. He was scheduled to fly later that day from Houston to Denver, and then from Denver to Rapid City.
Instead of making those connecting flights, David Astin was arrested in Houston. There are no details about the arrest in the court file — only a returned warrant signed by Cole Willnerd, a deputy U.S. marshal for the District of South Dakota.
Astin was later transported to South Dakota and was booked into the Pennington County Jail on Nov. 21, where he remains, pending the outcome of his case.
He is facing 21 counts of wire fraud, with a maximum prison sentence of 20 years for each count. He could therefore be sentenced to as many as 420 years in prison if he is found guilty on all counts.
One of his siblings, Joseph, who runs a construction business, has written a letter to the judge offering to give David a temporary job to help David support his family in Guatemala. David's parents, Ward and Debra Astin, have sought unsuccessfully to have David released to their supervision, with electronic monitoring, while the case against David proceeds.
David Astin has retained a Rapid City defense attorney, Paul Andrews, who has eschewed the sovereign-citizen-style tactics that David, Ward and Debra Astin used during their fight against sales tax charges 10 years ago.
But in the written declaration that Ward Astin wrote and filed himself with the court on Dec. 5, there was a flicker of that old pugnacity.
"None of my family have ever run from a fight," Ward Astin wrote, "including David."