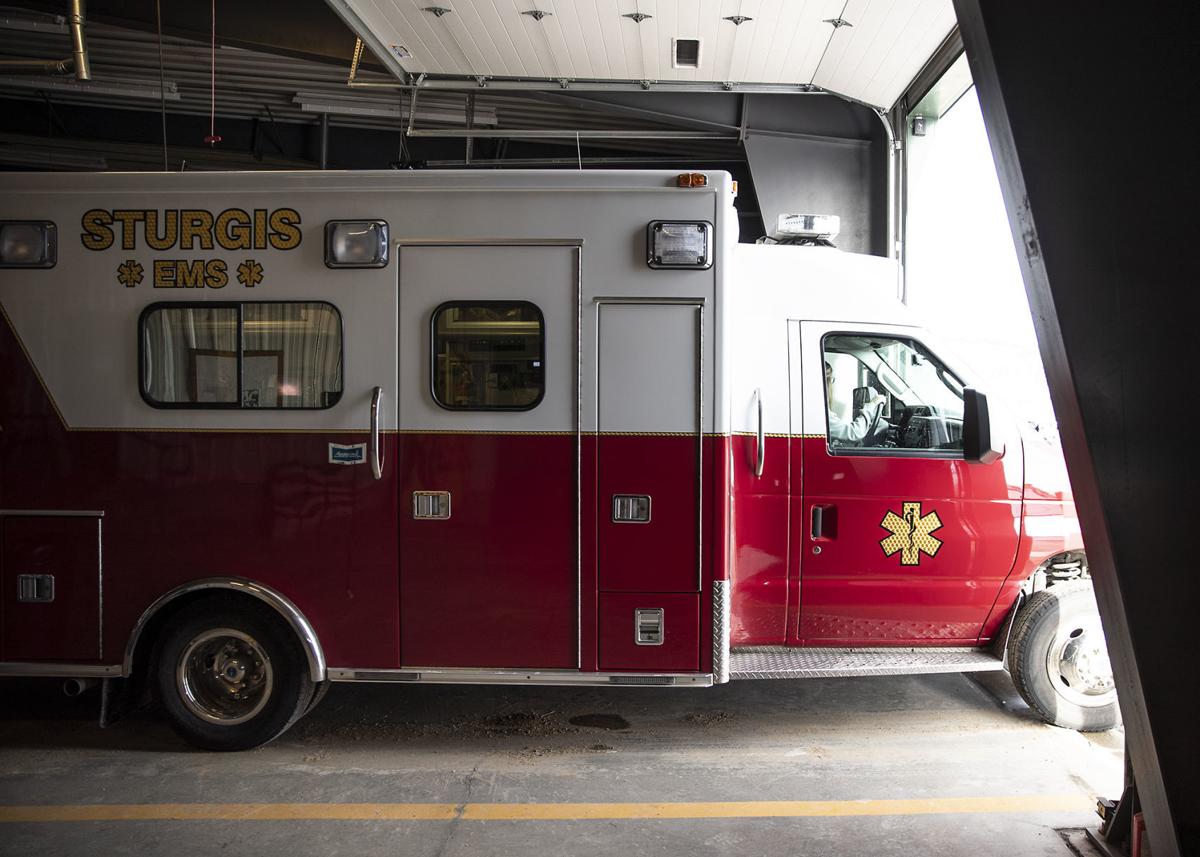 STURGIS | Without an intervening action, about 4,000 residents outside the city limits of Sturgis will be without ambulance service as of midnight today.
That is when current Sturgis Ambulance Service service boundaries will automatically be redrawn, because of an April 15 decision by the Sturgis City Council that drastically reduces areas of ambulance coverage outside of the city limits, including a number of campgrounds that serve thousands of visitors during the Sturgis Motorcycle Rally.
On the agenda, however, for tonight's Sturgis City Council meeting is a proposal to delay changing the boundaries to allow more time to find a potential solution to ongoing budget shortfalls for the ambulance service. The council meeting is set for 6:30 p.m. at the Erskine Building commissioner's room at 1300 Sherman St.
"What I'm hoping for is that people bring solutions forward that make sense, and service can remain the same," Sturgis Mayor Mark Carstensen said. "It's got to have some pretty strong commitment and sensible plans, because we've been working on this a long time."
Sturgis City Manager Daniel Ainslie said the Sturgis ambulance operated at an estimated $85,000 deficit in 2018 in spite of the city appropriating $100,000 for the service for each of the past five years.
Ainslie said the ambulance service would need an additional $60,000 annually to serve areas just outside of the Sturgis city limits.
Ainslie has also said another $100,000 yearly will be needed to buy new ambulances as the current fleet of six reaches mileage maximums.
You have free articles remaining.
On July 1, a citizen group asked the council to delay redrawing the ambulance service boundaries until October, while proposals to meet the budget shortfall are developed.
In a letter read to the council during its July 1 meeting, Edward Miller, owner of the Rush-No-More Campground and RV Resort located east of Sturgis, said more than 125 homeowners, ranchers, business owners and medical professionals had attended a number of meetings and had made a good-faith effort to solve the ambulance funding dilemma.
Several alternatives have been discussed, Miller wrote, such as forming an ambulance association with a board of directors to negotiate contracts with existing ambulance services, or billing county residents for ambulance services, or holding an election similar to a failed December 2018 vote to form an ambulance district to set a tax levy to fund services.
"We have dealt with and overcome a vast amount of opposing viewpoints among these different constituencies," Miller wrote. "We have bridged a great many divides to come to a realization that we all must work together to preserve life-saving ambulance services for ourselves and our families."
Miller said the group wishes to expand an offer the city reportedly made to residents of the Blucksberg Addition, located just east of Sturgis along I-90 and nearby neighborhoods, to provide service for an annual fee of $15 per resident, to include all of the estimated 4,000 residents currently in danger of losing service.
The group needs more time to develop a proposal, Miller said.
On July 1, Carstensen said the council would consider any good-faith effort to provide an additional stable funding source for the ambulance service, but he also said six of the nine council members would need to approve a delay in the boundary deadline.
"It's not a complicated issue. If you want the service, you need to provide for that service," Carstensen said.