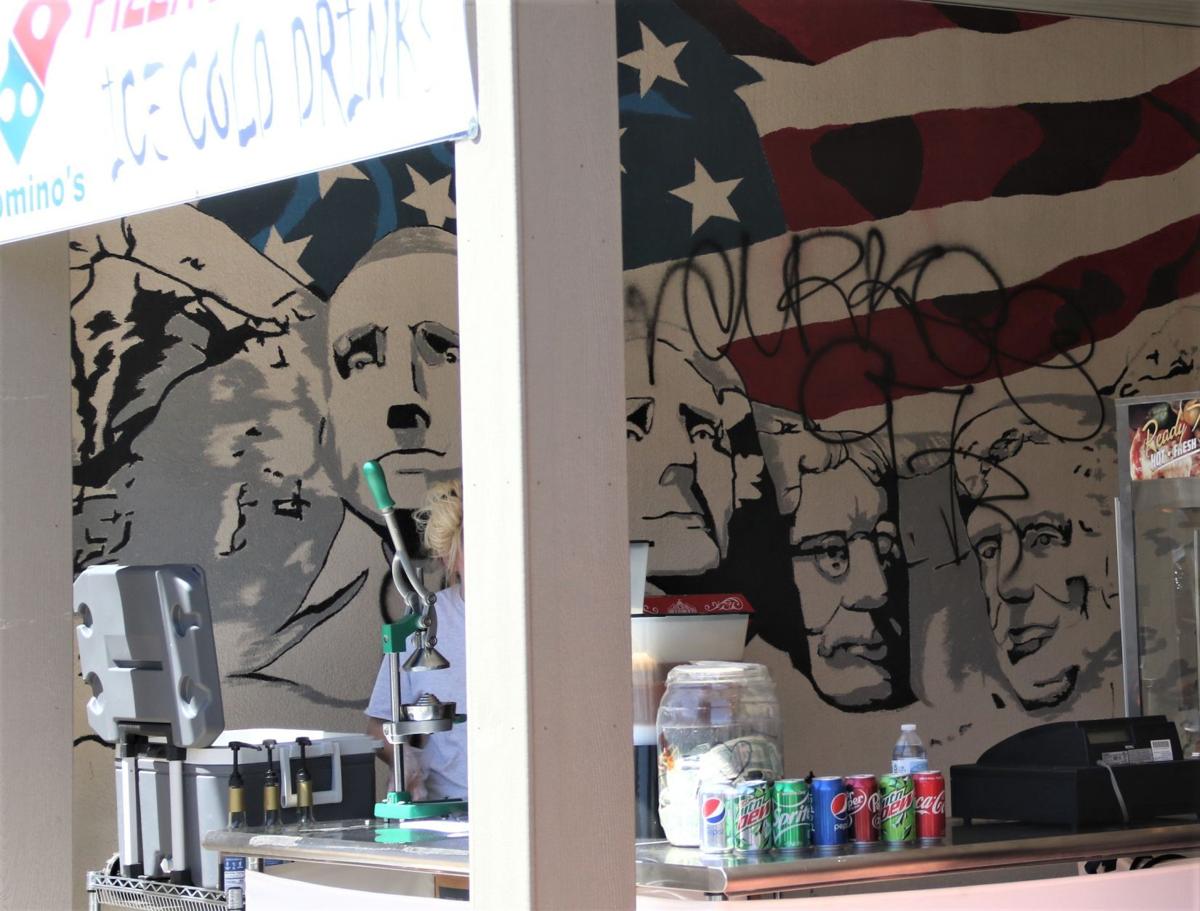 A man associated with graffiti at the Capitol Hill Organized Protest in Seattle was among those arrested during the Sturgis Motorcycle Rally.
Sturgis Police Chief Geody VanDewater said a man likely in his 20s was arrested Friday night for graffiti in downtown Sturgis. He said the man was probably charged with intent to damage, although he has not seen the report.
He said the suspect was intoxicated and his vandalism caused an estimated $10,000 in damage, including the Domino's Mount Rushmore mural.
"I don't really want to promote this guy because that's what he's there for, promoting different stuff," VanDewater said. "He's been out in Seattle...he does a lot of this press stuff, but he was here and made some poor choices."
VanDewater said he thinks the man was caught in the act and is the main actor in the graffiti, although he was traveling with a group of friends.
The graffiti includes Black Lives Matter letters, F--- 12 and more.
As far as other crime during the rally goes, VanDeWater said his department is down 50 calls this year, but non-traffic arrests have increased, specifically misdemeanor drug paraphernalia.
According to Saturday to Sunday's numbers, there were 18 arrests or citations, totaling 21 over the past few days. At the same time last year, there were nine, according to city police data.
Meade County Sheriff Ron Merwin said 62 people went through the jail last night.
"I think we still had most of them this morning," he said. "Not many bonding, the bonding ain't going like we thought it would."
Merwin said if there is overflow, they may send some to Rapid City or other locations. He said his department is also seeing a lot of drugs. 
According to the state Highway Patrol Sturgis Rally Daily information, which also shows data from 6 a.m. Saturday to 6 a.m. Sunday, shows there were 19 DUI arrests in Sturgis and seven in Rapid City. There were a total of 41 misdemeanor drug arrests in the district and 17 felony drug arrests. Three vehicles were also seized for drug possession.
There were also 12 injury crashes and six non-injury crashes, according to the data.
Concerned about COVID-19?
Sign up now to get the most recent coronavirus headlines and other important local and national news sent to your email inbox daily.