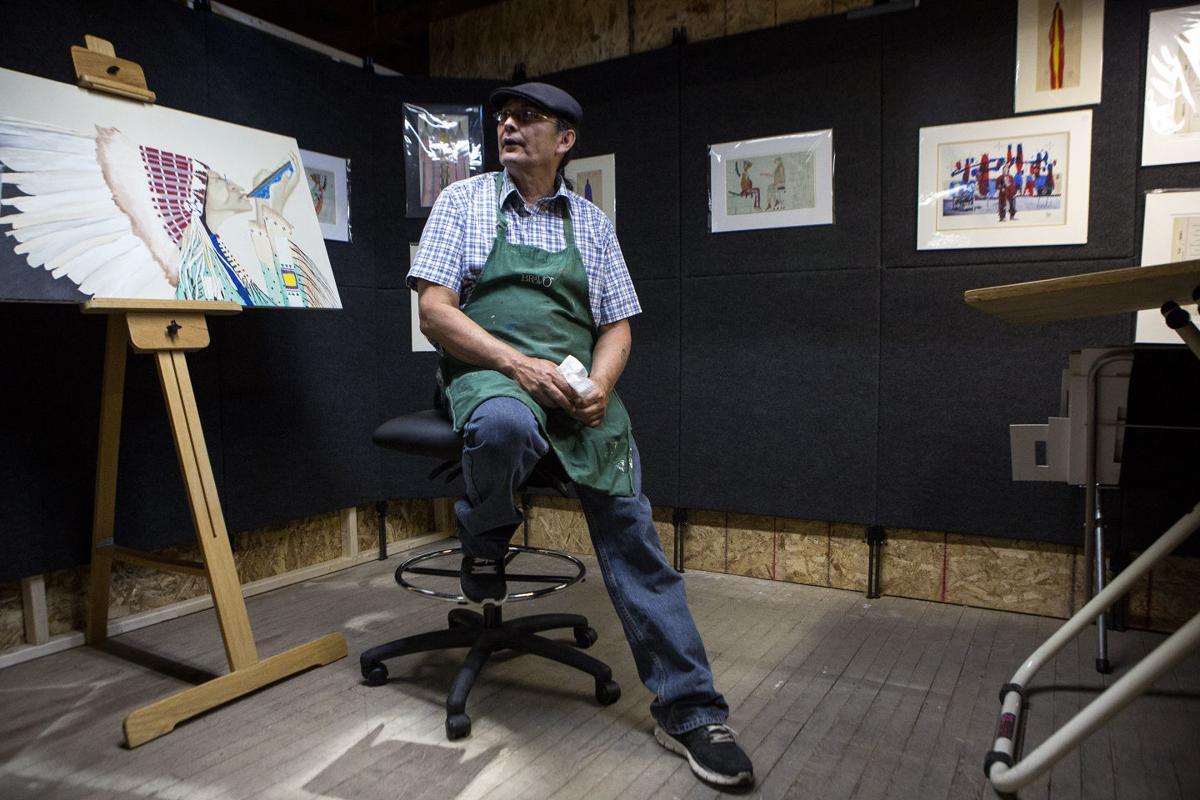 Dwayne Wilcox grew up on a ranch in Pine Ridge but never wanted to be a rancher. 
"Filthy critters, though tasty to eat," said Wilcox, who lived in Washington, D.C., with his wife before moving back to South Dakota upon his retirement. "I always did artwork, though, and I loved stories." 
Ledger art, colorful splashes of figures and scenes in the tradition of Plains Indians' hide painting on ledger paper, which was used by the Bureau of Indian Affairs to collate foodstuffs and accounting, has become ubiquitous for many art consumers in the state and across the country. But Wilcox, an early adopter of this art form in the 1980s, has a distinctive humor and sidelong perspective all his own. 
A Native American male in jeans and headdress holding up a T-shirt that reads, "Make America Great Again." A man leaning back in a tropical T-shirt holding up a beach ball in a work titled, "Indian Summer." In 2017, the Joan Mitchell Foundation out of New York awarded Wilcox a $25,000 grant for his distinctive appeal.
And now he's receiving a reception in his home state.
Wilcox will receive the Distinction in Creative Achievement from Arts South Dakota and the South Dakota Arts Council at the 24th biennial Governor's Awards in the Arts on Feb. 12 at the Ramkota Hotel & Conference Center in Pierre.
"The biennial awards presentations banquet honors the achievements of South Dakota's fine artists and arts leaders," reads a statement from event organizers.
Wilcox is only one of the Black Hills artists receiving recognition. 
Dr. Ronald M. Reed of Rapid City will receive the award for Outstanding Support of the Arts by an Individual. The Heritage Center at Red Cloud Indian School in Pine Ridge will receive recognition for Outstanding Support of the Arts by an Organization or Business. Finally, Lakota Funds from Kyle — a micro-lender established in Pine Ridge in 1986 that has provided over $10 million in loans to artists and aspiring entrepreneurs — will receive Outstanding Support of the Arts to Native Nations with Lands in South Dakota.
Another award winner for the reception is John Colson, a retired music professor from South Dakota State University in Brookings, for Outstanding Service in Arts Education.
The Feb. 12 reception will begin at 5 p.m. and be followed by a banquet. The Jim Szana Trio will perform and the Artists of the Black Hills will curate an exhibit. Ticket information can be found at ArtsSouthDakota.org.