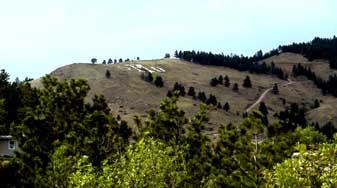 RAPID CITY - Rapid City officials are still formulating a plan of attack for next week's auction of Cowboy Hill - the picturesque hogback between Interstate 90 and Omaha Street - and indicated strong support for trying to preserve the land as public open space.
Nine Liens Partnership will auction 370 acres of land on and around the hill, also known as M Hill, at 10 a.m. Wednesday, Oct. 18, at Rushmore Plaza Civic Center.
The partnership is selling the land to use the money to buy out Bruce Lien's half of Pete Lien & Sons, the Rapid City minerals and building-materials company.
The property will be auctioned as one piece, five pieces and nine pieces. The combination that brings in the highest price will receive the land.
Mayor Jim Shaw said a city representative might attend the auction to observe but that he doesn't believe that the city will be bidding. However, that doesn't mean the city isn't interested in the land.
"It might be such that somebody else buys it, and the city buys it from them. That's a possibility," Shaw said. "Or somebody buys it, and the city could acquire some of it for a park or natural area."
Shaw said much of the discussion among city officials has been focused on at least preserving the large, southeast-facing area around the M.
"One, it's probably the hardest to develop because it's steep, and secondly, because it's the backdrop for Rapid City. Wherever you're driving, that's what you see," he said.
The city formed a committee a few weeks ago to discuss options to try to buy the property, most likely by working with individuals in the private sector.
said there has been quite a bit of discussion with private parties interested in working with the city.
"We're trying to bring a lot of parties together at the last minute, but there's definitely a lot of interest out there in getting this secured," he said.
Shaw said the problem for the city is dollars. Because it's an auction, the city doesn't have a clear idea of what it will take to acquire the land.
Alderwoman Karen Gunderson Olson said M Hill could be an important addition to the city's pedestrian and greenway system and would be a good fit with the Skyline Wilderness area to the south.
"When something special comes along, you have to be prepared," she said. "We believe this is a piece of land - that if there's any way for the city to acquire it for park land, it seems very appropriate. I think it's like Central Park."
Like New York and other cities, a central green-space area in the middle of an urban area adds to a community's quality of life, she said.
"We've had a huge response from the public in support. I've gotten a large number of
e-mails saying this could be ideal parkland for the city,"
$1.7 million available from the federal highway bill that could be used to acquire land for potential parkland and bike path expansions.
Schumacher said he has received more e-mails about M Hill than any other issue, including Wal-Mart. Many of the e-mails are from South Dakota School of Mines & Technology graduates who don't want to see development occur on M Hill, though the big white "M" is on a separate parcel owned by SDSM&T Foundation and is not part of the auction.
Still, Schumacher worries how Mines graduates would feel if the city didn't make the effort to preserve the land.
"It's easy to say money could be spent on something more practical, but will the practical be remembered as we look at houses on M Hill?" he said.
Shaw said all of the e-mails he has received favor preserving the land. He said most people say what a great place it is to walk, hike, mountain bike and climb, yet it is private property. That's a testament to the Lien family in allowing people access, he said.
It's also telling that a lot of people have assumed that it was public property because it has been undeveloped for a long time, Shaw said.
Schumacher said there has been discussion about whether to try to buy all of the property or only the most visible portions.
"There's just nothing like it in its beauty ... and there's nothing like it in the difficulty to develop," he said. "The city has a finite amount of money, and there are a lot of other projects out there."
Schumacher said M Hill will be discussed during Monday's city council meeting.