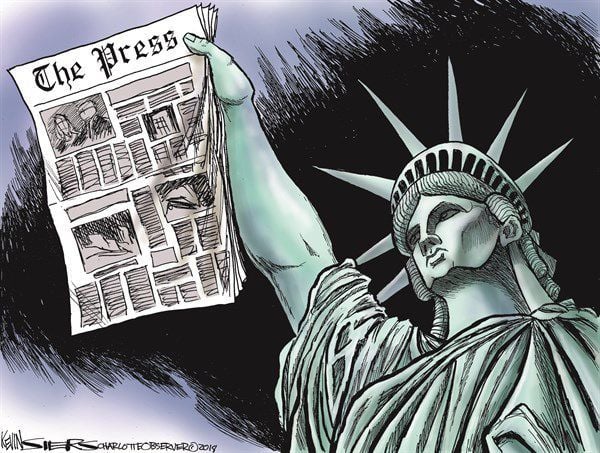 Seth Tupper grew up in Wessington Springs and Kimball, graduated from South Dakota State University, has two children and umpires at little league games. His wife works at a church. His dad is the mayor of Kimball.
Jim Holland is a Sturgis Brown High School graduate who enjoys fishing, woodworking and motorsports. He and his wife have one grandchild and two sons who are SDSU graduates. The couple recently moved into Jim's childhood home and plan to remodel it.
Candace DenOuden was raised on a family farm near Avon in eastern South Dakota where her parents still live. She went to a Christian college in Indiana, is a 10-time aunt, a godmother, a 4-H alum, a volunteer and church choir member.
These Rapid City Journal newsroom staffers are among those the president of the United States likes to call "the enemy of the people," a charge that has rippled across the nation in a bid to undermine free speech and demonize those who aim to hold government accountable, report the news, and cover events and sports in their communities.
We are not, however, the enemy of the people; rather, we are the people. Just like in every other workplace, the Journal has parents, grandparents, aunts, uncles, veterans, volunteers, homeowners, renters, care-givers, outdoors sports enthusiasts, sports fans and taxpayers who like our friends, family and neighbors have a stake in the future.
Christopher Vondracek is from Wells, Minn. — corn and soybean country. The University of South Dakota graduate was an English teacher, plays the piano and now likes fly-fishing. In July, he married a native South Dakotan in Yankton. Her parents have a cabin in the Black Hills.
Mark Andersen once drove bulldozers for the South Dakota Army National Guard. He spent summer breaks from USD painting water towers. Today, he's painting his Rapid City home when he's not walking the dog. His wife manages an assisted-living center.
Ryan Hermens recently moved to Rapid City after working for newspapers in Nebraska, Wyoming and Kentucky. The Oregon native is an uncle who is constantly on the move — running, hiking, biking, camping and exploring the Black Hills and beyond.
Journal reporters, editors and photographers don't see themselves as "the enemy of the people." Instead, we see ourselves as foot soldiers for the people. We cover long and sometimes contentious county commission meetings and city council meetings that can go late into the evening. We cover accidents, standoffs and wildfires. We gather information, distill it and start asking the questions that we believe the readers want answers to and then publish the information for you and not the government, which has its own public information officers and departments.
It is not always easy. Government officials are often suspicious of the press. We understand, but nonetheless are committed to our mission of informing the public no matter how difficult or unpleasant that might be.
Some question our motives, but they are as pure and simple as the First Amendment itself that was established after the first Americans fought for freedom denied by British monarchists. America then became the pioneer nation for freedom of speech, freedom of religion, freedom of assembly, freedom to petition and freedom of the press, which the Founding Fathers believed was essential for a successful republic.
The people are entitled to know how their money is being spent, how policy decisions are made and who is trying to influence those decisions. It is the foundation of the watchdog role, which is a long way from being "the enemy of the people."
Chris Huber is a Black Hills native and a new father. His wife grew up in Aberdeen and is a high school teacher in Rapid City. His parents live in Whitewood. When the growing family has free time, they head for the hills to hike, bike, climb, ski and camp.
Pat Butler grew up in Plankinton, Brookings and Huron. He served as a military police officer in the Army, which included a year in South Korea, before graduating from SDSU. Now, he's a volunteer, homeowner, aspiring pickle ball player and grandfather of two young grandchildren who enjoy going to Storybook Island with their parents.
Samuel Blackstone is a New York native who graduated from Syracuse University. Since moving to western South Dakota, he has bought a motorcycle, become a rock climber and likes to take big hikes, which included a recent trip to the Bighorn Mountains in Wyoming. When he's not living on the edge, he's a Boston Red Sox and Green Bay Packers fan.
There are others on the Journal newsroom staff and we all share the same goal, which is to do the best job we can every day in the interest of our families, friends, neighbors and community.
We are not the enemy. We look out for you and will continue to do so regardless of the attacks from a president who does not seem to understand the role of the press and how much the public depends upon it.
President Trump, who once courted and coveted media attention, now sees the media as a nuisance. While that is not the media's goal, it is our job to hold those in power accountable. It's never been easy but the media will always soldier on. It's the contract we have with the public, and it is a responsibility that is not taken lightly while we live our lives like everyone else.