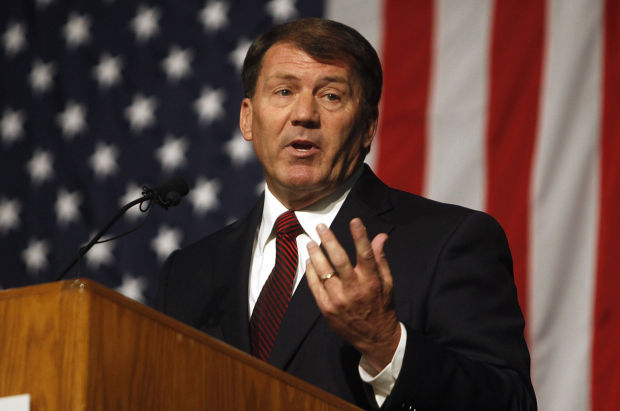 The South Dakota Democratic Party says former Gov. Mike Rounds, a Republican, committed a felony when he provided false information to state lawmakers.
Rounds' alleged crime also makes him ineligible to hold public office, the Democrats claim. Rounds is leading in the polls ahead of a Nov. 4 election for U.S. Senate.
Patrick Duffy, a Rapid City attorney working for the Democrats, made the allegations at a Wednesday morning press conference at the Rapid City Public Library.
"There's no doubt in my mind that Mr. Rounds and members of his staff have committed a Class 6 felony," Duffy said.
Duffy cited two state laws: one that criminalizes false statements submitted during inquiries or investigations; and another that forever disqualifies public officeholders who make such false statements from holding any public office in the state.
The state Democratic Party wants state Attorney General Marty Jackley to appoint a special prosecutor to investigate and charge Rounds, and the party also wants Rounds to withdraw from the Senate race. Jackley, when contacted by the Rapid City Journal after Wednesday's press conference, said only that his office "has not received any complaint containing evidence of criminal wrongdoing" in relation to Rounds.
Rounds' Senate campaign responded with a statement from campaign manager Rob Skjonsberg.
"The only news here is the Democrats' absurd effort to keep this issue alive," Skjonsberg said in part.
The inaccurate statement was made Sept. 22, when Rounds submitted written answers to questions posed by the Legislature's Government Operations and Audit Committee. The committee was conducting an inquiry into the Governor's Office of Economic Development, including the office's work with the administration of a federal immigrant-investor program known as EB-5.
In one answer, Rounds wrote "the governor's office was not served" with documents pertaining to an EB-5-related lawsuit against the state. That answer laid the groundwork for another answer, in which Rounds said he did not learn about any issues with the administration of EB-5 until October 2013.
The Rapid City Journal reported last week that in 2009, Rounds' office was served with such documents. A newly unearthed document showed lawsuit papers were hand-delivered to an assistant in Rounds' office and were mailed to the governor's office afterward.
Following the Journal report, Rounds immediately sent a letter to the chairman of the legislative committee. In the letter, Rounds acknowledged the inaccuracy of his answer and sought permission to amend it. He was not previously aware that his office was served with the lawsuit paperwork, he wrote, and he learned about it only when given proof by the Journal.
Skjonsberg reiterated that defense Wednesday.
"By suggesting that publicly correcting an incorrect response to a question posed by GOAC constitutes a felony, the Democratic Party in South Dakota has sunk to a new low," Skjonsberg said.
The legal underpinning for the Democrats' claim that Rounds committed a crime is South Dakota Codified Law 22-12A-16, which covers "falsification of evidence." It says "Any person who prepares any false book, paper, record, instrument in writing, or other matter or thing with intent to produce it or allow it to be produced as genuine in any trial, proceeding, inquiry, or investigation authorized by law, is guilty of a Class 6 felony." A Class 6 felony is punishable upon conviction by up to two years in prison and a $4,000 fine.
The written correspondence between Rounds and the legislative committee was not a trial and Rounds was not under oath. But Duffy claims the correspondence was part of an investigation.
To support that claim, Duffy cited a bill approved last winter by the Legislature. The bill, House Concurrent Resolution No. 1010, requested that the Government Operations and Audit Committee "conduct hearings on issues related to the Governor's Office of Economic Development." The resolution also affirmed the committee's power to summon witnesses and issue subpoenas. The committee's correspondence with Rounds sprang from that legislative authorization.
"If this isn't an investigation," Duffy said, "there is no such thing."
The Democrats' claim that Rounds is ineligible for public office is supported, Duffy said, by South Dakota Codified Law 22-12A-10. That law is in the same chapter as the falsification-of-evidence law and says: "The public office of any public officer or employee who is convicted of violating any provision contained in this chapter is forfeit. Moreover, such public officer or employee is forever disqualified from holding any public office in this state."
That law, however, might apply only to state offices and not federal ones, such as a U.S. Senate seat. The Congressional Research Service has opined that a state has no say in qualifications for federal elected office. As for U.S. Senate rules, a felony conviction does not automatically disqualify a senator from serving, but the Senate could vote to expel a member who is convicted of a felony. Rounds, of course, is only a candidate for Senate and has not been formally charged with anything, let alone convicted.
Duffy, when asked about the applicability of the state law to federal office, said he considers the law applicable unless a judge says otherwise.
The program at the heart of the controversy, EB-5, is a federal program administered at the state level. It offers the chance of permanent residency in exchange for $500,000 investments in U.S. economic-development projects.
Last October, former Rounds cabinet official Richard Benda committed suicide while under investigation for allegedly stealing $550,000 in state grant money meant for an EB-5-funded beef plant in Aberdeen.
Another man, Joop Bollen, who directed the state's EB-5 program for many years, has been criticized for signing over a state EB-5 contract to his own private company, concealing an EB-5-related lawsuit against the state, and trying to serve as his own lawyer on the state's behalf when the lawsuit arose. Bollen was an employee of the Board of Regents, which is separate from the governor's executive branch, but part of his salary was paid by the office of the governor.
Rounds repeatedly has said Bollen was the responsibility of the Board of Regents, while Rounds' critics have said he should bear some responsibility for Bollen's actions.
The EB-5 lawsuit, which eventually moved to private arbitration, ended this week when a retired California judge acting as an arbitrator denied all claims and counterclaims by the state and by two private companies. Darley International, a California firm, had claimed an office of the state and its partner company, Hanul Professional Law Corp., which has offices in Korea and California, breached a contract to use Darley International as a recruiter of foreign EB-5 investors.
The arbitrator's denial of all claims means nobody officially won the arbitration, but it also means the state is saved from what it feared could have been millions in liability.
[Editor's Note: This story has been changed to reflect a correction. As originally published, the story misstated the maximum penalty for a Class 6 felony.]