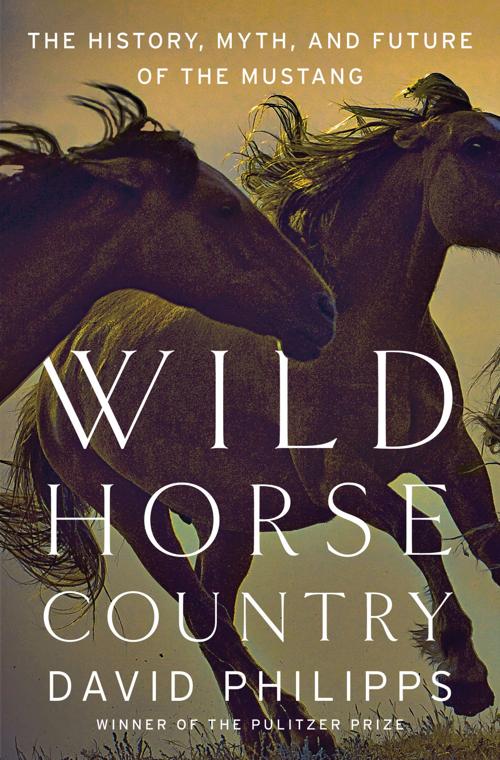 Pulitzer Prize-winning journalist David Philipps has an idea to help restrain the number of wild horses that roam federal lands.
"The solution," he wrote near the end of his new book, "is mountain lions."
As naively simple as that may sound, the idea will not be easily dismissed by anyone who reads "Wild Horse Country." That's the title of the book and the name Philipps has assigned to the dry, desolate pockets of the intermountain West where most wild horses — aka mustangs — are found.
The book takes readers on a journey that begins with prehistoric horses in America, continues through their extirpation and later reintroduction to the continent by European explorers, and culminates with the near annihilation of wild horses as they were rounded up in great numbers and processed into dog food during the 1920s and '30s.
Along the way, Philipps demystifies the hold that wild horses exert on the American psyche, in part by explaining them as a reflection of the American spirit.
"They are freedom. They are independence," Philipps wrote. "They are the ragtag misfits defying incredible odds. They are the lowborn outsiders whose nobility springs from the adversity of living a simple life. In short, they are American. Or at least they are what we tell ourselves we are, and what we aspire to be."
That myth helps explain why Americans do not eat or indiscriminately kill wild horses, as people in some other countries do. And the myth is partly to blame for the U.S. government's modern wild-horse predicament.
Decades of activism and legislation have pushed horse slaughterhouses out of the United States and resulted in legal protections for wild horses on designated federal lands in the West, where horse numbers have grown exponentially.
Pressure from wild-horse advocates has kept government land managers from using euthanasia as a management tool. Instead, excess horses are rounded up and sent to big pastures, called holding areas, where landowners are paid to let the horses roam.
It is an unsustainable system that is collapsing under the weight of its own costs. There are now 73,000 wild horses roaming 31.6 million acres of federal land, despite the U.S. Bureau of Land Management's assertion — challenged by wild-horse advocates — that the land can support only 27,000 wild horses.
The roundups have not been able to reduce the wild-horse population to the target number, but the roundups have continued nevertheless. In addition to the wild horses on the public ranges, there are now 45,000 wild horses and burros in 60 off-range holding areas, including corrals, pastures and sanctuaries. About 1,200 of those horses are in South Dakota, at holding areas near Newell and Eagle Butte. The Newell land is owned by Neal Wanless, who bought it with the proceeds of a $232 million Powerball jackpot he won in 2009.
Philipps briefly referenced the Wanless holding area in the book and talked about it in a Journal interview.
"It's ironic," Philipps said, "that to preserve something wild and free, we've spent millions enriching the already wealthy while keeping animals captive."
During the 2016 fiscal year, the BLM paid a total of $49.43 million to keep wild horses in off-range holding areas, which amounted to 63 percent of the entire budget for the BLM's Wild Horse and Burro Program.
As an alternative to roundups, the BLM has made limited use of a contraceptive substance known as PZP, which can be administered to wild horses with dart guns. Philipps acknowledges a place for PZP in wild-horse management, but he does not like the "human interference" it introduces into wild herds.
The use of mountain lions, Philipps argues, would protect the wildness of wild horses. And there is proof that mountain lions can help keep wild-horse numbers in check.
"In one study after another, researchers tracking wild horses in the Great Basin have come across significant numbers of lion kills," Philipps wrote in his new book. "Each time, the impact was significant enough that scientists trying to study other aspects of horses were astounded."
But Philipps contends the U.S. Bureau of Land Management has ignored the research on mountain lions, in part because the bureau has been too busy rounding up and transporting horses to holding areas.
Since the publication of the book, Phillipps said, he has heard no reaction from the BLM. The Journal sought a comment about the book from the BLM's Wild Horse and Burro Program but did not receive one.
"I still don't think they take it seriously," Phillips said. "I don't think they will until somebody makes them."
Philipps said it will take a public outcry — perhaps motivated by the deaths of thousands of wild horses from euthanasia or drought, for example — to push the BLM in a new direction.
"I don't think that the public is really going to get involved until we reach catastrophe," Philipps said. "But I think we might be getting close to that."