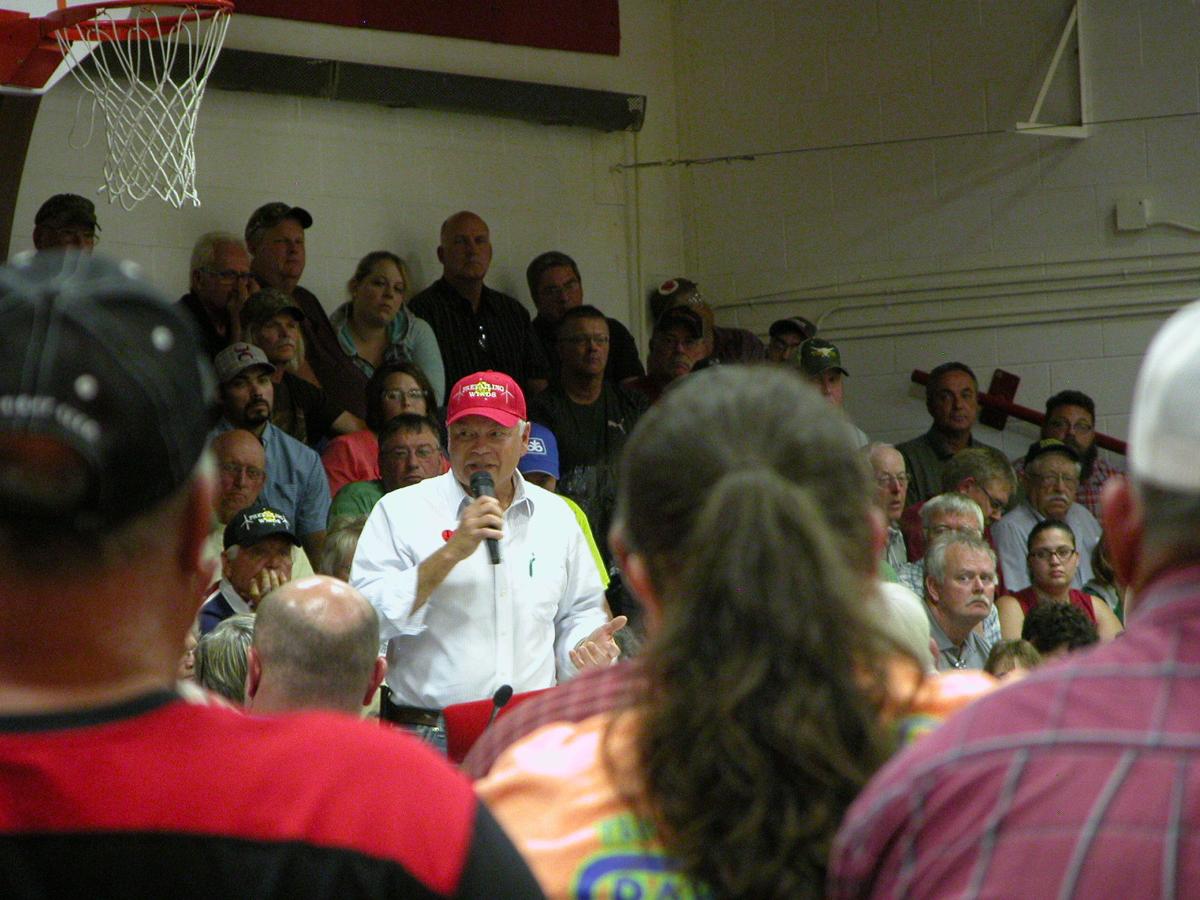 PIERRE | One week after a community meeting drew 300 people to the Avon gym and revealed how deeply they were split over a proposed wind farm, the backers of the Prevailing Winds project asked Tuesday to withdraw their application for a state permit.
Chris Nelson, chairman of the South Dakota Public Utilities Commission, described the request as "unexpected." The filing came shortly before the commission began its regularly scheduled meeting Tuesday.
One of the items on the agenda called for deciding who could intervene in the case. That was put aside after receiving the withdrawal filing.
Nelson suggested the withdrawal motion be considered at the commission meeting on  Sept. 13.
Lee Magnuson, a Sioux Falls lawyer representing Prevailing Winds, spoke to the commission by telephone and said the decision to withdraw was made "just very, very recently."
Magnuson said the pending requests to intervene by opponents and supporters might be "a moot point."
The project called for constructing up to 100 wind towers north of Avon in Bon Homme and Charles Mix counties.
Among the local people arguing against the development was former Rep. Ed Van Gerpen, R-Avon. One of his complaints was that none of the investors from the area lived within the project area.
He also disputed some of the tax benefits that the project's supporters promised.
The project would have produced an estimated 200 megawatts or more of electricity. State law requires PUC approval for wind projects that generate more than 100 megawatts.
After the meeting, a reporter contacted by Magnuson and asked whether the project might be broken into smaller pieces that could move forward under the 100-megawatt threshold without PUC permission.
Magnuson referred the question to Roland Jurgens, project manager for Thorstad Companies, a construction company from Chokio, Minn.
In his email response, Jurgens wrote: "Prevailing Winds, LLC does not intend to split the project as you suggest. Prevailing Winds is a community wind project and community is very important to the Prevailing Winds Investors and Board of Governors.
"Unfortunately, misinformation has been circulated about the project. Keeping the interests of the community and the project in mind, Prevailing Winds has withdrawn the application to allow Prevailing Winds to better inform the community on the wind project and allow Prevailing Winds to revisit its options regarding the project."
Magnuson's motion asked the PUC to dismiss the application without prejudice, meaning the opportunity would remain open to apply again for a state permit.
Van Gerpen was among more than 70 people who applied to the PUC for party status, meaning they could intervene by presenting evidence and witnesses and participating in questioning of witnesses.
"That's interesting," Van Gerpen said when told that Prevailing Winds didn't plan to try to use the 100-megawatt exemption. "I didn't know what their next move might be."
The commission took testimony for about four hours during a public input hearing held recently in Avon.