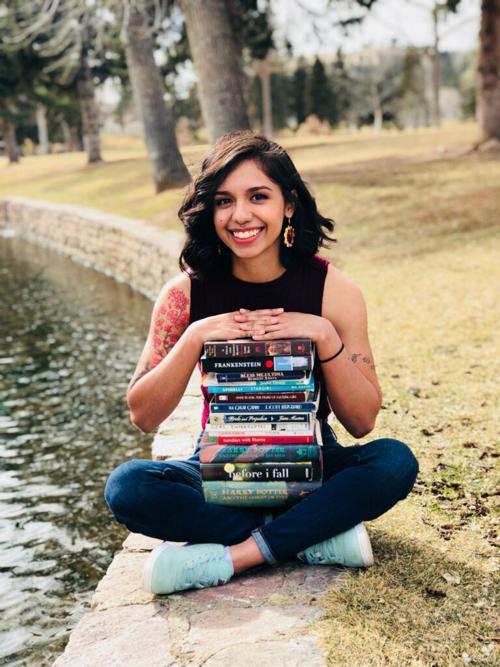 It's good to be young and Lakota.
That's the message 22-year-old Sierra Concha hopes to spread as she begins the next chapter of her life following graduation from Black Hills State University this weekend.
Nearly 390 graduates will be recognized during the 175th Black Hills State University Commencement Ceremony at 10 a.m. Saturday at the Donald E. Young Sports and Fitness Center on the BHSU campus. The public is invited.
A Lakota prayer will be shared during the ceremony by Beverly Running Bear, instructor of Lakota language. Chris Crawford, provost and vice president for academic affairs at BHSU, and John Bastian of the South Dakota Board of Regents will offer greetings to the graduates.
An honorary doctorate will be bestowed upon Lowell Amiotte, Oglala Lakota and a 1964 graduate of BHSU. Amiotte is recognized for his dedication and commitment to Native American education. He spent nearly 50 years in education including serving as director of the Center for American Indian Studies at BHSU and helping to establish the American Indian Higher Education Consortium.
Concha will graduate with a bachelor in English and a minor in Native American studies, and said she is looking toward a future that will help strengthen her people.
"We're incredibly strong, empowered people," she said. "We're more engaged with who we are. It's incredible what's (happening) on the reservation. We're here, and we're making a difference."
Concha, who is Lakota, Taos Pueblo and Ojibuye, spent the first half of her childhood in Albuquerque, N.M., and moved to the Pine Ridge Indian Reservation when she was 13. The granddaughter of the late Dennis Banks, a Native American activist and longtime leader of the American Indian Movement, Concha said it is in her blood to lift up her people. Banks, who passed away last year, cultivated a spirit of resiliency in her family, she said.
She honored him on his birthday, which fell on the same week she celebrated her heritage on campus during American Indian Awareness Week.
"This was his first birthday since he passed away, and I prayed, smudged with sage and found it fitting his birthday falls on a week that we celebrate indigenous people," she said.
Two years ago, Concha presented a TEDxYouth talk on how Native youth are more than statistics.
"There are so many negative statistics and articles, and they are ultimately false because there are so many youth trying to make their community better," she said. "The reservation isn't just this poverty-filled, alcoholic area. Those are problems, but we're working to fix them."
Concha said she is doing her part to help anchor Native youth in their culture by teaching them the Lakota language. She has worked for a Lakota immersion childcare program during the summer and animated Lakota language videos and online books for children ages 1-5.
"The language is directly linked to our culture and who we are," she said. "It could make our community and culture so much stronger now. Watching these kids grow and become these incredible fluent speakers is amazing."
Concha took Lakota language classes at Red Cloud Indian School where she attended high school, but it wasn't a focus for her, she said. It wasn't until more recently that she realized the impact the language could have on the Native community if more people were fluent, particularly the next generation.
"I fell in love with the language," she said. "And I've been able to pick it up quickly."
Concha said she supports people who decide to leave the reservation for work, but is encouraged by people who decide to return after their education to find jobs and help create change. "It's essential," she said. "It's the only way we're going to help our youth."
In the fall she will return to Red Cloud Indian School as an employee of Thunder Valley Community Development Corporation to work as a kindergarten teacher in the Lakota Immersion Elementary Track. The track is a partnership between Thunder Valley CDC and Red Cloud Indian School for children to be provided with access to a high-quality education taught in the Lakota language.
It's following through on her calling, she said.
"Ever since I was young, I said, 'I'm going to help my people,'" she said. "I didn't know how, but I knew I was going to."
As a new teacher, she hopes the little ones she is working with look at her and see a window into their future.
"I hope they see that someone can get an education, come back and be successful and still be immersed in our culture," she said. "I hope they see that it's OK to be Lakota."
The spring 2018 Commencement Ceremony will be broadcast live at BHSU.edu/Classof2018 for those who are unable to attend.
Get local news delivered to your inbox!
Subscribe to our Daily Headlines newsletter.