Chris Cox says he is exhausting himself and his personal finances in his crusade to organize motorcycle riders into a voting bloc for Republican presidential candidate Donald Trump.
Yet, at his vendor display Wednesday at the Crossroads stage at the Buffalo Chip Campground during the Sturgis motorcycle rally, he did not offer any formal information about the election, or about voting, or about Trump.
What Cox offered all week at the rally were "Bikers for Trump" T-shirts, sold from the back of his truck for $20, or $15 for second and subsequent purchases.
A person working with Cox claimed the proceeds go to the Trump campaign, but Cox, under questioning from a reporter, acknowledged that the money goes into his own pocket.
Prior to this year's presidential race, that kind of appropriation of Trump's name for profit might have resulted in litigation. Now, Trump's presidential candidacy has motivated Cox and legions of others who are cashing in on the value of the Republican presidential nominee's brand.
At this year's Sturgis rally, which officially ended Friday, vendors hawking Trump-themed attire and buttons, along with anti-Hillary Clinton merchandise, appeared to do brisk business among a crowd that was outwardly for the Republican nominee for president.
There were booths offering Trump items for sale along the main route that bikers rode into town, as well as downtown where thousands of bikers lined Main Street, and also at some of the big campgrounds outside of town. Trump's flamboyant persona seemed to be a perfect fit for the rally, where painted bodies are commonplace, profanity abounds and political correctness is rarely seen.
Whether any of the vendors selling Trump merchandise were officially connected to the Trump campaign was questionable. Some said they were, and others acknowledged they were not. Some said they sent a portion of their proceeds to the Trump campaign, and others said they were in business for themselves.
The only one who claimed to be leading a movement was the enigmatic Cox, a late-40s South Carolinian who is enjoying a second shot at fame since founding Bikers for Trump last August.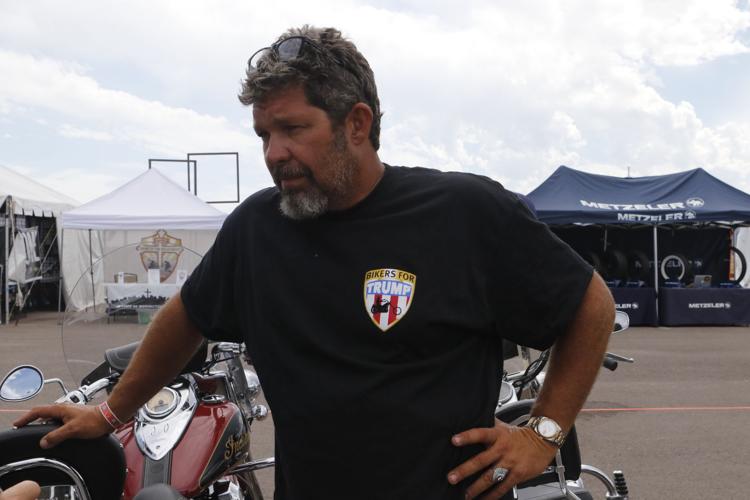 'Lawnmower Guy' rides again
Cox's first foray into the national media spotlight happened during the federal government shutdown in 2013, when he took it upon himself to mow the lawn of the Lincoln Memorial in place of furloughed federal employees. He was dubbed the "Lawnmower Guy" and featured in media stories nationwide.
At that time, Cox, whose avocation is creating chainsaw sculptures from logs, seemed perfectly cast as a rebel patriot with his unkempt head of curly hair, full beard and no-nonsense attitude. He eventually trimmed the hair and beard and put on a collared shirt, and as recently as last August he was traipsing around Washington as the self-appointed lobbyist for a bill to keep national parks and memorials open in the event of another government shutdown.
The bill stalled in a committee, but Cox told a writer for the website DCist.com that he planned to come back to Congress after the August 2015 congressional recess to continue the work. Instead, he says now, that's the month he founded Bikers for Trump.
In his latest incarnation as a media darling, he's returned to a scruffier look while casting himself as an impoverished, nomadic road warrior. In interviews and on social media, he has repeatedly said that he sleeps in a rundown camper and urinates in old milk jugs.
Meanwhile, his behind-the-scenes moves reflect a savvier operator. He has trademarked the phrase "Bikers for Trump" and registered his Bikers for Trump organization not as a political action committee or a nonprofit, but rather as a limited liability company in low-tax Delaware.
There are other indications that Cox is not exactly the man of modest means that he appears to be. He comes from a politically connected family with a father who's worked for the likes of the Bushes and Doles, and his "Bikers for Trump" trademark is registered to an address in Mount Pleasant, S.C., where his mother owns a stately, two-story brick home that has a market value of more than $1.2 million, according to tax records.
In that regard, Cox may be a bit like Trump — a driven opportunist who has crafted and benefited from a man-of-the-people persona. 
The two men's paths converged to much fanfare in July at the Republican National Convention, where Cox drew media attention for rolling into Cleveland with other bikers. He pledged to intimidate groups such as the New Black Panther Party and Black Lives Matter, and afterward, Cox said his group's presence thwarted some planned protests.
That was the climax of efforts that had begun months earlier, when Cox began organizing pro-Trump biker rallies and showing up at Trump events. In the days leading up to the Republican National Convention, Trump tweeted his appreciation: "Thank you to Chris Cox and Bikers for Trump - Your support has been amazing. I will never forget. MAKE AMERICA GREAT AGAIN!"
You have free articles remaining.
Cox now says that Bikers for Trump has 105,000 members, and that bikers are the "fastest growing demographic in the presidential campaign cycle on both sides."
In an interview at the Buffalo Chip last week, he spoke in vague generalities when asked to explain how bikers become members, but one way is to register on Cox's website by providing him with a name and email address. He might also be equating his Bikers for Trump "likes" on Facebook with memberships, because he had about 105,000 of those as of last week.
Still, if Cox can convert even 5 percent of those likes into T-shirt customers, his haul would exceed $100,000 (the shirts, though priced at $20 and $15 at the rally, are priced at $26 online). Throughout last week, a post encouraging T-shirt purchases was pinned to the top of the Bikers for Trump page on Facebook. At the Sturgis rally on Wednesday, while Cox took a 25-minute break to be interviewed for this news story, a man working with him made 16 T-shirt sales.
When asked how many total T-shirts he's sold, Cox said he doesn't know. He said his relatives urged him to begin selling the shirts after he spent much of his own money on the movement.
Media accounts of Cox's activities have mostly failed to address where his money goes, and he has sometimes encouraged or allowed false notions about that. Besides the worker at the Sturgis rally who falsely claimed that the proceeds from the shirts go to the Trump campaign, Cox also has language on the ordering page of his website that seems intended to create the impression that he's running a nonprofit.
"This is not for profit, all proceeds are used to support all Bikers for Trump!" the website says.
But Cox is in fact running a company, not a nonprofit, and he has complete control of all the T-shirt revenue and the additional $12,568 he has raised through the online fundraising website GoFundMe (that site publicly displays the amount raised).
When asked if he gives any money at all to Trump's campaign, Cox initially dodged the question.
"One way or another it goes to the campaign," he said. "I've been out here a year now."
Asked again whether he gives any money to Trump's campaign, he acknowledged the money he raises is "funding Bikers for Trump."
Cox said he uses the money to get himself from one Bikers for Trump rally to another, and to help other bikers get to the events. He described his lack of fiscal accountability as a good thing for the movement.
"With the T-shirt money, it's really up to my discretion what to do with it," he said. "Anybody else who sells T-shirts, they're lining their pockets. As I sell my T-shirts, I'm planning my next rally."
He has not spent any of the GoFundMe money, he said, and wants to use it to buy billboards in election battleground states. But his $12,568 might not stretch very far. Lamar Advertising reports on its website that the price to advertise on one billboard for several weeks in the state of Florida, which was one of the states mentioned by Cox, is several thousand dollars.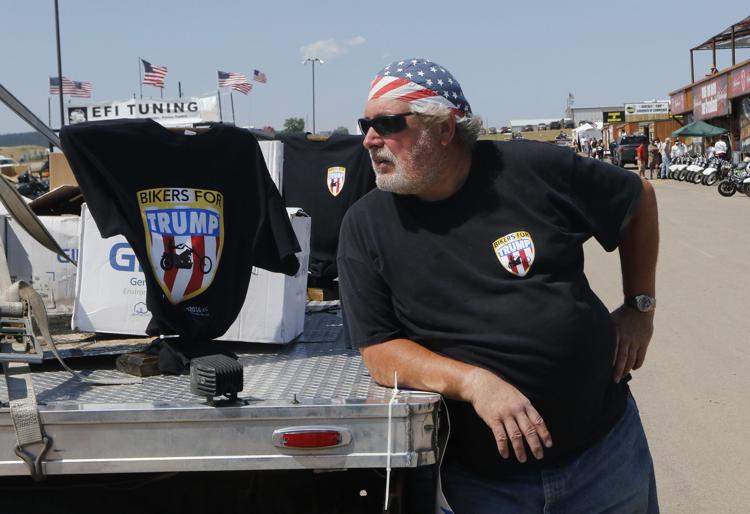 Next step: Washington lobbyist?
If Cox does use his GoFundMe money to conduct political advertising, he would presumably have to file reports with the Federal Election Commission under the terms of campaign finance laws. Cox said he has "guys that are a lot smarter than I am when it comes to stuff like that" who will take care of those details.
Despite his lack of financial transparency, Cox's embrace by bikers at the Sturgis rally seemed full and wholehearted. On Thursday night at the Buffalo Chip Campground, Cox was brought onstage in front of a throng of thousands. In a video of the appearance posted to the Bikers for Trump page on Facebook, someone in Trump-themed attire could be seen and heard giving Cox a profanity-laced introduction and endorsement.
The cheers from the crowd may further embolden Cox, who told the Journal the day before his onstage appearance that he has dreams of converting the Bikers for Trump movement into a lobbying presence in the nation's capital.
Leading a biker lobbying group may seem like the logical next step for Cox, and the email list he's building on his website's registration page would undeniably come in handy for that, despite his pledge that people who register with Bikers for Trump will never be put on an email list.
Cox does lack one potentially important qualification for a biker lobbyist, which was awkwardly revealed when he was asked about his "ride" for a Q&A in Sturgis Rider Daily, a co-publication of the Journal and the Buffalo Chip Campground.
"I don't," said Chris Cox, founder of Bikers for Trump, "have a bike right now."