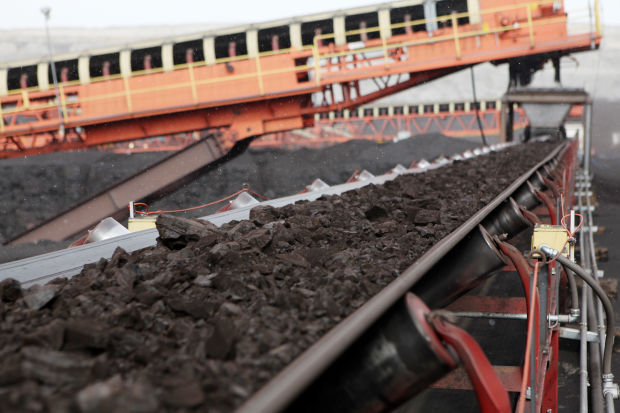 As Black Hills Corp. pursues regulatory approval for a proposed $57 million, 40-megawatt wind farm west of Cheyenne, Wyo., it's also seeking commitments from South Dakota's largest energy consumers interested in using the renewable energy.
Those moves, however, aren't part of a grand plan to make Black Hills Corp. an industry leader in renewable energy production anytime soon, according to a company official.
"As we move into the future and we continue to monitor the developments and technology available, when it comes to renewables, whether it's wind or solar, we'll certainly be engaged in that but at this point in time we're committed to the resources that we have and own in Gillette, Wyoming," Nick Gardner, vice president of electric operations at Black Hills Corp., said recently.
The Wyodak mine just east of Gillette is owned by Black Hills Corp. and contains nearly 200 million tons of coal reserves across 6,000 acres of land permitted for mining. The wind farm project, Gardner said, comes in response to demands by it largest customers — governmental agencies, commercial and industrial companies — for more renewable energy offerings as those companies seek to meet individual sustainability goals.
"This is really a solution that we're offering to these customers to help them with that," Gardner said. "It's not necessarily a plan for us to signal a change in our overall energy mix by any means."
Gardner said the wind farm project was also a case of Black Hills Corp. taking advantage of opportunities opposed to a broad effort to transition or alter its current energy mix toward more renewables.
According to Gardner, of Black Hills Corp.'s total energy production in 2017, 32 percent was from coal and 8 percent from natural gas, diesel fuel and wind. The remaining 60 percent came when Black Hills Corp. purchased electricity directly from third-party producers. Of the 60 percent derived from those agreements, Gardner said it was a combination of coal, gas, hydroelectric and renewables like wind and solar though he couldn't offer a detailed breakdown.
Gardner said much of the decision-making about how to source their energy production came down to balancing the expectations of customers with the interests of the company's shareholders. Whatever energy source they decide upon, it not only needs to be economical to the company and its customers, but must also present growth opportunities, he said.
The wind farm near Cheyenne — officially called the Corriedale Wind Energy Project — is Black Hills Corp.'s primary renewable energy project for serving South Dakotans for now, though some of the company's subsidiaries own and operate an 89 megawatt wind farm used by its Colorado customers, with another 60 megawatt wind farm in Colorado set to be in service by the end of 2019.
Further, the company is also looking into the feasibility of building a solar farm near Edgemont. Garder said rebuilding and modernizing the company's distribution system was a near-term top priority, with the company close to completing a $70 million rebuild of its transmission lines extending to Eagle, Neb.
The Corriedale Wind Energy Project is expected to generate 40 megawatts of energy, which would be split 50-50 between Wyoming and South Dakota customers.
Gardner said that South Dakota companies have committed to using about 65 percent of the 20 megawatts destined for the state by the end of September 2020, when the project is expected to be completed.
If Black Hills Corp.'s filings are successful, any company using the energy would pay an additional fee on their bill, known as a Renewable Ready Service Tariff that would be a fixed rate charge per kilowatt hour of energy used. Gardner said 40 megawatts was equal to the amount of power typically used by about 20,000 homes for an entire year.