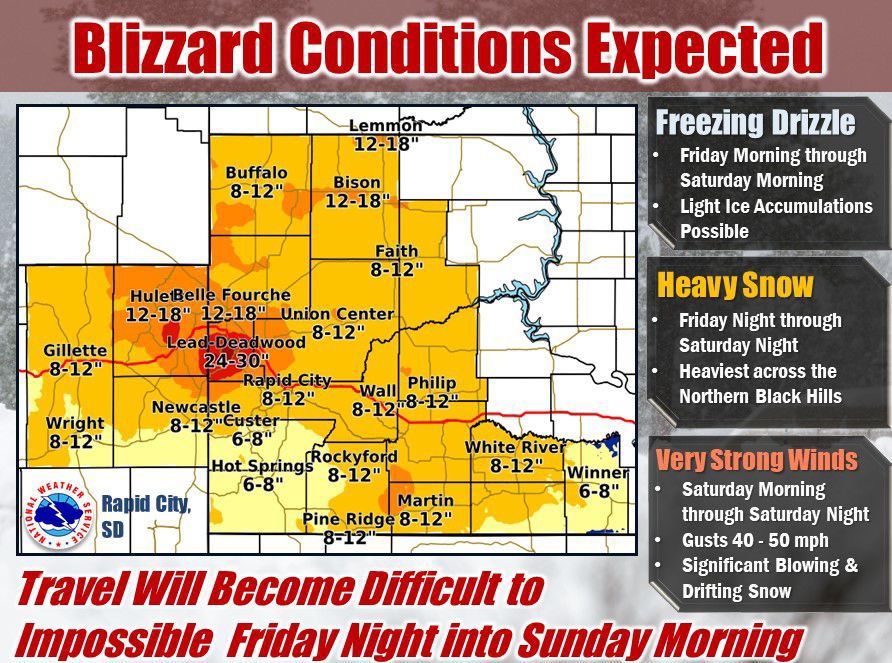 Post-Thanksgiving travel could hit a serious roadblock Friday and Saturday, with blizzard conditions likely for western South Dakota and northeastern Wyoming.
The National Weather Service in Rapid City issued a blizzard warning for the plains and a winter storm warning for the Black Hills, both for Friday evening through Sunday morning. Heavy snow mixed with extreme wind gusts of 65 mph are expected.
The forecast calls for anywhere between six to 12 inches of snow in the lower elevations and the potential for two feet of snow in portions of the northern Black Hills.
"The storm will bring large amounts of moisture and very strong winds. Freezing drizzle is expected on Friday before changing over to all snow Friday night and early Saturday," a Thursday bulletin from the National Weather Service said. "Strong winds, with gusts of 50 to 65 mph, will develop across northeast Wyoming and northwest South Dakota Saturday, resulting in widespread blizzard conditions.
"Snowfall amounts near a foot are possible across the plains especially north of Interstate 90, with near two feet possible in the northern Black Hills."
The potential of howling winds, heavy snow and white-out conditions could also put the brakes on a Black Hills holiday tradition — the Festival of Lights Parade, scheduled to step off at 6 p.m. Saturday in downtown Rapid City.
Connie Olson, chairman of the parade, said organizers and the Rapid City Police Department continue to monitor the weather. The parade will be held, unless the police department issues a no travel advisory for Saturday, Olson said in an email.
If the parade is cancelled, Olson said it will not be rescheduled. However, as a back-up plan, the Festival of Lights would hold a "static parade" from 6 p.m. to 8 p.m. on Dec. 8 at the parking lot of Rushmore Mall.
You have free articles remaining.
Olson said the static parade at Rushmore Mall would only be held if Saturday's parade is cancelled.
"All floats are invited to line up from 3:30 p.m. to 6 p.m. Floats will line up on the outside edge of the mall parking lot," Olson said in the email. "At 6 p.m. the Rushmore Mall will shut off their overhead lights. At that time we will invite the community to drive the loop around the mall between the hours of 6 p.m. and 8 p.m. to see all of the floats."
The National Weather Service predicted things could get dicey — if not impassable — for holiday travelers' trips home. Forecasters warned against travel Friday night through Saturday night in a stretch of country from northeast Wyoming to northwest South Dakota due to the expected blizzard conditions.
"Travel could become impossible, especially during the day Saturday as winds increase and blizzard conditions become more widespread," a Thursday statement from the National Weather Service said. "Even though the snow will end Saturday night, snow packed and icy roads will still be found across the area on Sunday. Persons planning travel over the weekend should consider alternate plans."
As a prelude to Friday and Saturday's significant winter storm, Darrell Shoemaker, spokesperson for the city of Rapid City, said city crews were already out monitoring the situation as the winter precipitation started to fall Thursday afternoon and evening.
"Slippery conditions are beginning to develop in the area and the Rapid City Police Department has issued a motorist advisory to drive with caution and slow down," Shoemaker said Thursday afternoon.
South Dakota Department of Transportation officials warned that while travel is still possible, that could change at a moment's notice. If motorists decide to take the risk of driving over the weekend, some roads may be closed as conditions worsen. Blowing snow, like what is forecast for Saturday, will cause white-out conditions, prompting state officials to close highways.
Additionally, the South Dakota Department of Public Safety urges drivers to carry a winter weather emergency kit in their vehicle and to make sure gas tanks are full.
The Associated Press contributed to this report.