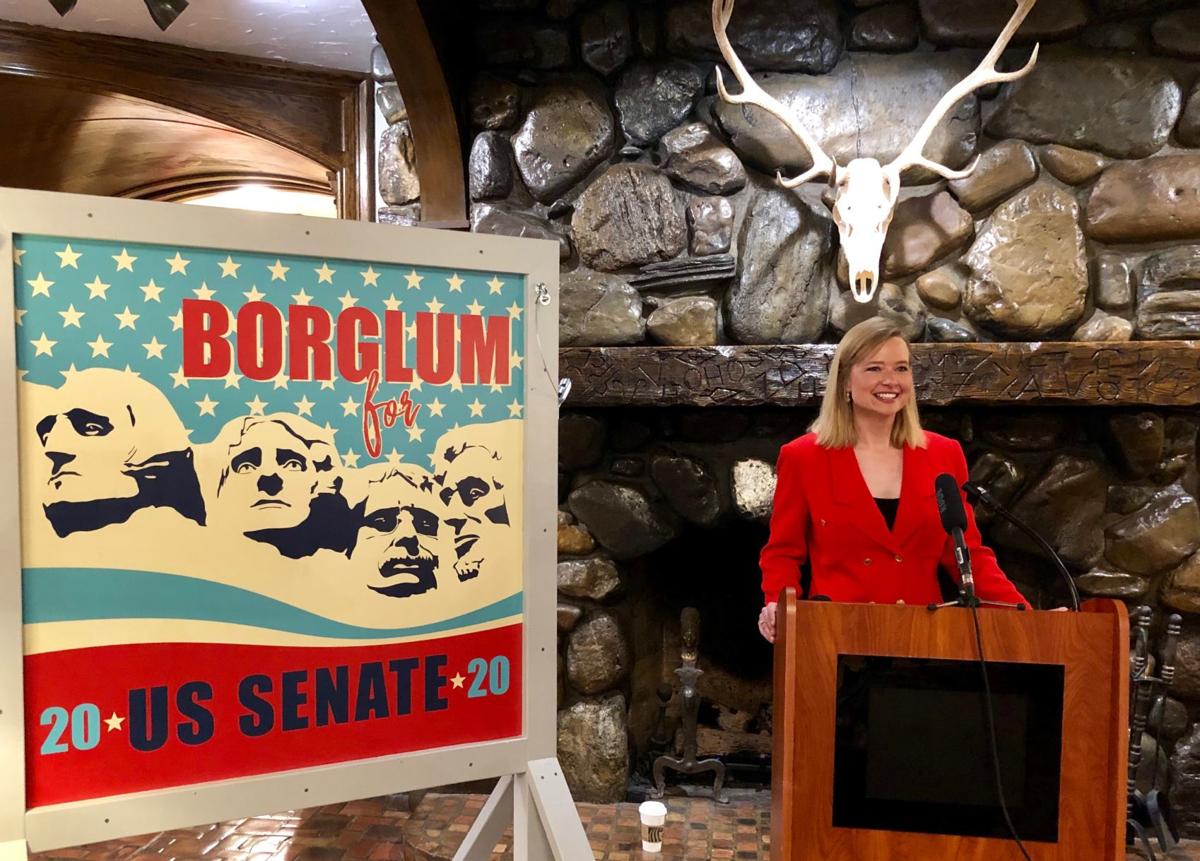 Scyller Borglum declared her U.S. Senate candidacy Monday while aligning herself with President Donald Trump and saying Sen. Mike Rounds, R-S.D., has not accomplished enough for conservatives.
"The same group of people who stand in line for the pictures with President Trump were some of his loudest critics not that long ago," Borglum said. "And what were they afraid of? They were afraid that his common-sense, conservative approach to the business of running America was not what they had in mind."
Borglum, an engineer and Republican state legislator from Rapid City, made her announcement at a morning event attended by about 30 people in the Hotel Alex Johnson. Subsequent stops on her campaign launch tour Monday are scheduled in Chamberlain, Sioux Falls and Watertown.
Meanwhile, a campaign spokesman for Rounds, Rob Skjonsberg, defended Rounds' record in an emailed statement to the Journal.
"There are 38 U.S. senators that support President Trump more than 90 percent of the time, and Mike is among them," Skjonsberg said. "Mike's overall conservative credentials are top two in the 2014 class. He's known as a reformer with serious policy chops. He's doing exactly what he said he'd do in Washington. South Dakotans know this."
Skjonsberg also took a swipe at Borglum's ideological identity, saying, "Typically, a GOP primary challenge comes from the right. A challenge from the left is bizarre and that would be the case here."
When asked for evidence, Skjonsberg cited ratings of Borglum's legislative record by conservative political advocacy groups, including Americans for Prosperity. On that group's 2019 Legislative Key Vote Scorecard, Borglum is shown voting against Americans for Prosperity on four of five bills.
Rounds was elected in 2014 after serving two terms as governor. He and Borglum are now on a course to square off in the June 2020 Republican primary election, with the winner moving on to the November 2020 general election. No Democrats, independents or third-party candidates have yet announced themselves as candidates in the race.
Borglum was a political newcomer when she won election to the state House of Representatives last year from District 32. She faces obstacles in challenging Rounds, including his approval rating, which is the sixth highest among all U.S. senators, according to survey results published last month by Morning Consult. Rounds also has approximately $1 million in his campaign account and the support of the National Republican Senatorial Committee, which sent an unsolicited statement to the Journal.
"As a lifelong South Dakotan, Senator Mike Rounds' impressive record and service to his state — both in state government and the U.S. Senate — are unmatched," said the NRSC statement. "He's championed our military and veterans, fought diligently to cut taxes and strengthen South Dakota families, and been in lockstep with President Trump to secure our border and keep America safe. We look forward to him continuing to fight for and represent South Dakota in the Senate."
The 42-year-old Borglum said Monday that the nation needs more women and younger people in politics. She said her top three priorities are limiting and reducing the size of government, addressing health-care problems with a plan she said she'll release later, and providing for the nation's safety and security. On the final point, she again referenced Trump, saying she would support his efforts to build a wall on the nation's southern border.
Borglum described Rounds' Senate record as lackluster for someone with so much experience in government and politics.
"He should be able to bring to Washington our common-sense, conservative values," Borglum said. "It's clear that he has not. In Washington, common sense is still an uncommon virtue."