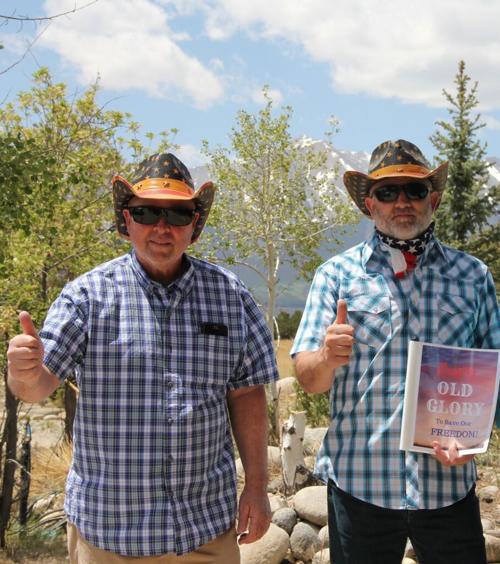 Two brothers hope to raise the biggest flag in the United States on July 3 at the Buffalo Chip.
Dane and John Senser want to unite those in different political parties and who have different backgrounds under a 3,000-pound flag as fireworks light up the skies over Mount Rushmore.
"We're going to make it the healing of the nation on July 3," Dane said. "We all agree on one thing: our country needs some healing. We need to get back to our normal lives."
Dane said this is a good time to help heal the nation from the COVID-19 pandemic and protests against police brutality.
"It's never been as tough as it is now, but listen, that's OK because we'll still get through it no matter what," he said. "Let's just focus on the good, the greatness and kind hearts of people."
Dane said 600 people are needed to hold the flag, which is 255-by-505 feet.
John said he has traveled to Hot Springs and Hermosa to ask veterans and first responders to hold the flag and planned to do the same on Tuesday in Keystone and Custer.
He said he doesn't think there will be an issue getting at least 600 veterans and first responders to volunteer to hold the flag, but if there is, they'll open it to church groups and the public.
Dane said he's had the idea to raise the flag for some time and looked at hosting the event in Florida and Colorado. When he and his brother heard President Donald Trump was going to attend the fireworks display at Mount Rushmore on July 3 and Gov. Kristi Noem's return to normal plan, they took it as a sign that South Dakota was the place to be.
John said Rep. Julie Frye-Mueller heard what they were trying to do and reached out to help them find a venue, finally settling on the Buffalo Chip, which confirmed the event and will release more details as they become available.
John said as veterans and first responders hold the flag, other veterans will lead a procession under the flag with their cellphone lights facing the sky to illuminate it. As the group leaves, everyone will spread out.
"One light by itself doesn't do much, but when we all unite with our own individual light, metaphorically and physically, we walk and we unite tightly," John said.
John said the flag will be raised after dusk. At the same time and perhaps in synchronization, fireworks will start at Mount Rushmore. Both brothers said the Buffalo Chip is working to broadcast the fireworks display on its three jumbotrons, typically used to show concerts at the Sturgis motorcycle rally.
Dane said the event will actually last three days, starting Friday morning and into the evening with the raising; a celebration of the country on July 4 complete with hamburgers, hotdogs and apple pie; and a church service Sunday before everyone leaves. Entertainment is also in the works, said Rod "Woody" Woodruff, president and founder of The Buffalo Chip.
In order to afford this, though, the brothers ask for donations to their GoFundMe page or to a bank account at Wells Fargo. The money will go toward renting the flag and transportation and to sponsoring veterans and first responders who may want to attend but don't have the means to do so on their own. They said people can sponsor veterans and first responders for $100.
According to the GoFundMe page Tuesday, $285 had been raised of the $100,000 sought, which is down from $1 million sought Monday.
The brothers ask that funds are donated by July 1.
Get local news delivered to your inbox!
Subscribe to our Daily Headlines newsletter.