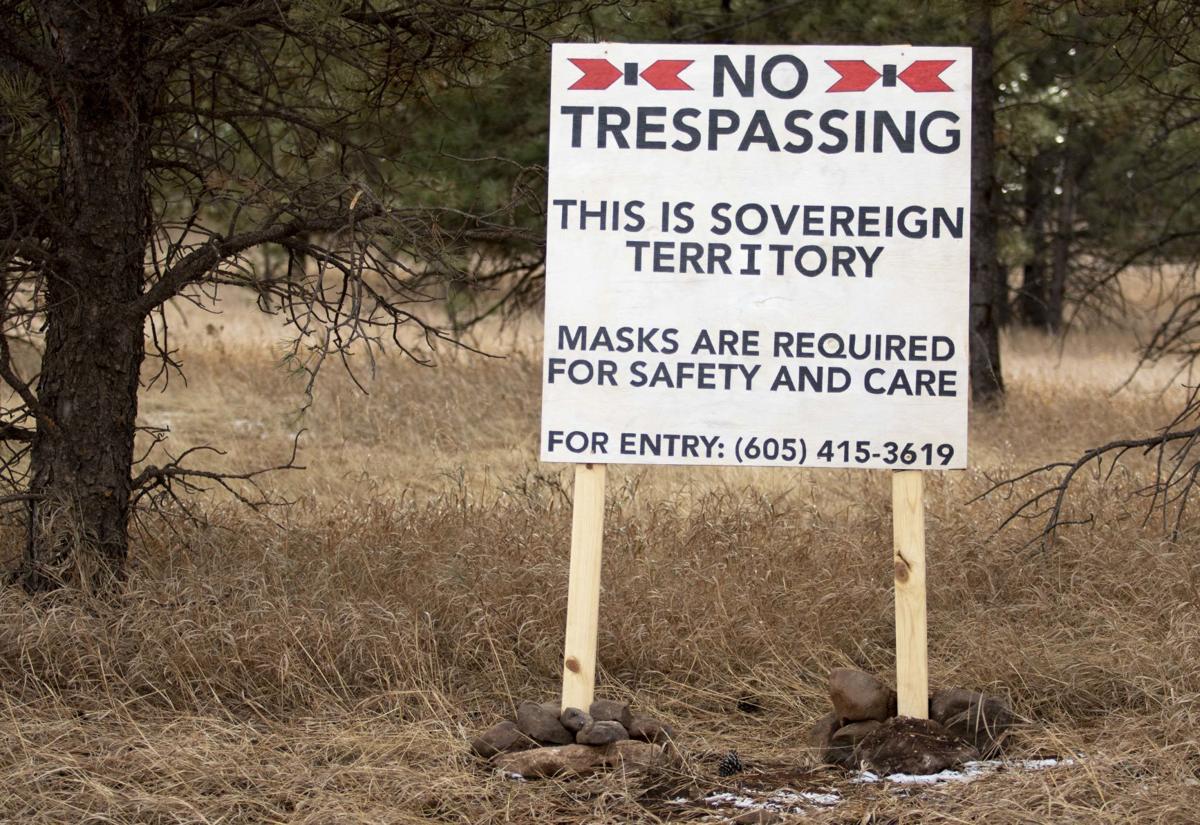 Camp Mniluzahan is aiming to keep its residents and the Rapid City homeless population safe with as little police intervention as possible.
"If we need to then we do call (police) but basically we do our best to not use them, we take care of any incident we can on our own," said volunteer Carrie Middletent. Most 911 calls relate to medical issues, she said. 
"We are trying to have as many conversations and have good communication with (police) as possible but then also making sure our relatives and our unhoused people do not feel criminalized, that they also feel safe and protected," echoed Sunny Red Bear.
Camp/Creek Patrol volunteers say they have de-escalated conflicts within Rapid City while keeping the camp safe from outsiders as well as internal conflicts.
Camp Mniluzahan also has COVID-19 mitigation policies, medical supplies, an on-call medic, and an on-site wildland firefighter who hopes to certify others and bring a firetruck to the camp.
The camp's approach to public safety and health mirrors its overall philosophy in caring for people through self-reliance, mutual-aid and in ways that avoid criminalization. The approach is also similar to more formal programs across the country that have civilians rather than officers respond to calls related to intoxication, mental health and low-level conflicts.
Camp Mniluzahan is located within Pennington County but the sheriff's office doesn't have jurisdiction since the land is owned by the Oglala, Rosebud and Cheyenne River Sioux tribes.
The FBI — which made contact with the camp in late October — has jurisdiction only if there is a major crime committed such as a homicide, rape or arson. The camp could request tribal or Bureau of Indian Affairs officers but has instead opted to handle public safety on its own.
Public safety at the camp involves two aspects: de-escalating any conflicts within the camp and keeping the camp safe from trespassers.
Conflict between people can be de-escalated by having volunteers show up, communicating through body language and creating physical distance between those who are in conflict, said volunteer Mark Tilsen. There is also a security crew that stays up overnight to prevent any conflict during those hours.
The camp entrance is marked with a sign warning people not to trespass but some people do anyway, Tilsen said. 
It's "mostly benign, people are wanting to check (the camp) out," he said.
Volunteers say they need to know who is coming in for COVID-19 prevention and privacy purposes. There are also domestic violence victims at camp so it's important to keep their abusers away.
"We're not trying to be abrasive, we're trying to be protective," Red Bear said.
People who want to volunteer should email the group (info@creekpatrol.org) rather than than just showing up at camp, she added.
Camp volunteers say they try to de-escalate any conflicts they come across while patrolling along the creek and have intervened to invite people to camp who might have been taken to jail, the Care Campus or Mission.
Red Bear said she was recently on patrol when she saw two officers arrive at a store where two men were involved in some kind of disturbance. She arrived as officers were loading the men into patrol vehicles and asked if they instead wanted to go to camp with them.
"I was like, is it OK if they come with us and (the officers) were like yeah, absolutely and they turned to the guys and they were like hey do you guys want a warm meal and a safe place to sleep tonight," she recounted.
"It was really cool to have that kind of support from (the officers), and knowing that we'll take care of them," Red Bear said.
She said the camp has business cards with their number on it as well as a list of other resources. Volunteers hand out the cards to homeless people as well as officers. Volunteers would be happy if officers called them to de-escalate situations and bring people to camp, Red Bear said.
"We try to resolve most issues involving our homeless population through utilization of the services at the Care Campus or the Mission," said police spokesman Brendyn Medina. "If the issue rose to the level of an arrest/trip to jail, I can't imagine any circumstances where we would relinquish the offender to a third party. If someone wished to go with the Creek Patrol during a non-criminal interaction, we wouldn't stop them."
The police department doesn't have jurisdiction at the camp but has "received an increased amount of complaints from residents in the area of the camp regarding intoxicated subjects, disturbances and trespassing" since the camp opened, Medina said.
"The trespassing issues are primarily people walking through other people's property and/or passing out on people's lawns," he said. Medina said there's been one case of an intoxicated camper forcing his way into a nearby home.
"The only increase in disturbances is probably our people walking through the street and I really hate to bring up the race issue, but that's what it is ... that's all it is, brown people walking down the street," said Bettelyoun.
"Being over on this side of town, we've had complaints or concerns from some of the local neighbors and community members," Tilsen acknowledged. "My response is talk to the mayor. We were set up on the other side of town, we actually had a plan. We didn't want or need to come out this way. So if you are concerned or worried, the mayor can just let us have the old spot back near the fairgrounds."
Medina said officers haven't noticed a decrease in Rapid City's homeless population since Camp Mniluzahan began, but is seeing people who used to live at the camp or split their time between the camp and Rapid City.
COVID-19 prevention includes requiring people to sanitize their hands and wear masks in the transport vans, and wearing masks at camp, Tilsen said. The camp has conducted on-site testing and brought people to be tested at clinics.
Several people have tested positive but all recovered, he said. The camp finds places for people to quarantine in town if they contract the virus.
The camp stocks first-aid supplies and has an on-call medic if needed. The camp can also call an ambulance or drive people into town for emergencies.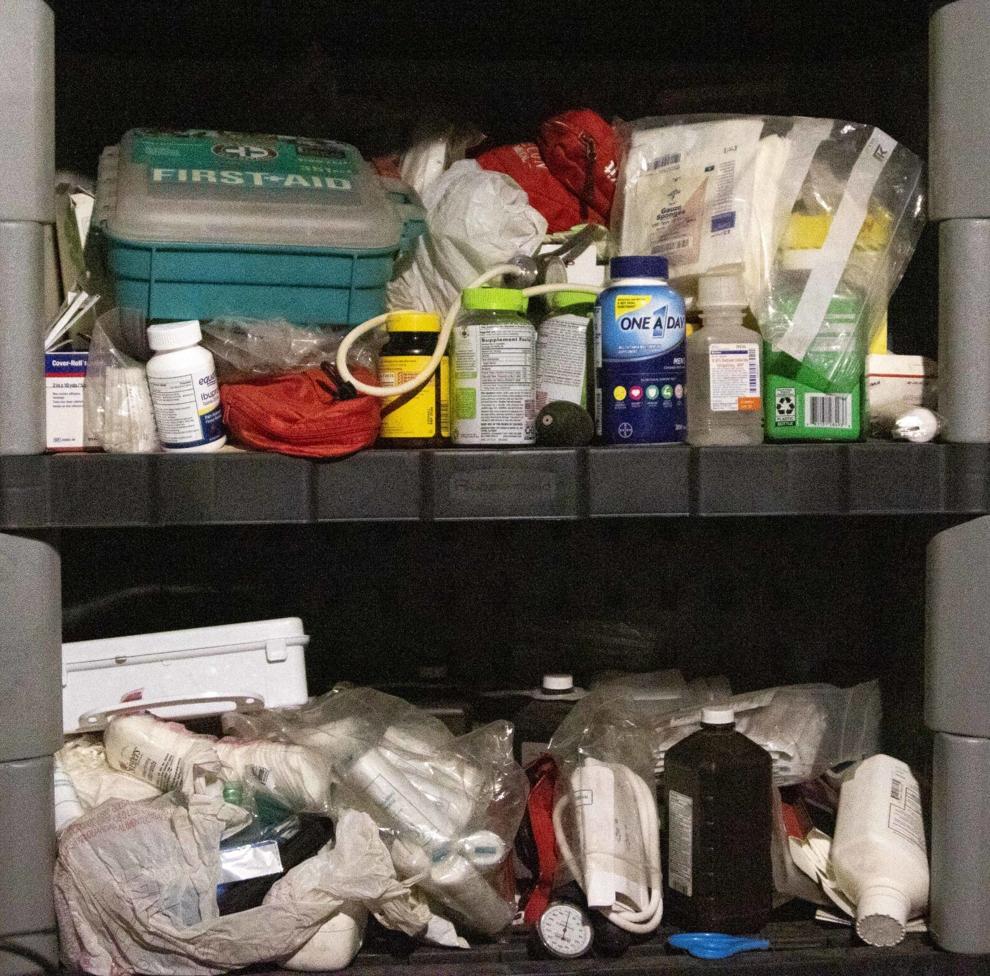 Local fire agencies arrived but Harvey said it's the responsibility of the Bureau of Indian Affairs to create fire prevention protocols and put out fires. Camp volunteers declined to discuss how the fire broke out.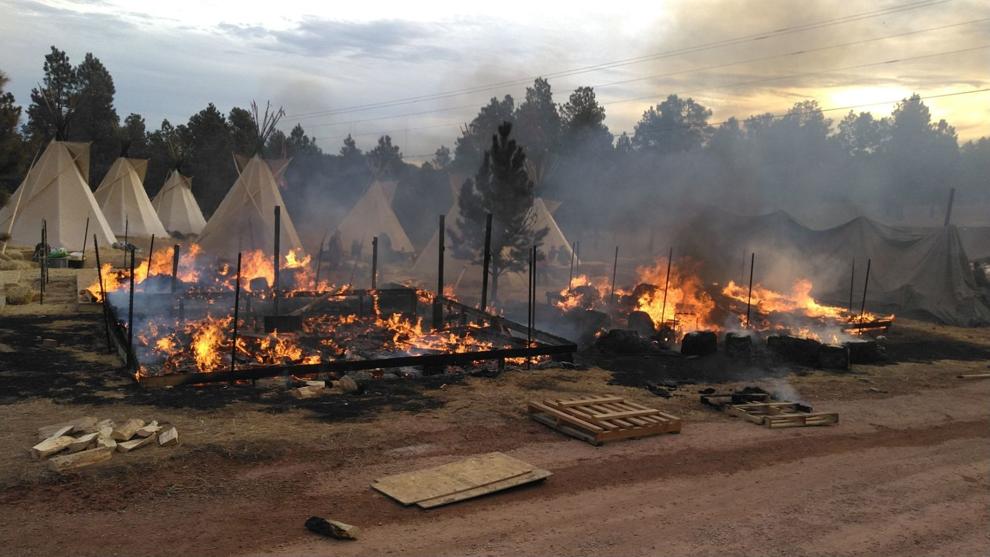 A resident who lives close to the camp but didn't want to be named said he was concerned more fires would break out and could spread to homes bordering the property while costing taxpayers money for local fire departments to extinguish them.
"The BIA will be discussing these issues with the tribes and their respective BIA agencies to mitigate and respond to future wildfires," said Robyn Broyles, spokeswoman for the BIA's fire agency. The "BIA is currently working out which (tribal fire) agency will be the lead between the three agencies."
The lead agency will be able to issue burn bans or restrictions on the trust land, just like it does on reservations when necessary, Broyles said. The BIA is also working with interagency partners to see if the South Dakota Wildland Fire Division can respond to any fires at the camp and other tribal trust land.
The camp has a volunteer who is certified in wildland firefighting and certifying others, which he plans to do, said volunteer Hermus Bettelyoun. The Rosebud Sioux Tribe is also planning on donating a fire truck and well to the camp. ​