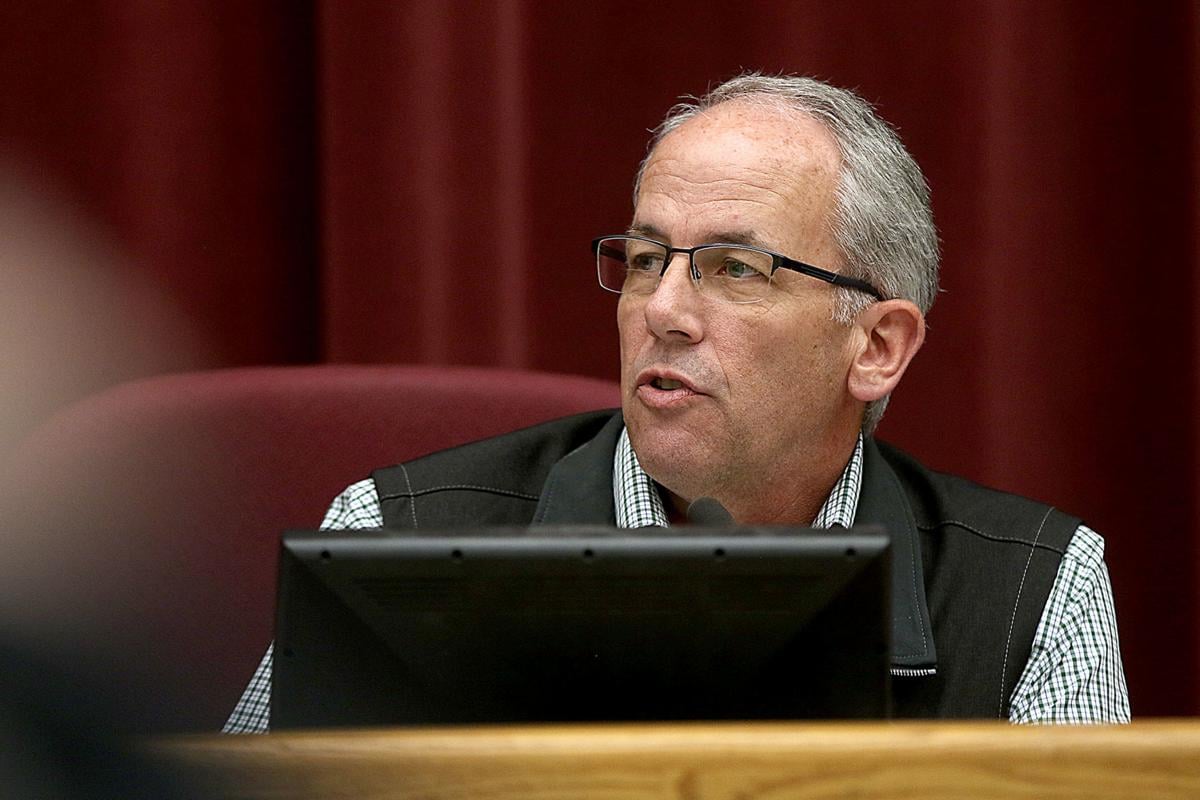 A five-member citizen panel will help the Rapid City mayor chose the city's next police and fire chiefs as the nation is engulfed in conversations, protests and political decisions related to policing.
"Because of the protests, the unrest, the national attention to police misconduct, general disgust of government ... there's no better time than now to use the option of having a citizen panel to help evaluate," Mayor Steve Allender said during a Tuesday interview at his office. 
Allender said this is a unique circumstance not just because of the national context but because Rapid City is in search of a police and fire chief at the same time.
He said the citizen hiring panel — comprised of one council member and four civilians — will work with Human Resources to help him decide who will replace recently retired Police Chief Karl Jegeris and Fire Chief Rod Seals.
Allender said the city is focusing on internal candidates. He said he hopes to make his decisions by Aug. 14 and present the candidates to city council on Aug. 17.
The mayor — who served as police chief before Jegeris — said police chiefs need a "rock solid history of organizational accomplishments and leadership."
He said the chief needs to be inspiring but also able to make tough decisions about hiring or reorganization if necessary for "the greater good" of the department, city and public.
"Leadership is not just all inspiring quotes and pats on the back," he explained. 
Allender said there's also a balance between having a "thick skin" and being compassionate: "People who are easily swayed by emotion would not do well in this job, but people who are too cold to be emotional would do poorly." 
The mayor said the Rapid City police chief needs to be skilled at community relations, problem solving and being able to "provide some reassurance and calm in the face of chaos."
Finally, Allender said he wants candidates with fresh ideas since "the status quo is never an option because if you're not changing, you're behind."
The chief needs "the vision and the capacity to see things differently when necessary," he said.
Allender said the HR department sent applications earlier this week to leadership across the fire and police departments.
He said selecting chiefs from within the department will allow for a smoother transition.
"The benefit is there's a shorter startup phase, especially in terms of making relationships and professional connections to continue the flow of business rather than spend that time on the CEO's education," he said.
Allender said he only wants to look for external candidates if he learns there's dysfunction or a negative culture at the departments. He said he and HR will be polling and interviewing staff to take a "temperature check" on those issues.
The police department has hired internally for decades, according to spokesman Brendyn Medina. He said the last police chief to be hired from an outside agency was Rae Neal, who served between 1973 and 1979. Medina said he spoke with retired officers but none could recall the circumstances of the external search. 
The fire department hired an external chief more recently, when Mark Rholfing served from 2008 to 2010, according to spokesman Jim Bussell. He said Rholfing was hired from Omaha during a nationwide search.
"At that time, we did not have anyone who was prepared for the position. His selection was not a result of a needed culture change," Bussell said.
Once HR receives applications, Allender said the candidates will complete written assignments and an interview before HR officials and the citizen panel. He said the interviews will be conducted over a period of two days between July 27 and Aug. 10.
HR staff and the panel — working separately — will then review the resumes, applications, written assignments and interviews and make their recommendations to the mayor. Allender said he hopes he, HR and the panel will come to a consensus on the decisions. 
The mayor said he hopes to make his selections by Aug. 14 before the council votes on whether to approve his candidates on Aug. 17.
He said he has no plans to shorten the 60-day hiring timeline since it's a process that shouldn't be rushed, whether it ends up being just an internal or also an external search.
Allender said he has a "dream team" in mind for the citizen hiring panel but he hasn't yet made contact and/or received commitments from everyone. 
The group — which will be diverse in terms of race and gender — will consist of people "who work here and know the city well and are respected in the community," Allender said. They will be "obvious picks — they're involved in the community, they're long-term residents."
In the meantime, the police department is being led by Interim Police Chief Don Hedrick, who is usually the assistant chief. The Interim Fire Chief is Jason Culberson, who usually heads the Emergency Medical Services division. ​
Get local news delivered to your inbox!
Subscribe to our Daily Headlines newsletter.