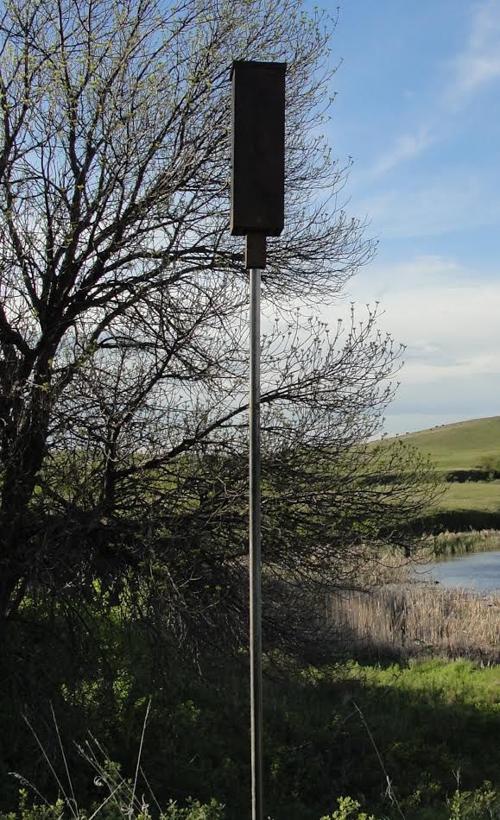 Rapid City residents with a sharp eye may soon conjure up the famed Batman comic while strolling along the Rapid Creek Greenway where a new effort is being undertaken by the city to perpetuate the oft-maligned flying mammals.
The Rapid City Urban Wildlife Committee is working with a bat expert and the city's Parks and Recreation Department to construct and place three bat maternity roost boxes within the Rapid Creek Greenway.
Faced with a declining bat population in the Black Hills, the city, in tandem with several other state and federal agencies, hopes to provide new habitat for bats during their active season, which runs from early spring through fall, according to Jim Good, chairman of the Urban Wildlife Committee.
"This project will provide important habitat for bats in our area," Good stated in a prepared release.  "Although people have different ideas and feelings about bats, these flying animals serve an important purpose in and around communities. These roosting boxes will enhance bat habitat in the local area."
Bats are the only mammals that can fly and are helpful in controlling insect populations, consuming up to 1,000 small insects per hour. Bats can eat their body weight in a single day, according to the release. The two most common species of bats locally are Big and Little Brown Bats and both are known to use roosting boxes.
City Parks Division Manager Lon Deusen said Friday the bat houses, which the city hopes to install by next spring, are the latest in a series of habitat improvement projects undertaken by his department.
"We've accommodated quite a few different wildlife habitat projects through the parks system," Van Deusen said. "We've helped with Eagle Scout projects, we've put up wood duck houses and installed an osprey nesting pole at Canyon Lake last year, so it's not that unusual for us to receive requests from the public about accommodate wildlife and we do that as much as possible."
Van Deusen said his staff is always eager to assist in such endeavors.
"They'll be quite happy to do something like this, because most of our employees are hunters and sportsmen, so they're willing to do work on these types of projects that are beneficial to wildlife," he said.
Bat expert Joel Tigner of Batworks, a private biological consulting business specializing in bats and bat habitat who has been advising the city committee, said Friday that the flying mammals are beneficial to the environment and that the bats can use all the help they can get.
"Bats are very much in decline, but they are good things to have a round," Tigner said by phone from North Carolina. "They eat night-flying insects, many of which are agricultural and forestry pests, as well as mosquitoes, and this is an opportunity to provide them with habitat designed specifically for their needs."
In addition to numerous other threats, bats across the country have been hurt by white-nose syndrome, a fungus that has wiped out nearly 6 million bats across the country, mostly in the northeast.
The 48-inch-tall Double-Walled Rocket Boxes will be built by the city Parks Department, then installed on 24-foot-tall posts in the Greenway that mainly follows Rapid Creek, but away from high-traffic areas, he explained.
"Lot of bats utilize buildings and there are a number of different reasons they do that," he said. "These houses will provide alternate roosting habitat in an area where they already are."
Designed specifically for South Dakota's harsh weather, the houses would be used seasonally by bats that hibernate in more remote locations during winter months, Tigner said.
"I think it's a great idea," he said. "Anything that helps provide additional habitat for bats in locations unlikely to involve human interaction is a good thing."
He said bats need a human hand-up in South Dakota.
"Bats are in decline, and it's a lot tougher being a bat in this type of country," Tigner added. "Just making it through our winters is an enormous problem for bats."
Tigner, who has been working with bats since he lived in England in 1988, said there were 55 sites, primarily abandoned mines scattered throughout the Black Hills, that had been gated to preserve and protect bat habitat.
Get local news delivered to your inbox!
Subscribe to our Daily Headlines newsletter.