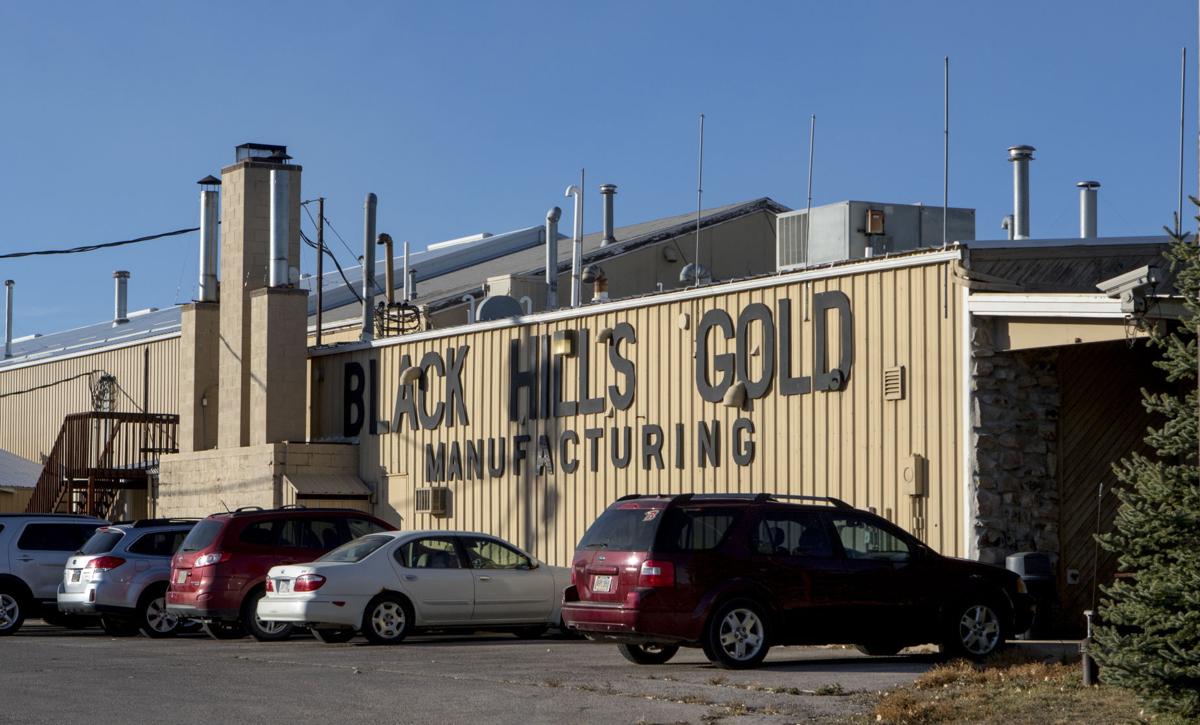 About 70 workers at Coleman Co., a beleaguered Black Hills gold jewelry manufacturer in Rapid City, are in limbo after the company's leader committed suicide, prompting his family to abruptly close the company's doors in mid-January.
The events have left employees with questions about back pay owed to them and mismanaged retirement plans.
Dwight Sobczak Sr., the 73-year-old executive officer of Coleman Co., who with his wife, Gloria, bought the company in 1994, died Jan. 19 near Sheridan Lake. Sgt. Tony Harrison, a deputy coroner for Pennington County, confirmed that the cause of death was suicide.
Two days before a reported 250 mourners attended Sobczak Sr.'s Jan. 27 funeral at Blessed Sacrament Church, executives of the family-owned business called a 10 a.m. staff meeting and made several announcements.
According to employees, the family members told the workers they were closing the doors immediately, were working with their bank to gain financing, and would call employees over the weekend to tell them if they should report to work the next Monday.
Those calls never came, some payroll checks issued Jan. 19 for the previous two weeks of work could not immediately be cashed, and no payroll checks have been issued for ensuing work, employees said.
After contacting Sobczak's sons, Dan and David, both vice presidents for Coleman, one employee who spoke on condition of anonymity was told he no longer had a job and he should talk to the company's bank for any information on back pay. But he said the sons wouldn't tell him what bank to call.
A half-dozen Coleman workers contacted by the Journal told similar stories, all left in limbo by the company's sudden closure, a lack of information, and worries about paychecks they are owed and lingering questions about mismanaged retirement plans they had counted on for future income.
Despite the setbacks, some remained hopeful that Coleman would secure bank financing and one day be back in business.
"But you can't put hope in the bank," the wife of one worker said as her husband was out seeking another job.
Calls to Coleman Co. for comment for this story were not answered.
Rapid City attorney Richard Huffman said he represented Sobczak Sr. and the Coleman Co. in the past but is no longer their attorney of record in ongoing lawsuits. Huffman, a friend of the Sobczak family, said the surviving family members are in shock over the entire situation and added that they had little knowledge of what was going on with the company other than what they had previously read in the Journal.
Huffman said he continues to be the attorney of record in one foreclosure proceeding for Sobczak Sr.'s widow, Gloria Sobczak. He was told that Bank West, which has secured the Coleman Co. property and has a security interest in it, has no intention of running the business.
Huffman added that he thinks the bank would be willing to figure out a way to get former employees into the building to get their personal items. Huffman said that to his knowledge, the company is broke and unable to pay any bills and that the business will not reopen, nor are there any assets not pledged to secured creditors that could be sold to pay outstanding obligations. Huffman said Sobczak Sr. liquidated all his assets to try to keep the business going, and to keep his workers in their jobs, but that he was unsuccessful.
As the Journal reported in November, at least four longtime Coleman employees had contacted the U.S. Department of Labor Employee Benefits Security Administration in Kansas City and provided the agency with pay stubs showing withholdings and 401(k) statements showing that funds they assumed had been applied to their retirement plans were never recorded.
One federal investigator familiar with issues at Coleman, who talked on background because he wasn't authorized to speak publicly on behalf of the agency, described it as "a terrible situation, no question about it."
Contacted about reports that it had sent a federal investigator to Rapid City last March to examine the complaints leveled against Coleman Co., Department of Labor spokesman Scott Allen said if an investigation was still in progress, he likely would not be able to answer any of the Journal's queries about the matter. Later that day, Allen issued a written statement from his Chicago office acknowledging his agency was aware of employee claims and added, "However, we cannot confirm or deny if there is an ongoing investigation."
But on Feb. 1, after being informed of Sobczak's death and the subsequent shuttering of the business, Allen stated in an email to the Journal that his federal agency was in the midst of civil and criminal probes into allegations of the mismanagement of 401(k) accounts at Coleman Co. and the diversion of employee contributions deducted from paychecks.
"The civil case remains ongoing at this time," Allen wrote. "Our criminal investigation was also ongoing but no charges were ever filed. As both of these cases are still open and ongoing, we would not be able to comment further on them."
On Nov. 21, the jewelry company's buildings were claimed by its lending bank after a $1.2 million auction bid that went unchallenged.
Coleman's manufacturing facility and outlet store, at 5125 U.S. Highway 16 South, was foreclosed upon after Sobczak failed to pay his mortgage with First National Bank, according to court documents. The sheriff's sale, held in the rotunda of the Pennington County Courthouse, was completed in less than a minute after no one countered the bank's $1,248,824 starting bid.
In a brief phone conversation in November, Sobczak told the Journal that his company was experiencing "a tough business cycle" and acknowledged managers were working to correct issues with employee contributions to retirement plans while undergoing a restructuring.
"We were having some timing issues with cash flow and we got behind on submittals," Sobczak said in a subsequent written statement. "There were some shortages that we intend to make whole as soon as possible."
Dawn Anderson, a 28-year Coleman employee who discovered discrepancies in her retirement plan only after she was diagnosed with terminal cancer last summer, said company executives had reimbursed her six-figure 401(k) account in full shortly after a Journal story detailed her plight in November.
"I got a call from Dwight, who said he and Gloria felt so bad after reading the article that they had put a check for $4,000 in the mail to me that day," Anderson said this month from her Hill City home. "A month after the story ran, my retirement plan was made whole, and I know they did pay off some other people."
But not all of Coleman's employees have received such favorable treatment, the employees have said.
One worker who had spent nearly three decades working for the company said this month that none of the $500 paycheck deductions he had made monthly for nearly four years on a loan from his 401(k) account had been applied to the loan, leaving Coleman owing him some $24,000, in addition to back pay.
After the company closed last month, the worker said he called the retirement plan's third-party administrator in California to close out his account. He said he was told he would be sent paperwork to complete and should turn it in to his employer.
"But how do you turn it in to your employer when there's nobody there?" he asked. "I don't know. I'd like to get it and I sure hope I don't lose it."
Other employees of Coleman remain perplexed and angered by the apparent mismanagement of the company's retirement plan, a lack of accountability, and a federal investigation that has dragged on for nearly a year.
"I don't know how (workers) can contribute to their payroll plan and not have that go to their retirement accounts," the wife of one employee said. "Bernie Madoff is in prison and these people are walking free."