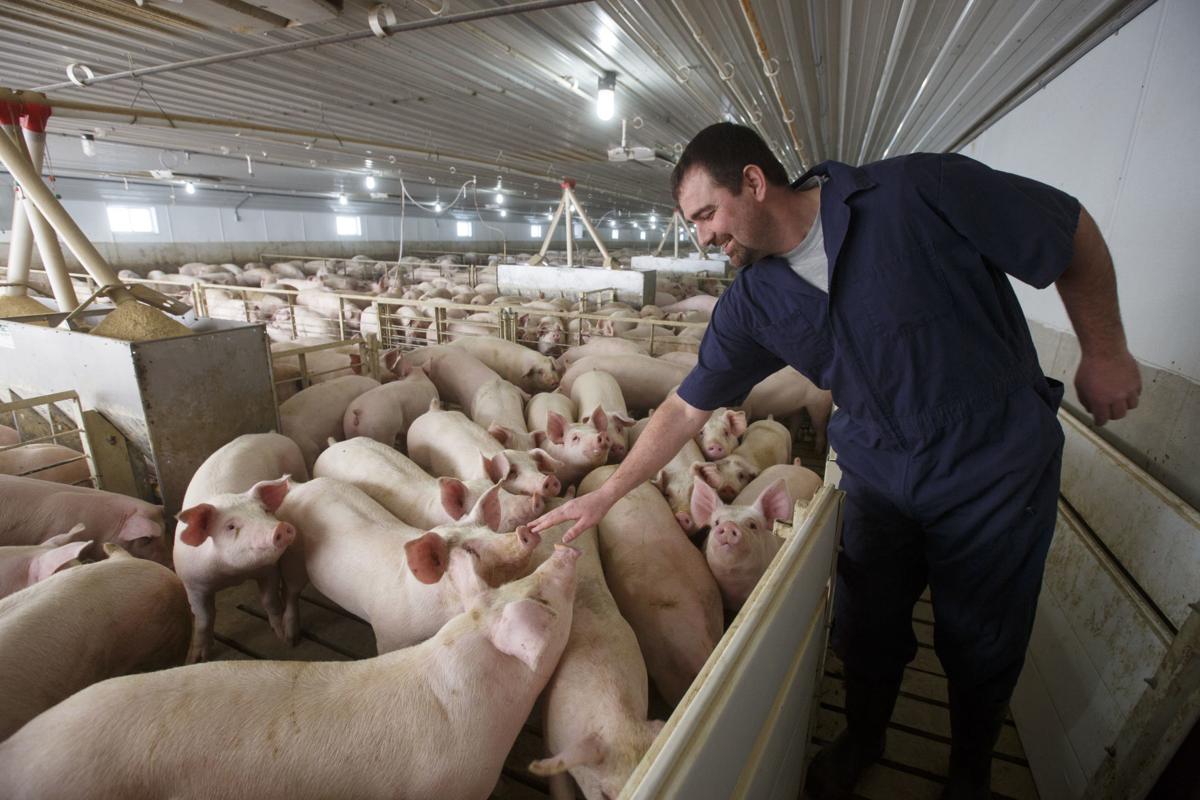 PIERRE | After a two-hour hearing in a packed committee room, Gov. Kristi Noem's legislation designed to streamline the zoning permitting process at the county level was approved by the Senate State Affairs Committee.
Testifying about the bill, Noem said its passage would spur economic development in the state and ensure that more South Dakotans "don't have to say good-bye to their grandkids."
Streamlining the process was needed, Noem said, because permitting for conditional use permits, often used for large livestock operations, is "hijacked by the vocal few."
SB157 seeks to change the number of county commissioners needed to approve a conditional use permit from two-thirds to a majority. If a zoning change is challenged in court, SB157 allows the court to award costs, damages and attorney's fees to the winner.
Jason Simmons, a policy adviser in Noem's office, said SB157 allows that only an "aggrieved person," someone with a direct interest in the outcome of a zoning change, can make an appeal.
Simmons said this was included so that "only those that have standing are making an appeal."
Brian Donahoe, representing the S.D. Pork Producers Council, said the changes in SB157 don't represent a loss of local control.
"It will encourage producers to talk to their neighbors," Donahoe said.
Eric Jennings, president of the S.D. Cattlemen's Association, said too often people believe that concentrated animal feeding operations, or CAFOs, are owned by multi-national corporations.
"Most CAFOs in South Dakota are owned by family farmers," Jennings said, with many of those expansions designed to bring a son or daughter back to the farm.
The bill was supported by representatives of county commissioners, soybean growers, retailers, bankers, electric cooperatives, corn growers, ethanol producers and chambers of commerce from Brookings, Sioux Falls and Yankton.
One of the farm groups not supporting the bill was the S.D. Stockgrowers Association.
"The status quo is not broken," said Jeremiah Murphy, representing the stockgrowers. He explained that state government shouldn't have a role in county zoning.
"The ones that are back home know the best. The ones that are back home aren't asking for this," he said.
Rebecca Terk of Dakota Rural Action said that for the past three years her organization has been training county commissioners in the issuing of conditional use permits. That training varies by county. "It's because all our counties are different," Terk said.
Former legislator Kathy Tyler of Big Stone City said that CAFO permitting hearings can get contentious, but a fair hearing listens to both sides of the issue.
"The process that we have works," Tyler said. "It does not have to be fixed."
Sen. Troy Heinert, D-Mission, took exception with Noem's characterization of a "vocal few" hijacking the permitting process.
"That 'vocal few' is from that county," said Heinert, who noted that the Legislature spent $1 million last year on pheasant habitat and now wants to make it easier to permit projects that could pollute that habitat.
The bill passed out of the committee on a vote of 6-3 and now goes to the full Senate.
Get local news delivered to your inbox!
Subscribe to our Daily Headlines newsletter.