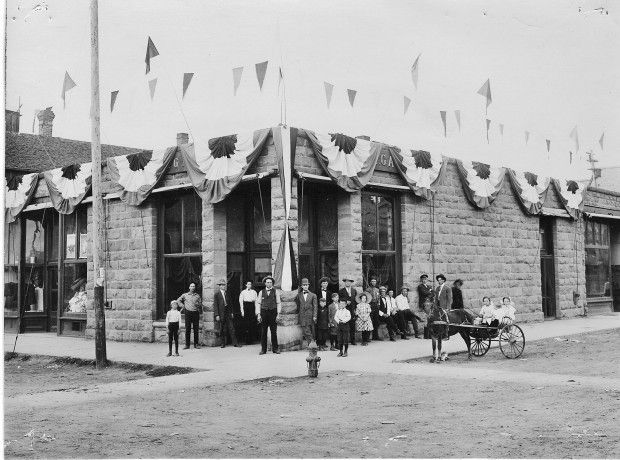 The fire that ravaged the city in September 1895 left the citizens of the young town of Belle Fourche with a choice; rebuild or move on.
Following the fire the citizens of Belle Fourche showed they had staying power, and built a total of 14 new businesses, costing almost $30,000. Many of the original wooden buildings were now replaced with more permanent stone buildings.
One of these businesses was here on the corner of State and 5th. Finished in 1896, this building originally housed the T.H. Gay Clothing Store.  
Over the years, several other businesses were housed here. This building still stands on the busy corner of 5th and State Street.
Many of the new buildings on State Street in Belle Fourche were built of sandstone quarried near Belle Fourche by John Scotney.  
A close look at the photo will show that the men's informal clothing, including hats and boots, wouldn't seen that far out of date today, more than a century later. The women, children and men in more formal clothing show much better how much styles have changed.