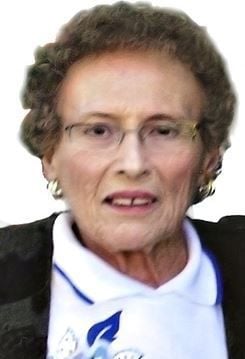 BELLE FOURCHE- Allaire Meridel Richards, was born June 20, 1936 to Claire "Beanie" and Alice (Smebakken) Richards in Mobridge, South Dakota. Two years after she was born the family moved to Steele, North Dakota. Allaire attended school in Steele from grade school to her senior year and graduated in May, 1952. Allaire passed away the evening of October 26, 2017 at the Sturgis Regional Hospital in Sturgis, South Dakota and has gone to be with her loving family.
Allaire attended nurses training in Bismarck, North Dakota. She worked well going to school and graduated in 1957 as a Registered Nurse. After getting her RN degree, she moved to Miles City, Montana and started her career working with the federal government at the Veteran's Administration Hospital in Miles City, Montana. She moved from Miles City to Pueblo, Colorado transferring to the Veteran's Hospital there until she retired in 1983 moving to Sturgis, South Dakota for a short time and then to Belle Fourche, South Dakota buying her home and sharing it with several wonderful cats and dogs, Lucky, Bud and Velvet. She was an avid animal and horse lover, especially Bingo and Smokey. She spent many hours watching "her westerns, so she could see the horses, cattle and some beautiful country scenes from the movies". She was such a sweet lady and had wonderful stories of being on the ranch with Uncle George up by Shadehill, and the stories about her horses, cats and dogs.
Allaire is preceded in death by her parents, Beanie and Alice Richards, a brother, Terry Lance Richards and a sister, Renee Margo Malek. She is survived by several special cousins, Bill Brumley, Stanley Smebakken, Johnny Johnson and Dean Brumley, Doris Ann Werlinger and husband, Pius, and several cousins.
She also had some very special friends, Mary Ellen and Rick Swanson, who took care of things for her for a long time, Ed Webb, Tim & Gayle Cleveland, and Troy and Coral Mills who were her good friends and neighbors taking her to doctor appointments and just being there when she needed some help around her home. Susie Kokesh from the veterinary clinic who took care of her last cat, Velvet, was always there to lend a helping hand in time of need. Her friends Laura and Larry Parson, were avid horse lovers and brought their horses by in July 2017, just so she could pet them and love on them. When she lived in Miles city, MT she was very close to John and Kathy Gamble, who she had known since John was a youngster in grade school, as well as Oralie and her family, and Don Neese. Her longtime friend, Charlotte Wood, will remember her for always being there to help and talk about their animals.
A special "thank you" goes out to those who knew her from Family Dollar, Lueder's, Maverick Corner Station and Shopko, in Belle Fourche for lending a helping hand before she gave up driving and then afterward. To all the doctors and nursing staff at Spearfish Regional, Rapid City Regional, Deadwood Regional and then to Sturgis Regional Hospice, a special "Thank You" for taking such wonderful care of Allaire in her last days.
A Celebration of Life will be held at 1 p.m. on Sunday, November 12, 2017, at Belle Fourche Moose Lodge No. 859, 399 Stanley Street in Belle Fourche.
Friends and family may sign her online guestbook and leave written condolences for the family on the funeral home website.
Black Hills Funeral Home of Sturgis