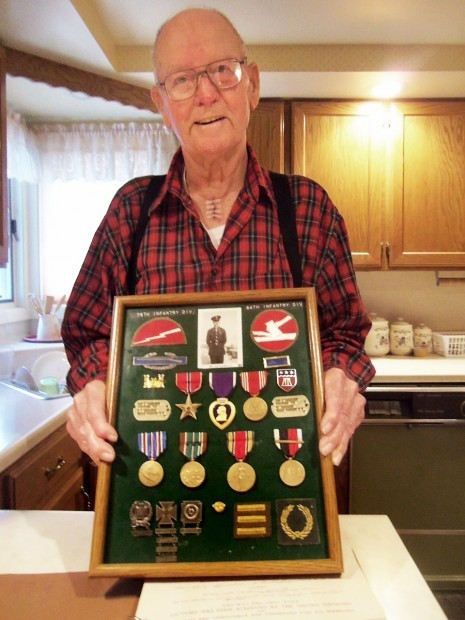 Belle Fourche - Leo Jr. Larrabee, 94, passed away November 2, 2017 at the Fort Meade Veterans Care.
He was born August 17, 1923, in Summit, South Dakota to Leo and Esther (Johnson) Larrabee. The family moved to Washington in 1924 and in the Spring of 1925 they moved to North Dakota and in the Fall of 1926 they moved to Belle Fourche. Leo entered first grade in 1929 and graduated with the Belle Fourche High School Class of 1941.
Leo worked general construction for 8 years and then became a stone mason and brick layer for 39 years. He entered the United States Army on March 11, 1943 and was honorably discharged January 28, 1946. His European service included, England, France, Belgium, Holland and Luxenburg Germany. His combat included these places, Ardennes Forrest, Battle of Bulge, Rhineland and Central Europe. Leo was with the A Company 303rd Combat Engineer Battalion 78th Infantry Division. While in Combat he was detached for 5 months to the infantry mines and demolition. His Infantry Division freed the Prisoners at Buchenwald Concentration Camp. His decorations and citations include, Bronze Star Medal, Purple Heart Medal, European Theatre Medal, American Theatre Medal, Victory Medal, Army of Occupation Medal, the Distinguished Unit Badge, Good Conduct Medal, Expert and Sharpshooters Medal and the Presidential Unit Citation. Leo stated he was with some of the first Troops to cross the Rhine River at the Remagen Germany Bridge and the Luden Dorff Bridge.
Leo married Shirley J. Gorder on August 1, 1948 and to this marriage two children, Gloria Jean and Rick Allen were born.
He enjoyed hunting and fishing. He enjoyed time spent with his grandchildren and great grandchildren. Leo was a past member of the Moose Lodge, VFW and the Lions Club.
He is survived by his daughter, Gloria (Norman) Landphere and his son, Rick Larrabee all of Belle Fourche; grandchildren, Joely Shavlik, Jackie (Virgil) Grim and Shawn Landphere; great grandchildren, Lily Jacobsen and Allison Grim.
He was preceded in death by his parents, Leo and Esther; wife, Shirley Larrabee and a brother, James Larrabee.
Graveside services will be held Wednesday, November 8 at 1:00 p.m. at Pine Slope Cemetery in Belle Fourche with the Reverend Paul Howard officiating.
The family suggests memorials to the (DAV) Disabled American Veterans or to the Belle Fourche area Community Center.