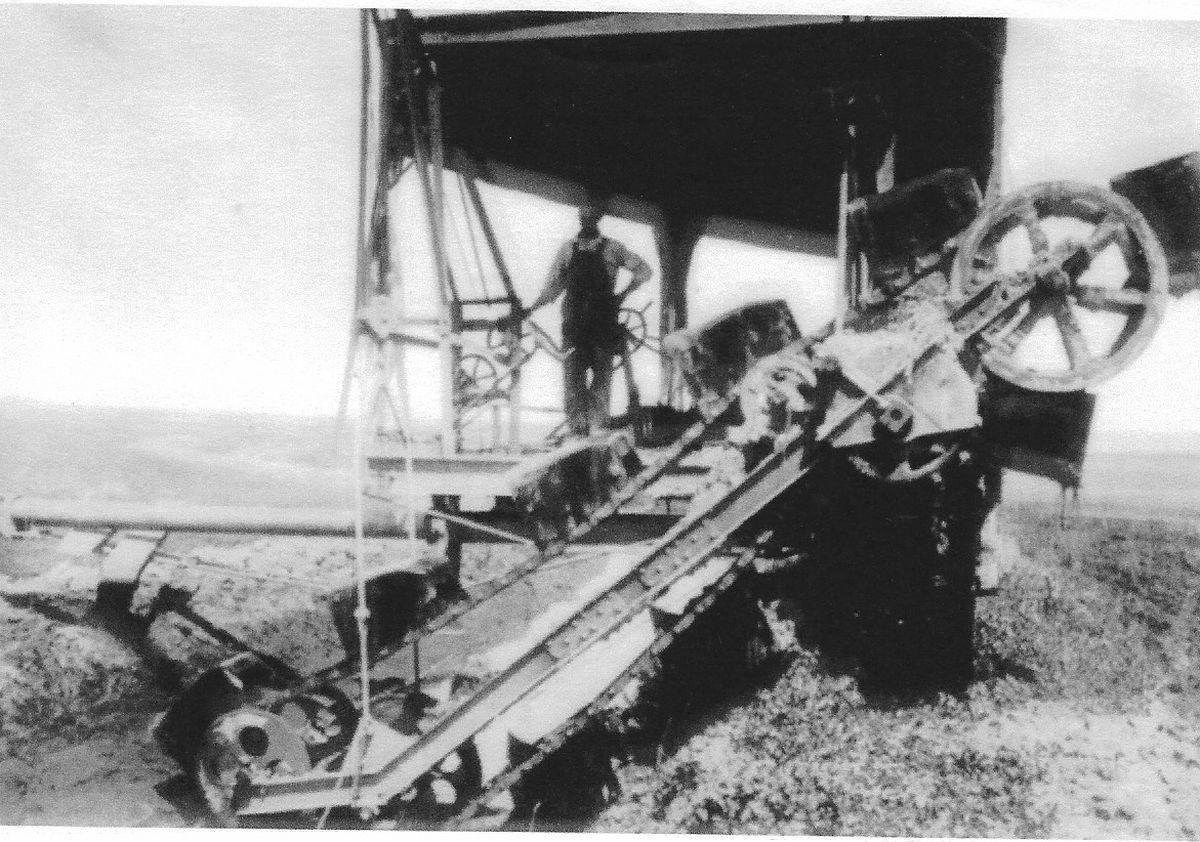 A four-horse load of sheep were passed through Vale Sunday on the way to Sam Moses' sheep ranch at Bixby north of here.
Andrew Rosander left with his machine for Chas Hammersmith's and other ranches in that neighborhood last Thursday where he will thresh their alfalfa.
South Dakota soldiers in the camps at Demming and Charlottes will receive chatty letters from home, remembrances of candy, magazines, tobacco and other small Christmas gifts. All this is to be accomplished through an organization throughout the branches of the US Army Sisters of Cheer, organized last month. All that is required of the members is that they show proper interaction the soldier assigned to them.
When you drop a letter in the Post Office tomorrow you must observe the new rates of postage attached, or you may find your letter or card held for more postage. First class letters are now 3 cents for each ounce and postal cards shall bear 2 cents postage.
Old last year's corn for your turkeys; inquire at Sam Bober's Feed and Seed.
A Catholic church is being erected at Vale, the foundation, 30-60, being already completed. The Catholic Church at Beulah, Wyo is being torn down and the lumber is being hauled to Vale to be used in the construction of the new church. The edifice when completed will be almost the exact duplicate of the Beulah church.
Three carloads of Cavalry and National Guard horses purchased from ranches all throughout the West River area, arrived in Rapid City last Tuesday, destined for the regional remount station at Ft. Robinson. The average price paid for the replacements was $161 per head; which were 4-year old hot blooded horses registered army stallions. All horses were broken to the saddle and are ready to go into service.
Paul Schmele, Horse Creek community, had a second blood transfusion last Sunday at the St. John's Hospital in Rapid City and is now somewhat improved.
Floyd Riggs injured his right eye Tuesday when fence wire with which he was working slipped and hit his eye. Dr. Theberge immediately treated the injury.
Tie everything down! Attend the OES Halloween Frolic at the Masonic Temple tomorrow night. Bridge, Cribbage and a great lunch will be offered. Tickets are only 40 cents each.
Frank Hoffmeyer (better known as Slim), 61, dredge operator for the Belle Fourche Irrigation District at Newell, was killed instantly last Thursday afternoon when he became entangled in the machine on which he was working. The mishap happened around 4:00 PM on the Glen Alexander farm northeast of Vale. Donald Donahey, Vale, who was working with Hoffmeyer was outside the machine cleaning the dredge buckets when he heard Hoffmeyer scream, but was too late to do anything but turn off the machine and go for help. Sheriff George Hafner, Coroner Elmer Conner and Deputy Sheriff Ross Hogan investigated the accident. Obituary pending.
More than 500 visitors attended the open house and dedication of the NVN Senior Center Sunday afternoon and evening from 2:00 to 8:00 PM. Entertainment went on throughout the day, with a special program and ceremony at 3:00. Fr. Lawrence Gidley served as Master of Ceremonies and the Newell High School Band, directed by Paula Speidel, opened the festivities followed by instrumentals, vocal groups, solos and the NVN Band. Although the interior is not quite finished, activities will continue and more will be added.
Ervin Preszler, Newell, is one of the seven western South Dakota hunters making the Game Fish & Parks trophy hunter list recently. Preszler shot an antelope having 14" horns with a gun.
Newell High School's Jr. and Sr. classes traveled to Brown High School, near Sturgis for Career Days, Tuesday, October 27. Career Days is when representatives from Colleges, Vo-techs, the Army, Navy, Air force and Marines speak to students about the advantages of their school, what financial aid is available, what the costs would be, academic courses and also information on housing facilities. To prepare for Career Days, each student picked 3 sessions to attend. Mrs. Jan Tysdal and Ms. Myrna Becker chaperoned the trip and sessions.
Named to the All Tournament at the Newell Invitational Tournament, October 30-31 were Teka Pauley, NHS Senior and Stacie Bachand, NHS Junior. They were high scorers and active participants at both the St Martin's Ravens game and the Hill City Rangers game.
A retirement reception will be held October 30 honoring Creta Minor for her many years of dedication to the Belle Fourche Health Care Food Cafeteria. She began her career as a dietary aid 1973 at the John Burns Memorial Hospital making it to work through rain, sleet and snow was not always easy for Creta because she had to travel from Nisland. Regardless of the weather, she was a hard working very reliable employee. Bill Schmidt, Mayor of Belle Fourche, has invited everyone to honor this employee who has contributed so much to the town.