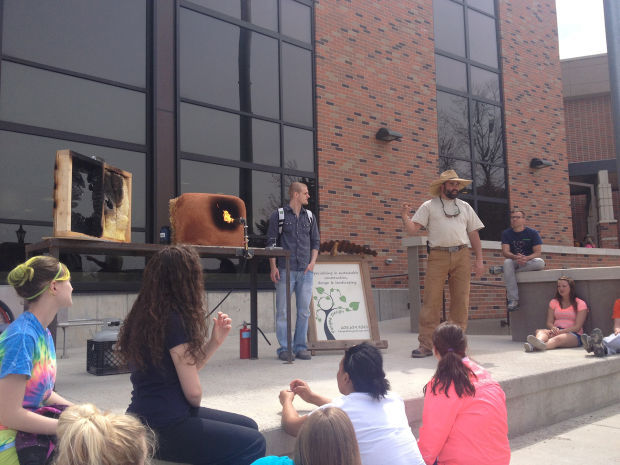 SPEARFISH | The Association for the Advancement of Sustainability in Higher Education has awarded Black Hills State University a STARS Silver Rating for its continued commitment to sustainability making it the first university in South Dakota to be recognized with the international distinction.
BHSU administration announced the honor today during the annual Employee Recognition Reception. The announcement comes after BHSU successfully completed the Sustainability Tracking Assessment and Rating System (STARS) report which includes data collected in four main categories: academics, engagement, operations, planning and administration.
STARS is a transparent, self-reporting framework for colleges and universities to measure their sustainability performance.
"This achievement is a testament to a team effort across campus departments," according to BHSU President Kay Schallenkamp. "The STARS rating takes a holistic view of our campus environment and highlights the fact that each of us has a role to play in the greater system of campus sustainability. We should all be proud of this accomplishment."
BHSU is the first South Dakota University to report, furthering its legacy as a regional leader in sustainability. BHSU was also the first University in the state to join the American College and University President's Climate Commitment.
The STARS rating has helped to highlight current and successful sustainability programs and will provide a benchmark for continued improvement in the future. The University's silver rating is valid for three years and during that time BHSU plans to improve its sustainability efforts and reapply for a Gold rating.
Some of the items noted in the report include:
• Academics – Masters of Science in Sustainability and numerous undergraduate programs with sustainability learning outcomes.
• Research - A high percentage of faculty and staff are engaging in sustainability research and the university provides programs to encourage student sustainability research.
• Campus and Community Engagement - A large number of co-curricular sustainability programs and initiatives available to students and the community.
• Operations – Greenhouse gas analysis, energy efficiency improvements, air quality monitoring, diverting waste from the landfill through recycling and composting, and green product purchases.
• Planning and Administration – Leadership in campus through the Sustainability Committee and Sustainability Coordinator, formal plans for continued improvement.