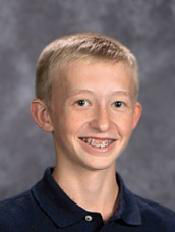 Sturgis Brown High School freshman Bridger Gordon is one of 700 finalists from across the United States chosen to compete in the national math competition MathCON on April 25 at the University of Illinois in Chicago.
More than 45,000 students took the initial on-line exam to qualify for the competition, which is open to students in grades five through 12.
Hosted by Concept Schools of Chicago, MathCON's goal is to engage students in science, technology, engineering and mathematics (STEM) outside of the classroom and to encourage more students to enter those fields.
"MathCON is our way of inspiring the future leaders in those fields by engaging the students at a young age, making STEM fun and demonstrating its real-world applications," said Ayhan Caputlu, director of math education at Concept Schools and initiator of MathCON. "This competition allows us to reach students from all over the nation and help them establish, improve and maintain skills that can lead to many possibilities throughout their educational careers and beyond."
In addition to the 70-minute test, Bridger and the other students will attend a presentation by mathmagician Arthur Benjamin, enjoy a pizza party and play an array of STEM-related games.
"We're incredibly proud when our students earn recognition for their accomplishments," said SBHS Principal Jeff Simmons. "We're excited to have Bridger represent Sturgis Brown High School at this competition. The STEM fields are such an important part of the future, and we encourage our teachers and students to find fun ways to use STEM inside and outside of the classroom."
Concept Schools is a Chicago-based, not-for-profit charter school management organization with 30 charter schools in the Midwest.