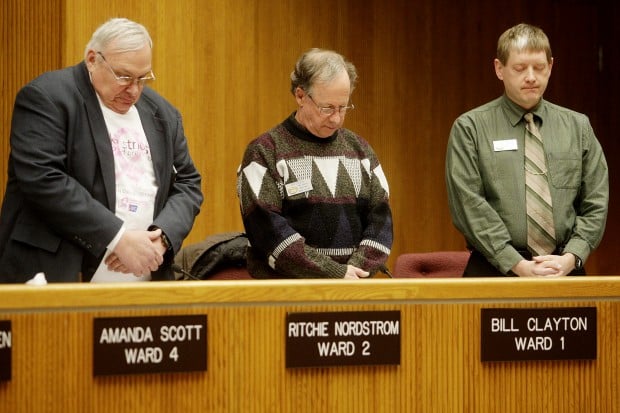 STURGIS | Meade County Commissioners are taking a stand for prayer to show their solidarity with the Rapid City Council, which is has been warned of a possible lawsuit if its prayers before city council meetings continue.
Galen Niederwerder, a recently appointed commissioner, said it was not his intention to create conflict, rather he just wanted to discuss the possibility of opening the board's monthly meetings with a commission-led prayer.
"I think our nation has stood up well by seeking wisdom and help from someone higher than us," he said.
While he understands that a small minority may be opposed to the idea, Niederwerder believes the majority of the public supports it as he believes was proved by the overwhelming show of support in Rapid City when it was threatened with a lawsuit by the nonprofit Freedom From Religion Foundation (to date, no lawsuit has been filed).
"If we're seeking wisdom and guidance, I don't see how it can be a bad thing," he said.
Commissioner Alan Aker said he would like to support his neighboring community by backing Niederwerder's request to open the commission's Tuesday meeting with prayer. He also suggested that Freedom From Religion would back down if more governmental entities took a stand on the issue.
"I think (the Rapid City Council) is being bullied. It can't hurt to remind ourselves that there's something more powerful in our world," he said.
The commission now opens its meetings by reciting The Pledge of Allegiance, a tradition that will continue.
The topic of prayer in government meetings has been at the forefront of Rapid City Council meetings the past several weeks, after the council's longstanding tradition of opening each meeting with prayer was challenged by Freedom From Religion Foundation, which asked that the prayer be stopped and threatened a lawsuit if it continued.
Niederwerder said he has followed the discussion in Rapid City and had no personal agenda when he applied for the open commission seat left by Gary Cammack, who was elected to the Legislature in November.
He said a recent telephone conversation with fellow commissioner Alan Aker, however, prompted him to bring up the topic in an open forum.
"I thought, 'Why don't we (pray)?' or 'Have we ever done it?'" Niederwerder said. "I think we're well within our Constitutional right to do so."
He pointed out that Congress prays before each session, and President Barack Obama recited his oath of office in January with his hand placed on two Bibles.
Meade County rancher Marvin Kammerer was opposed to the idea, suggesting that while Congress opens each session seeking guidance through prayer, it hasn't worked out in their favor.
He said he believes in the separation of church and state and was among the more than 100 citizens in attendance at the Feb. 4 Rapid City Council meeting. He was one of only two who spoke against the issue.
"This is a secular institution. Prayer doesn't belong here," said Kammerer. "Keep it at home. Let's not clutter the agendas up with things that might lead to potential problems."
He added that all should pay a little more attention to "what that fellow named Christ" is trying to tell us, but prayer is a private matter and should not be brought into the public.
Niederwerder said he was open to ideas on how to implement an opening prayer, whether it be the rotation of local groups or a chaplain leading the way. He was clear that the prayer be exclusive to commission issues, seeking wisdom and guidance for the decisions the commissioners were about to make.
"This is a government institution, not a secular institution," Niederwerder said.
Commissioner Bob Bertolotto was also on board with the idea but requested a time limit be set and that each commissioner be allowed to decide whether or not to participate in the prayer.
While county commission chairman Robert Heidgerken said he believes in prayer, he wasn't necessarily in favor of bringing it into county government.
"We say 'under God' in The Pledge of Allegiance. I think that's asking for His guidance. I would rather leave it like that," he said.
The commissioners voted 4-1 on Tuesday to open their monthly commission meeting with a brief prayer led by a commission member. A prayer will not be recited when the board meets for two days, since the Wednesday meeting is simply a continuation of the regular Tuesday meeting and not a separate event. Heidgerken opposed the motion.