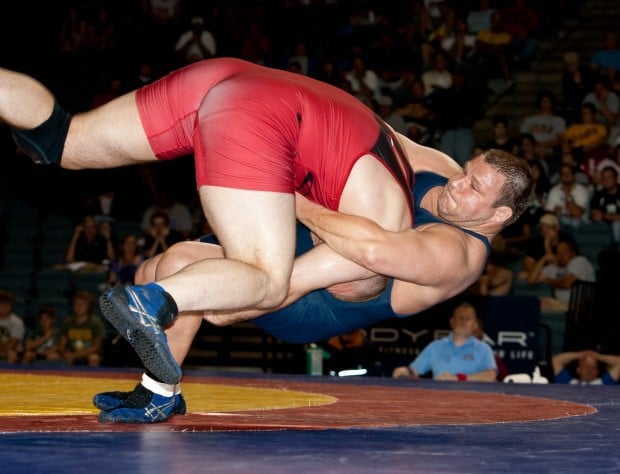 Les Sigman has battled more than his fair share of injuries to make it to this point, so having to go through some of the best wrestlers in the country to make his Olympic dream become a reality is just another challenge he is ready to face.
The former Sturgis and University of Nebraska-Omaha wrestling champion is days away from getting his opportunity to wrestle for a spot on the USA Freestyle Wrestling team for the 2012 Olympic Games.
"I am really excited about it because when you train this hard and do it for so many years … it is fun for me to still be able to do it," Sigman said of the Olympic Trials that will take place in Iowa City, Iowa, April 21-22.
Sigman is looking to qualify by winning the 264.5-pound weight class, but his road to this moment has involved plenty of twists and turns.
"I have battled a lot of injuries. That is where a lot of my battles have been with," he said. "Last year, I was injured at the U.S. Open and couldn't compete at the World Team Trials, which was hard. The injuries are the hardest part."
The injuries, which have tested his dedication to the sport but never had him seriously consider quitting, have driven him in this Olympic year.
"It would be a great honor to represent the United States, be able to reach my goals, and I come into this tournament knowing I should win and that is the mindset I have," he said.
Sigman won four NCAA Division II championships while with the Mavericks after being lightly recruited out of Sturgis. He did not break into the Scoopers' varsity lineup until his junior season, but was a runner-up and state champion in his final two seasons.
Sigman, who made the move to Pennsylvania to train with the Nittany Lion Wrestling Club in 2009, is ready to get on the mat and chase his dream.
"I feel real good going into it," Sigman said. "My coaches have put me through a good training cycle and do a good job of getting us prepared."
After the move, Sigman enjoyed his best freestyle season, racking up numerous tournament titles, including the U.S. Open, and earned his spot on the world team.
This is not the first Olympic Trials for Sigman as he finished fifth in 2008, but, again, injuries played a part in that.
"I got out of a walking boot that week of the trials and I got back on the mat the night before," he said.
Sigman is back, and this time even more determined to get the win
"There are a lot of good competitors at my weight, but I just have to go in and have a good performance and I will be fine," he said. "I just have to give it my best effort, and things will turn out the way they should be."
He has confidence because he has quality victories over former American Olympian Steve Mocco and Chinese Olympian Lei Liang as well as world bronze medalist Ioannis Arzomadidis of Greece and world placer Tommy Rowlands. Mocco and Rowlands are two of the 12 wrestlers vying for the single spot in Sigman's weight class at the trials.
His biggest rival in college and at the freestyle level has been Tervel Dlagnev, who he was 9-0 against in college, but has had mixed results at the freestyle level.
"Beating him three times in a row and beating him at the U.S. Open was probably the highlight of my career because we have wrestled a lot of big matches in my career," Sigman said.
They may just meet again with an Olympic bid on the line.