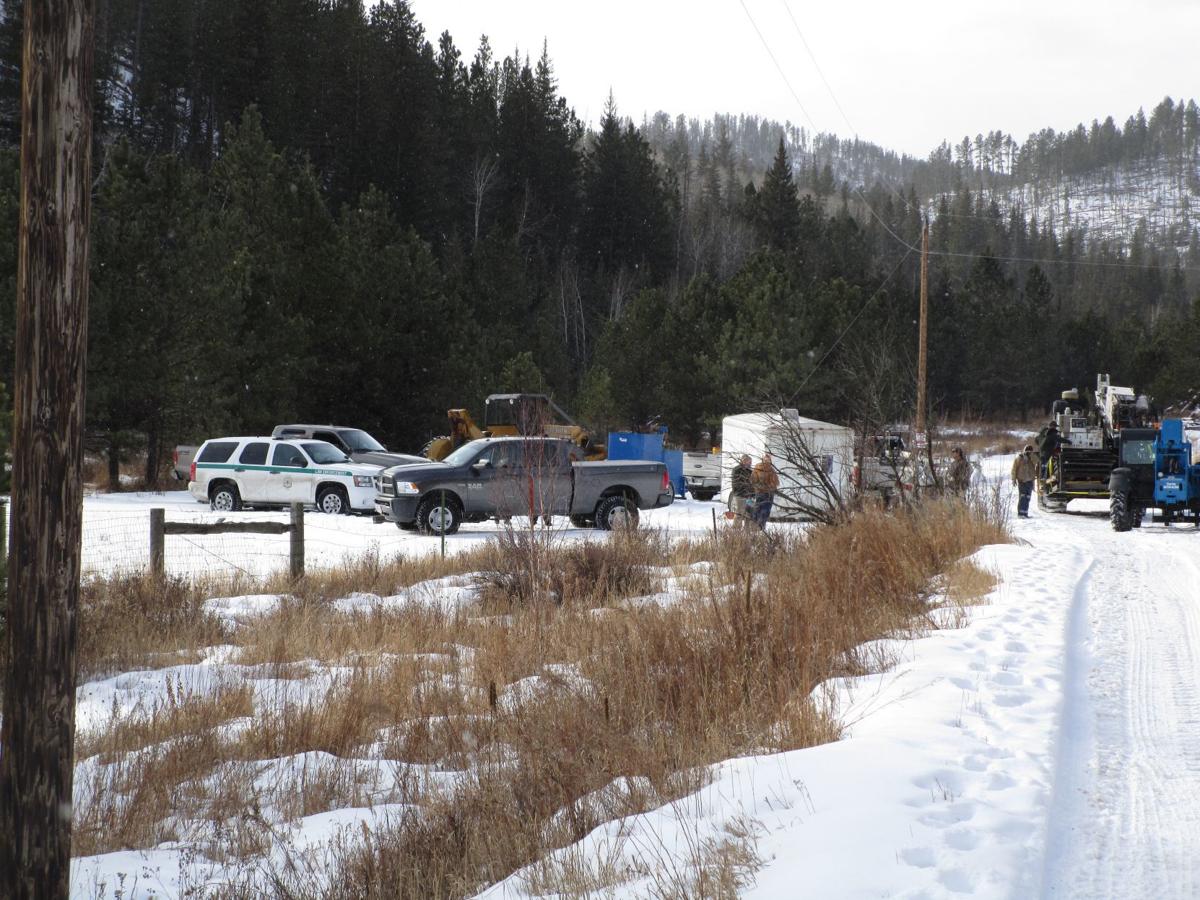 A Canadian company that is hoping for "another Homestake Mine" has begun exploratory drilling for gold near Rochford.
Mineral Mountain Resources announced Monday that drilling began last week. During the first phase of drilling operations, the company plans to drill at least 12 holes ranging in diameter from 2 to 4 inches and ranging in depth from about 1,000 to 1,300 feet.
The drilling is being conducted on privately owned land parcels about a half-mile southeast of Rochford, which is a small, unincorporated community in the north-central Black Hills that was a gold-mining hub during the late 1800s.
The private land where the company is drilling is covered by an exploration notice that was approved in June by the state Department of Environment and Natural Resources.
Mineral Mountain also hopes to drill on some public land in the Rochford area, but the U.S. Forest Service is still considering the company's operating plan for those additional drilling sites in the Black Hills National Forest.
In a news release, Mineral Mountain said the current drilling area is about 16 miles south of the former Homestake Mine, which produced about 40 million ounces of gold from 1876 to 2001.
The company also recently released a slideshow presentation about its drilling plans.
"The Target: Another Homestake Mine," says one of the slides.
Although Mineral Mountain is based in Vancouver, British Columbia, the company's president and CEO is Nelson Baker, whose corporate biography says he earned a geological engineering degree in 1968 from the South Dakota School of Mines & Technology in Rapid City.
The drilling project is opposed by some neighboring landowners, environmentalists and others who fear negative impacts from a potential large-scale gold mine. Some Native Americans have called the project a desecration of the Black Hills, which are spiritually significant to several Native American tribes, and Native Americans have also voiced concerns about the project's proximity to Pe Sla, a large mountain meadow about 7 miles west of the drilling area that is spiritually significant to Sioux people.
In a letter circulated by a group called Save Rochford & Rapid Creek From Gold Mining, Rapid City resident George Kruse cited the example of the Gilt Edge Mine, a 360-acre site 6.5 miles east of Lead. It became an EPA Superfund Site after Brohm Mining Company abandoned it in 1999 and left behind 150 million gallons of acidic heavy-metal-laden water in three open pits and millions of cubic yards of acid-generating waste rock.
Kruse warned of the environmental disaster that could result from contamination of Rapid Creek by a gold mine.
"Everybody along Rapid Creek and Rapid City that drinks water should be concerned about this potential disaster," Kruse wrote.
For now, Mineral Mountain is only exploring, rather than mining, for gold. The company's notice of intent, filed with the state DENR, says drilling could eventually include up to 120 exploratory holes within 12 approved drilling areas on private land. No hole will exceed 4,000 feet in depth, and no contact with underground water sources — known as aquifers — is anticipated.
Water for use by the drilling rigs will be pumped from Rapid Creek, which flows alongside Rochford Road. Used water will be stored in a tank where the cuttings will settle out so the water can be reused. At the end of drilling, the water will be disposed pursuant to state regulations, possibly at a sewage treatment plant.
After a hole is drilled and core samples are removed, each hole must be filled with bentonite, or with concrete if an aquifer is encountered. The disturbed area on the surface must be restored to a natural-looking state.
Mineral Mountain paid $250 for an exploratory permit and must maintain a $20,000 bond with state government, which is the maximum statewide bond imposed for exploratory drilling. The bond money is available for use by state regulators if Mineral Mountain abandons the project without fully reclaiming it.
Mineral Mountain previously explored for gold in the mountains at Keystone, another historical Black Hills mining community, from 2012 to 2015. The Keystone project received negative publicity in late 2012 when some drilling water and bentonite leaked into Battle Creek. Drilling was shut down for a week, but DENR officials said the milky substance in the creek did not pose a hazard to people or fish.
Gold mining has been a major industry in the Black Hills since the 1870s. The biggest current player is Wharf Resources, which reported production of 109,175 ounces of gold and 105,144 ounces of silver in 2016 from its mining operation west of Lead in the northern Black Hills.
Get local news delivered to your inbox!
Subscribe to our Daily Headlines newsletter.