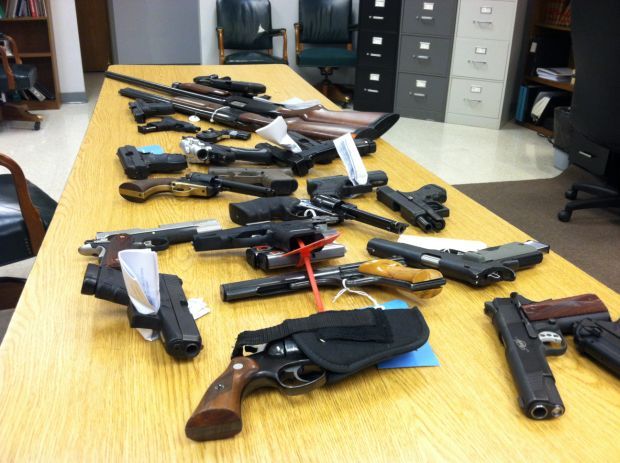 STURGIS | Meade County Sheriff Ron Merwin had a pretty simple take on whether the county should sell handguns and rifles his department has confiscated: it's not a good idea.
Instead, Merwin recommended recently to county commissioners that the county should trade the guns through an established firearms dealer, rather than auction them off to the highest bidder.
Merwin pointed out that the guns were not purchased by Meade County taxpayers, so he preferred trading rather than auctioning them, because auction buyers would not undergo background checks that could indicate whether the guns would be used for illicit purposes.
"We have zero dollars in these," he told commissioners. "They are not something we have used taxpayers' money to purchase, so if we get 5 bucks a piece we are ahead of the game. That's exaggerating, but I just really feel like the county and the sheriff's office should not be in the business of selling guns individually to people."
County commissioners were eyeing the sale of the guns at the annual Meade County surplus auction.
Commission Chairman Alan Aker said Merwin's slant on the issue just "didn't compute with him."
"This is something the county owns, and we are entrusted to find the value to the taxpayer," Aker said. "Whether we pay anything for them or not, I feel an obligation to get market value for everything the county owns."
Eventually, a compromised was reached when the commissioners voted to sell the weapons at surplus auction, contingent on a buyer passing a background check if they do not already have a concealed weapons permit. The guns will be held by the sheriff's department until the background check is completed and passed. The weapon or weapons purchased will then be released after payment, with information about the sale going back to the commission.
Merwin said the issue of the guns first surfaced when Meade County Commissioner Bob Bertolotto asked if the sheriff's office had any guns to auction off.
"My first concern was that our auction is being held at a school I didn't want to auction guns at a school," Merwin said.
Bertolotto, who was absent from the commission meeting last week, said he was hired by the Meade School District as the auctioneer for the school district auction, in which the city and county will participate. When he learned there were guns that may be put on the auction, he asked Meade Schools Superintendent Don Kirkegaard's permission to sell them at the auction scheduled at the Stagebarn property.
"I would never let a gun be sold at a school, but that school is not in use," he said.
Stagebarn Elementary School at Piedmont has not been occupied for two years because those students were moved to the new Piedmont Valley Elementary School.
Bertolotto and Aker encouraged the sale of the firearms because both believe they can get a better price at auction than they would get through trading them.
Bertolotto said that guns typically bring higher prices at auction. He likened it to selling a car outright or trading it into a dealer.
"In this case, the county is going to get retail rather than wholesale," he said.
Bertolotto said he will have a licensed firearms dealer at the auction to handle all the background checks and documentation needed.
Interested bidders must have a completed Firearms Transaction Record or Form, a U.S. government form that must be filled out when a person purchases a firearm from a federal firearm license holder, such as a gun shop.