Cody Kaspar and Kelly Holden do their best to avoid using the contaminated water that pours from their mobile home's faucet. It's a different story, however, for their three young children. 
"We catch them running to the sink all the time to fill up their water glasses. They don't understand — water is water is water," said Kaspar, 29, from his cramped kitchen on a brisk mid-December night as Jimmy, his rambunctious 2-year-old, ran into the room and hugged his father's legs. "He'll try to get in the bathtub and drink the bathwater. He's a kid. It's what they do."
Kaspar and Holden live in a trailer with Jimmy and two daughters, April, 6, and Danielle, 5, in Plainsview Mobile Manor just southeast of Ellsworth Air Force base where hundreds of residents have their water contaminated with per and polyfluoroalkyl substances (PFAS) at levels 10 times what the Environmental Protection Agency (EPA) deems safe.
PFAS has been linked to cancer, thyroid disease, weakened immunity and other health problems. It has infiltrated 26 private wells in an undisclosed area the base has broadly described as "within two miles southeast of the base." Decades of PFAS-laden firefighting foam use by base crews in training and emergency responses is the contamination's cause.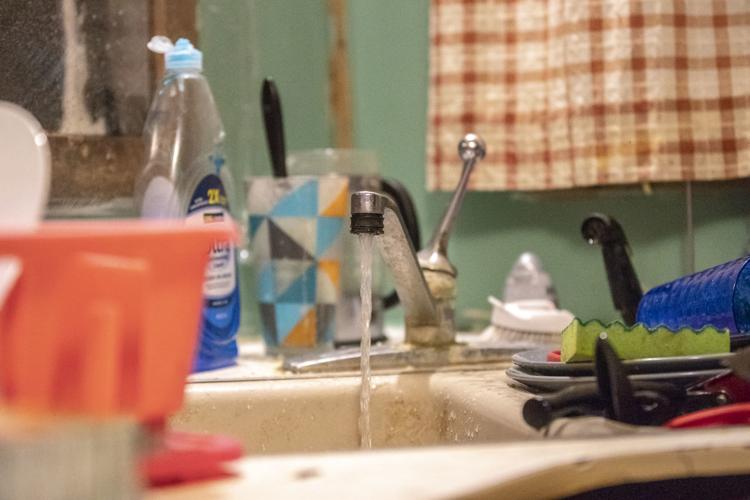 Of the 26 wells, 15 contain PFAS at levels above what the EPA deems safe, including the well serving Plainsview Mobile Manor that provides water to around 200 people across approximately 75 mobile homes. Since October, Plainsview residents and other affected households have received free water from the base, with each household receiving a weekly ration of five gallons per person. 
"Where we find contamination, we have a rapid response plan to immediately provide safe drinking water to all of those contaminated wells as we work on a longer-term solution," Col. John Edwards, commanding officer at Ellsworth, said at a Nov. 1 informational meeting with affected residents. "We count on our partnership with Box Elder, the community and the neighbors. That's an important relationship for us."
But Edwards' words offered scant comfort to those affected.
"My kids can't even enjoy having bath time with their toys," said Holden, 26, a waitress in Rapid City. A relaxing shower or soak following a long shift is no longer an option, either.
"It's just like you've got to get in, get washed and get out as quick as possible," she said.
She then motioned toward Jimmy.
"I have to make sure I grab a towel before I put him in the bath, or I'll be gone for like two seconds and he's drinking water when I get back," Holden said.
Near Plainsview, 18 additional homes have drinking water wells with PFAS above the EPA level — 70 parts per trillion, equal to about three-and-a-half drops of water in an Olympic-sized pool — for the two most closely studied PFAS, perfluorooctanoic acid (PFOA) and perfluorooctane sulfonate (PFOS).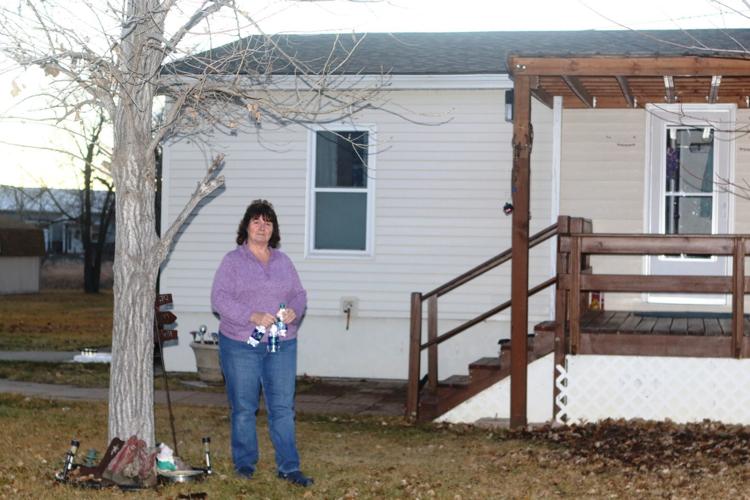 NanCee Maynard, 69, has lived at 730 Halsey Drive since 1976, where one well contains PFAS almost seven times the EPA level. Water bottles populate each room of her one-story house, sitting atop window sills, end tables and nightstands, and alongside kitchen and bathroom sinks.
"We have bottles of water everywhere," she said in early December. Maynard raised two sons there with her late husband, who passed away suddenly in 2013.
"I drank the water every day," she said. "I'm getting to the age where things start going wrong. Is that [contamination] going to be a factor?"
Like most of those affected, money is a consideration for Maynard. Kitchen cupboards are stocked with green beans, pickles, horseradish, potatoes, beans, jams and jellies canned in years past with the contaminated water.
"I'm not throwing them out," she said. "It's money. It's a food source. No, I'm not going to throw it out. I'm going to use it up. What am I going to do?"
Maynard has a much larger financial concern, too.
"I have a paper house because who is going to buy it when I have contaminated water?" she said.
Thomas McCarty lives at 14682 Country Road and had water from his well test at levels 38 times the EPA level. He worries, too.
"My concerns? Property value, number one," he said in December from his front porch. McCarty and his wife, Christine, have lived there for 18 years.
"We used it for everything," he said of his well water. "What's it done to our health already? Who knows?"
Kaspar said the contamination has foiled his plan to move from the cramped trailer to a house.
"We don't want to live in a trailer forever," said the stay-at-home dad. "The goal was move in, fix it up and then turn a little bit of a profit on it and see if we couldn't jump start into a house. Now, should I even put the money into it because there's no resale value unless they get the water situation completely fixed? I mean, do you want to buy a trailer that's in a contaminated spot like this?"
Kaspar's children are his primary concern. His needs are secondary.
"I don't drink enough water now. I try, but my kids come first," he said. "You go into water conservation mode."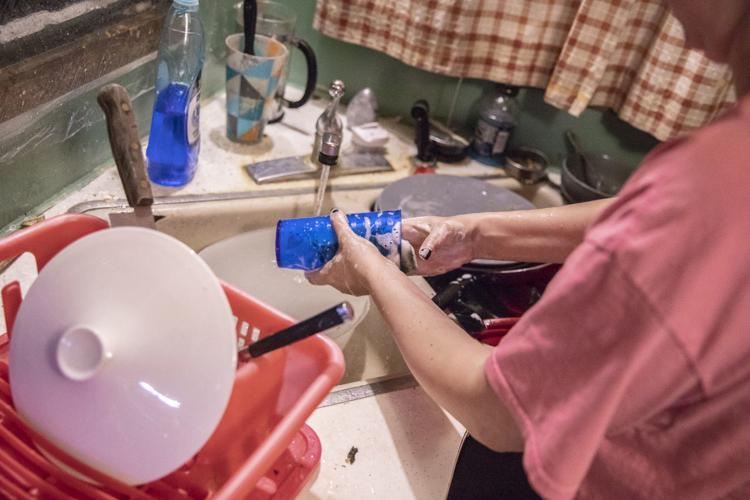 Kaspar researched PFAS and its health effects shortly after base officials notified him in early October of the contamination. But Sandy and Richard Clary, who live next door to Maynard at 720 Halsey Drive, said they still don't completely understand the health risks from PFAS exposure even after attending the base's November informational meeting meant to address those concerns. To them, the obfuscation feels intentional. 
"They've [base officials] never really explained to us any of the health issues possible from it," Sandy, 68, said from her kitchen. The Clarys have lived in the same home for 31 years and have PFAS in their well water 26 times the EPA level.
"I just don't feel comfortable when they tell us something," Sandy continued. "You know how people can tell you something, but they don't really tell you anything? That's how I feel they are. They say the water is bad, but they don't get into how bad it could be for you or what it could do to your health."
"They've known for how long?" her husband interjected.
In 2011, Ellsworth officials began to investigate whether firefighting foam had contaminated the base's soil and water with PFAS. In February 2013, the state Department of Environment and Natural Resources sent a letter to the base urging them to begin testing private wells "as soon as possible in the current calendar year." Five-and-a-half years later, the base completed the first stage of testing.
"We will continue to assess the nature and extent of the PFOS/PFOA contamination and whether it poses a risk to drinking water," reads a statement from the base provided to the Journal on Jan. 4.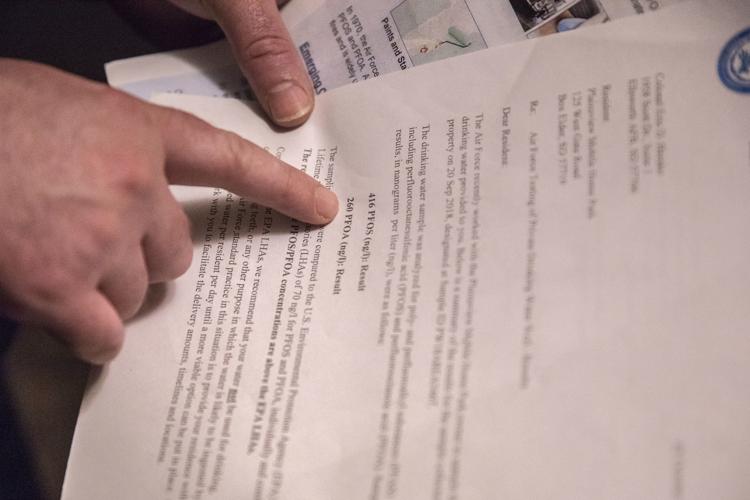 Richard scoffs at such assurances.
"Did they tell anybody until just two months ago?" he asked in December.
Emotions run high in Plainsview and the other affected homes, where discontent is often paired with despondency. 
"You can't be happy without clean water. You can't live without it," Kaspar said.
"We've been basically family," Maynard said of the base. "When the base was going to get closed, we all jumped, 'save the base, save the base' and then they pretty much forgot about us."
Maynard shook her head. Moments later, her voice cracked when she thought of the issue affecting her friendship with the Clarys, who have rented the lot at 720 Halsey Drive from Maynard for 31 years.
"I suppose they could sue me," she said. "I don't know, maybe not? I don't know. I'm providing water. It's something you have to think about. They're like family and it kind of changes because now they're saying 'well, you have contaminated water.' I now have become a landlord instead of a neighbor friend and that kind of worries me."
One minute, Maynard is joking about the Clary's Christmas tree. The next, her eyes cast downward.
"It's no longer the neighbors, or New York, or Omaha. It's here in Box Elder, South Dakota, on my doorstep," she said. "So, it makes it pretty emotional and pretty difficult to deal with."
Anger afflicts Richard Clary, who was boiling food when he first learned of the contamination from Air Force officials. 
"They showed up and said 'We're going to give you water and don't use it to boil your food in' as I was boiling beets to skin," he recalled. "She's [a base official] standing at the door saying 'Don't boil your food in it.' I should have threw them at her."
While reactions differ depending on the person, they all seem to desire the same end.
"Wake up and this is over," Maynard said. "Wake up and this was all a bad dream. But it's not going to be. This is something we're going to have to face."