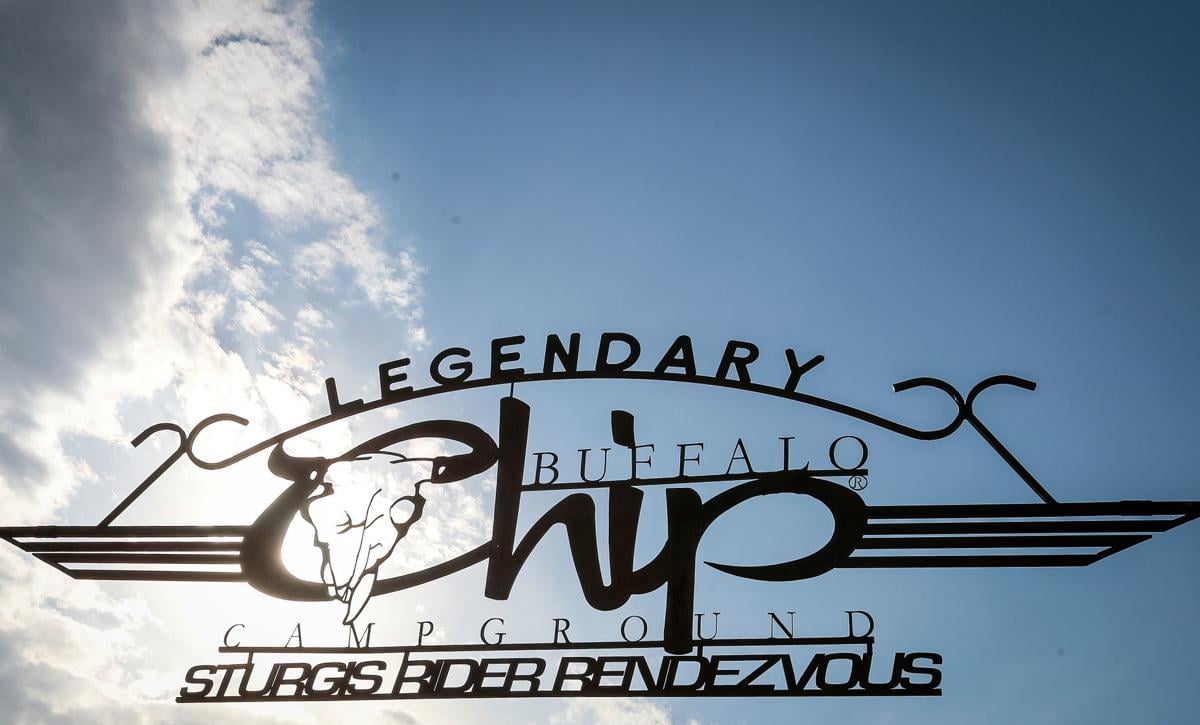 MEADE COUNTY | There was never a decision to continue the 80th annual Sturgis Motorcycle Rally at The Buffalo Chip because there was never a decision to discontinue, said president and founder Rod "Woody" Woodruff.
With the Sturgis City Council weeks away from an official decision to continue the rally within city limits due to concerns over the COVID-19 pandemic, which has been found in 10 residents of Meade County and 172 in Pennington County, The Buffalo Chip's team hasn't slowed down in planning and producing the best possible experience they can.
"I can't imagine not being here when (people) get here," Woodruff said.
He said there are about 20 people on staff that work non-stop to make the event happen. When the national and state government said businesses should halt to combat spreading the virus, Woodruff said he and his team just continued on.
In January, Woodruff spent time in Italy for a motorbike expo and Germany. He said it didn't seem like people were particularly concerned about the virus at the time and rarely did he see someone wearing a mask in either country.
After he flew back and traveled to Daytona to record a TV show in March, things started shutting down, including the recording studio.
Woodruff said he hopes by August, the world, or at least the United States, would be a bit closer back to normal.
Now, though, about 10 weeks away from the start of the rally, Woodruff said we know more about the virus and minimizing chances of contracting it and spreading it.
He said he spoke with the South Dakota Department of Health and was referred to the CDC guidelines.
Derrick Haskins, director of communications for the state health department, said "discussions are ongoing" and there would be more information soon in an email to the Journal. 
Woodruff said there will be social distancing guidelines at the campground, but that it's a little easier there than in an enclosed space since everything is outdoors, especially on The Chip's  600 acres.
In a video series Woodruff has done since April to keep rally goers up-to-date on information, Woodruff said those who come to the campground need to be responsible for themselves and considerate of others, which they typically are.
In the video, he said people should bring hand sanitizer, although The Buffalo Chip will have its own, and they should bring their own masks.
Woodruff told the Journal Wednesday the campground has had teams of bathroom attendants for decades to wipe down and clean bathrooms after each use, and never thought anything of it other than it was good service.
"We didn't think of it in terms of sanitizing, it was cleaning. Now it's sanitizing; same thing with the showers," he said. "We'll still have that of course and it'll be ramped up rather than toned down."
Woodruff said there are hand washing stations, The Buffalo Chips' own hand sanitizer and maybe a company, who he said expressed interest in sending sanitizer to have in all 400 portable toilet stalls although that's not official quite yet.
He also said spaces will be marked off in front of vendors so people don't stand within 6 feet of each other.
Woodruff said he also spoke with a talent and production crew the other day to prepare for a TV show during the rally. He said they're discussing how to lay out social distancing areas so it looks good for the screen and is safe for people.
"I imagine everything that we're doing is going to be refined once or twice," he said. "I think we're doing everything that we can do. We're certainly paying attention, like everybody else probably in business."
Woodruff said American Flat Track, a competitive form of dirt track motorcycle racing, and Shinedown, a hard rock band based out of Jacksonville, are the only ones to cancel so far, and he expects more as the rally date approaches.
Still on the lineup are Puddle of Mudd, The Takeover, Lynyrd Skynyrd, REO Speedwagon, Willie Nelson & family and ZZ Top.
"Like us, these people had thought, 'that's not until August, everything will be better by August,'" he said. "They weren't thinking about the July dates they need to play in order to get here cancelling on them."
Woodruff said he's looking for replacement acts and hasn't heard about any other cancellation announcements. There will, though, be entertainment.
According to the state, the virus isn't expected to peak in cases until June. Woodruff said it looks like an accurate prediction, as long as the trend line starts to decline following the peak, although he's sure the virus will still linger.
According to the University of Washington's model for cases, also known as the IHME model, the number of infections is expected to increase through August.
"We either do nothing forever or we figure out how to deal with it," Woodruff said. "Our motto has always been ride free, take risks. That doesn't mean you can't calculate those risks. We calculate those risks by social distancing, washing our hands and sanitizing and maybe wearing a mask."
Woodruff said this year's rally was going to be "a phenomenal success," but March 6 seemed like the day the whole country became scared to death.
He said this year's rally isn't going to be nearly as big as last year's.
However, he also said The Buffalo Chip is still here to serve the public, and the rally gives people the freedom to move across the country.
The rally is scheduled Aug. 7-16. The Sturgis City Council will host a special meeting June 8 to discuss the rally and make a final decision June 15.
Concerned about COVID-19?
Sign up now to get the most recent coronavirus headlines and other important local and national news sent to your email inbox daily.