Editor's note: This is the first of two stories about the underlying causes of the ignition and spread of December's Legion Lake Fire. Click here for Part 2.
In 2013, as millions of trees in the Black Hills were dead or dying from a mountain pine beetle epidemic, Black Hills Energy scrambled to protect its overhead electrical lines.
The Rapid City-based utility spent $14.8 million over the next five years to clear out the right-of-way corridors along 2,178 miles of its distribution network. Thousands of dead trees were removed, live vegetation was trimmed and herbicide was applied — all in an effort to keep the right-of-way free of growth that could touch a power line.
Then, in December, the wind blew a seemingly healthy tree from just outside one of those right-of-way corridors onto a Black Hills Energy distribution line in Custer State Park.
The line broke and sparked the Legion Lake Fire, which grew into the third-largest wildfire ever measured in the Black Hills. The flames spread from the state park into Wind Cave National Park and onto private property, ultimately scorching 84 square miles of mixed forest and grassland.
The circumstances of the fire's ignition highlight a consideration for the future: Throughout the Black Hills, there are millions of apparently healthy trees that stand outside a power line right-of-way, yet are tall enough and close enough to fall on a line and spark a wildfire.
Mike Chase, manager of marketing and member services for Black Hills Electric Cooperative in Custer, said there are an estimated 4 million trees that are outside of the cooperative's 2,400 miles of right-of-way but are tall enough and close enough to fall on power lines.
"It keeps our manager up at night during fire season, that's for sure," Chase said. "It keeps all of us worrying about something happening in a storm."
And it is a problem that can never be fully solved, according to Robert Novembri, a California-based, nationally recognized consultant on utility vegetation management.
"You're just not going to remove every tree that could possibly strike a line and be considered a danger tree," Novembri said. "It's just impossible."
But there are options for reducing the risk, he said, including the trimming or removal of at least some of the tall and healthy trees that stand just beyond the right-of-way corridors. Across the 5,000 square miles of the Black Hills, such a project would require cooperation among an array of utilities, electric cooperatives, landowners and land managers from federal and state agencies, not to mention expenses that would probably be passed along to electric consumers in the form of rate increases.
"There are a lot of moving parts here," Novembri said. "There are no straightforward answers on any of these questions, to be quite honest."
But the danger of maintaining the status quo is clear from an examination of the Legion Lake Fire's cause.
At about 7:30 a.m. on Dec. 11, while the wind was gusting from the northwest at up to 50 mph, a ponderosa pine tree fell on a power line in Custer State Park. The tree was along the south side of Highway 16A, about a half-mile northeast of Legion Lake.
The tree broke the line, and the line threw off sparks that ignited dormant vegetation. Those facts of the Legion Lake Fire's ignition were determined by Phil Geenen, an investigator for the Wildland Fire Division of the state Department of Agriculture, who filed an origin and cause report Dec. 14.
A combination of measurements in Geenen's report and later measurements by the Journal indicate that the tree, when it was upright, stood 23 feet from the power line, where it was perhaps 13 feet outside of the power line's right-of-way. The right-of-way consisted of about 10 feet of cleared vegetation on either side of the line.
The Journal was not able to ascertain the height of the power line, but a state law says electrical lines over highways must be at least 18 feet above the ground, and the line's highway crossing is very near the spot where it was broken by the tree.
All of those dimensions were overwhelmed by the tree, which was about 70 feet tall. Geenen provided that height estimate in a Journal interview, and the Journal confirmed his estimate with a rough measurement of the tree, which remained where it fell for several months afterward until state officials moved it elsewhere.
When the Journal viewed the fallen tree last month, it appeared healthy, with a thick and sturdy trunk and many needles that were still green. In separate interviews, Geenen and South Dakota State University tree expert John Ball each said the tree was not infested with mountain pine beetles.
And although the tree was subjected to wind gusts of 50 mph, gusts of that strength occur frequently in the Black Hills and are withstood by other trees.
Why, then, did the tree fall?
"That's the interesting question," Ball said.
Before offering his theory, Ball stopped his phone interview with the Journal and said he needed to seek permission to continue the interview from an attorney working for the state. Later, Ball said the permission was denied. Bob Morris, a Belle Fourche-based attorney who has been designated by state government to handle any legal matters that might arise from the Legion Lake Fire, also declined an interview request from the Journal.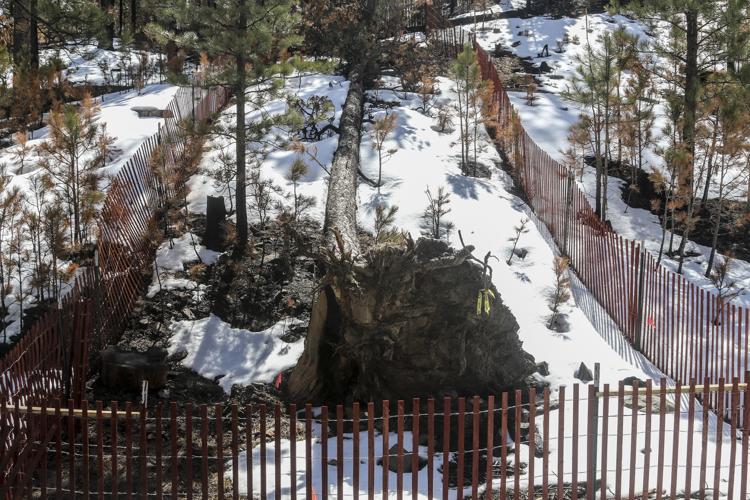 In the absence of an explanation for the fall of the Legion Lake Fire tree, there are general explanations of why a ponderosa pine tree might fall over in the wind.
One explanation is on a ponderosa pine fact sheet published by Wind Cave National Park.
"Because of the taproot, the trees can generally withstand high winds," the fact sheet says. "When 'wind throw' does occur, it is often because the tree has root rot or the root systems are shallow because of the rock on which the tree is growing."
Another explanation is in a guide to maintaining hazard-resistant ponderosa pine trees, which is published by the Oregon Department of Forestry.
"An individual tree's storm resistance is determined in part by its history," the guide says, "including maintenance activities, pest attacks, nearby construction activities, and, its branching structure and rooting pattern."
There have been construction activities in the general vicinity of the tree, as evidenced by the presence of the highway, some nearby utility boxes, and flags in the area that mark the presence of underground fiber-optic cable.
Yet another explanation is in a Black Hills Energy vegetation-management annual report, which was filed with the South Dakota Public Utilities Commission seven months before the Legion Lake Fire. The report mentioned how the removal of beetle-infested trees could cause unintended problems.
"Black Hills Energy will still have to monitor areas cleared of Mt. Pine Beetle trees," the report said, "as the healthy trees are at greater risk of causing vegetation management related outages because they are no longer shielded from high winds by adjacent trees."
If any litigation arises from the Legion Lake Fire (the Journal knew of rumored litigation, but no actual litigation, at the time of this writing), plaintiffs might seek to pin responsibility for the fallen tree on Black Hills Energy, Custer State Park or both.
Authorities with the state Department of Game, Fish & Parks, which oversees Custer State Park, declined interview requests from the Journal. Black Hills Energy also declined an interview request but sent a written statement from Nick Gardner, the company's South Dakota vice president of electrical operations.
You have free articles remaining.
Gardner referenced Geenen's origin and cause report.
"The report confirms that the fire was due to high winds that uprooted a large tree, causing it to fall into one of Black Hills Energy's power lines," Gardner's statement said, in part. "This was a large, 'green' — or living — tree outside of Black Hills Energy's right-of-way, which means it is outside of the area that we maintain. Clearly, these were extraordinary conditions, with warm temperatures, extremely dry ground conditions and wind gusts of up to 50 miles per hour."
That stance might protect Black Hills Energy from liability, but it does not address the problem of trees falling from outside the right-of-way onto power lines and potentially causing wildfires.
The most obvious solutions to the problem — widening the right-of-way or burying power lines — could be non-starters, according to Novembri, the consultant.
Power lines have caused 41 wildfires that have burned 57,151 acres in the Black Hills since …
Burying power lines is typically cost-prohibitive and could also be impractical in a place as rocky and rugged as the Black Hills, Novembri said. And the public is not likely to support the clearcutting of a 70-foot-wide or wider swath through the forest for thousands of miles of electrical distribution line.
But some widening of right-of-way corridors could make sense, said John Lee, the CEO/manager of Butte Electric Cooperative in Newell. The cooperative has only a small portion of its lines in forested areas of the Black Hills, but Lee said the threat of trees falling on those lines from outside the right-of-way is one of his biggest worries.
"Ultimately, it would be best for everybody if there could be a dialogue amongst the different entities involved about how to best attack this," Lee said.
A place to start could be the imposition of state regulations on electrical distribution lines, similar to federal regulations that are already imposed on transmission lines.
Transmission lines carry higher-voltage electricity over long distances. Federally mandated minimum clearances between vegetation and transmission lines are enforced by nonprofit regulatory bodies, with consequences for violators.
The cause of the problem, said a notice of the fine, was "less than adequate training for vegetation management tasks" and a lack of automated alerts for overdue vegetation-management work. Black Hills Energy agreed to rectify those deficiencies and implement other reforms to prevent similar problems.
After transmission lines carry electricity across long distances, smaller-voltage distribution lines carry electricity to homes and businesses. Regulation of distribution lines is left to the states, and South Dakota has not adopted minimum requirements for clearance between vegetation and distribution lines.
But Novembri said several other states have adopted such requirements.
"Personally, I believe those regulations should be in place everywhere," Novembri said.
In the absence of stricter state regulations, the distribution lines in Custer State Park are managed under the terms of easements granted by the park to the company, and by a memorandum of understanding between the two parties. Copies of those documents, which were obtained by the Journal, show that Black Hills Energy is authorized — but not required — to maintain right-of-way corridors of 10 to 15 feet on either side of its power lines in the park.
There is also language in the memorandum of understanding that authorizes "removal of hazard trees outside the ten foot (10') clearing limits that constitute a serious threat to the line."
Novembri described a "hazard tree" as one that is diseased, dying, leaning or otherwise posing a clear threat to a power line. He said hazard trees should be removed by the utility.
Descriptions of the Legion Lake Fire tree sound less like a hazard tree and more like a "danger tree," Novembri said. A danger tree is one that could be outside the right-of-way and could appear to be healthy, but is tall enough and close enough to fall on a power line. Danger trees are typically the responsibility of the landowner, Novembri said.
Although South Dakota does not mandate specific clearances between distribution lines and vegetation in state law, the state's Public Utilities Commission exercises some oversight of distribution lines.
In 2013, the PUC approved a rate increase by Black Hills Energy and authorized the company to increase its vegetation management spending. Approval for the extra spending came largely in response to the mountain pine beetle epidemic in the Black Hills, which was littering power-line corridors with dead and dying trees.
According to the PUC, Black Hills Energy spent an extra $14.8 million on vegetation management from 2013 through 2017, by which time the company said it had cleaned up its entire distribution network in the Black Hills and was planning a return to reduced levels of spending.
In a written report to the PUC in May 2017 — seven months before the Legion Lake Fire — Black Hills Energy said, "Due to the extensive vegetation management activities performed over the last four years, Black Hills' electric transmission grid should produce better grid reliability and limit preventable line outages."
Through an agreement with the PUC, Black Hills Energy could seek to recover the $14.8 million cost of the vegetation management project from consumers, as part of any attempt to increase rates on or after July 1, 2023.
Whether Black Hills Energy is open to further efforts to prevent trees outside the right-of-way from falling onto power lines is an open question. The written statement supplied to the Journal from Nick Gardner, the company's South Dakota vice president of electrical operations, referenced a commitment to existing requirements.
Tuesday marks the one-year anniversary of the start of the Legion Lake fire, the third-largest wildfire in recorded Black Hills history. It be…
"Black Hills Energy has a proactive vegetation management program that meets industry standards and accounts for all applicable state laws and regulations," the statement said. "We monitor all right-of-way clearances via aerial or ground patrol. Our priority is to provide safe and reliable energy to serve our customers by minimizing tree related outages in a manner that maintains our commitment to be a good steward of natural resources."
But in the past, incidents of allegedly negligent power-line maintenance have landed Black Hills Energy in court.
During the costly Grizzly Gulch Fire of 2002, which nearly burned into Deadwood, accusations flew about contact between a Black Hills Energy power line and trees in the right-of-way. A lawsuit arose, and it was settled in 2006 with an agreement by Black Hills Energy to pay the state and federal governments a total of $5.9 million. But the agreement also allowed Black Hills Energy to maintain its assertion that lightning caused the fire.
After a damaged power pole owned by Black Hills Energy fell on a tree and ignited the 2012 Oil Creek Fire, which burned 96 square miles of mixed forest and grassland on the western edge of the Black Hills, a group of landowners sued for damages and was joined in the lawsuit by the state of Wyoming. Black Hills Energy privately settled the lawsuit with all parties in 2016.
Those fires and the Legion Lake Fire showed how futile human precautions can be in preventing wildfires caused by power lines. But Chris Nelson, a South Dakota public utilities commissioner, said the recent five-year project by Black Hills Energy to trim its entire distribution network probably prevented some wildfires.
"Obviously, if we want to have electricity and utilize electricity, we're going to have power lines, and some of those are going to go through the Black Hills," Nelson said. "And it's always a balancing act between how much forest you want to cut for the right-of-way, versus the safety that you want to maintain with the power lines.
"Sure, you could go in and cut 500-foot swaths on either side of a power line, and you'd be pretty safe, but nobody wants that in a forest area. And so that's the balance that the company has to try to maintain."
Yet the tree that ignited the Legion Lake Fire by falling on a power line from outside the right-of-way is evidence of the risks inherent in status-quo thinking.
John Lee, of Butte Electric Cooperative, thinks there must be ways for electricity providers, landowners and land managers to work together and mitigate those risks.
"There's got to be some sort of a common-sense approach to this," he said. "Something has to change."