COTTONWOOD | There is no escaping the divisive tone of politics in this election year — not even in Cottonwood, S.D., population 12.
But it wasn't the presidential primaries that had townspeople divided as they went to their polling place Tuesday. It was a proposal to dissolve the town, which voters rejected.
Dave Griffee is the acting president of the board of trustees of Cottonwood, located in ranching country on U.S. 14 about 70 miles due east of Rapid City. He said a few residents who oppose modest efforts to improve the town forced the election. They were disruptive at town board meetings, Griffee said, and insisted that the town and its government be disbanded.
"So just to shut them up once and for all," Griffee said Wednesday, "we said, 'Well, we'll give them a chance to vote it.'"
The election brought the town to the brink of dissolution after more than a century of existence on the plains between Wall and Philip.
According to local history books, the town's origins date to the late 1800s. Oxen-drawn wagons hauling freight between the Missouri River and Deadwood crossed a creek lined with Cottonwood trees and dubbed the place "Cottonwood Crossing." The town was officially organized there in either 1906 or 1907, as railroads and homesteaders pushed west onto former Native American lands that were opened for settlement.
Cottonwood's zenith came around 1930, when the census counted 191 residents. Through the years, there was a post office, a newspaper, a bank, a school, a hotel, a rodeo arena and even a municipal electric power plant.
"At one time," wrote local historian Leona Cook in 1966, "Cottonwood was probably the largest and most thriving town between Fort Pierre and Rapid City."

The Depression and Dust Bowl hit western South Dakota hard in the 1930s and drove many families off the land. Cottonwood's school closed during the 1950s because of declining enrollment and insufficient funding, and the town's population dropped below 100, never to recover.
Today, no businesses remain, and much of the town has melted into the surrounding environment. Cottonwood's few streets are unpaved, and much of the grass in town is knee-high or up to the thigh, and intermixed with yellow sweet clover. Perhaps two dozen structures still stand, although some are leaning. They range from ramshackle, faded-wood outbuildings to well-kept homes.
The skyline, so to speak, remains surprisingly distinct thanks to the aluminum-covered skeleton of an old grain elevator, the steeple of an abandoned clapboard church, and a dilapidated, two-story brick structure, the only one of its kind in town. Those photogenic emblems of rural decay lure as many as a dozen curious motorists off the highway during the busiest days of the summer road-trip season. On Wednesday morning, a shiny SUV drove slowly through town and stopped occasionally as its occupants hopped out with cameras.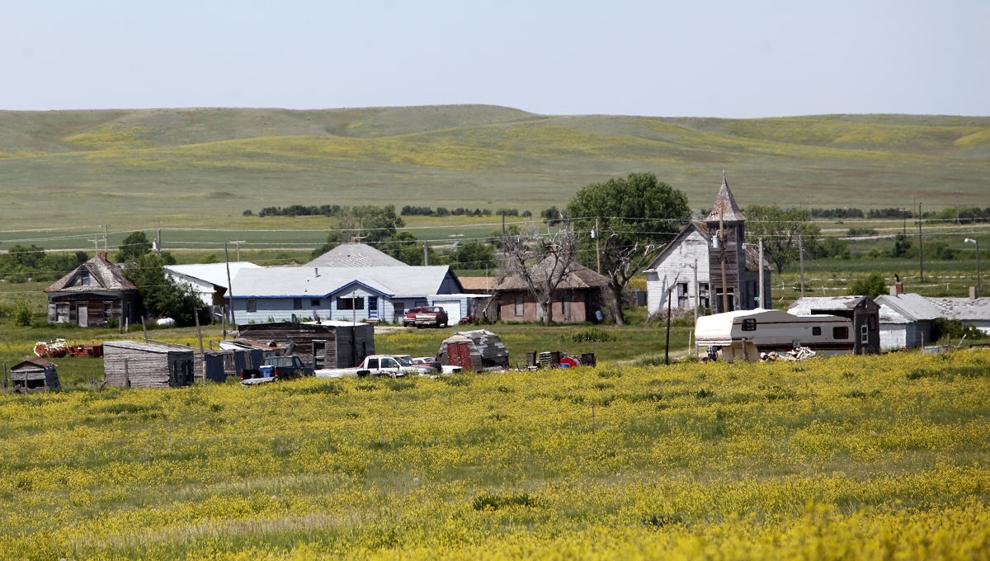 It takes a certain kind of person to reside in Cottonwood, where days unfold slowly under the harsh sun of the western South Dakota sky, and the sound of summer birdsong is interrupted only by the wind, the trains and the vehicles that zoom past on the highway.
The 66-year-old Griffee, who sports a bushy horseshoe mustache, is one of those certain people. He retired several years ago from a job in Rapid City and bought six lots in Cottonwood for about $500 apiece. While keeping a home base there in one of his three campers, he uses the other campers to poke around the Black Hills as he prospects and pans for gold.
Griffee said he is among a group of townspeople who wrested control of the town board away from the family of J.C. Heath, the former board president. Heath was not home Wednesday when the Journal visited Cottonwood, and nobody returned several phone messages left by the Journal at a number listed for the Heaths in a 2015 South Dakota Municipal League directory.
According to Griffee, the Heaths oppose minor clean-up efforts and ideas to attract people and businesses to Cottonwood, like setting up a picnic area for motorists or recruiting someone to build a gas station and convenience store.
"They said they want the town to stay as it has been, even if it ends up dying someday," Griffee said.
The divergent visions caused town board meetings to grow confrontational, until Griffee said he and others decided to appease the Heaths by granting them an election on their demand to dissolve the town. Griffee figures the Heaths accounted for three of the four "yes" votes on the ballot measure, but he isn't sure who cast the other one.
A Cottonwood resident who requested anonymity voted "no" on the ballot measure for several reasons, including the town's funding of street lights, road maintenance and garbage service. The garbage service consists of a central dumpster that everyone uses and the town pays to have emptied.
Cottonwood does not levy any taxes of its own but receives a small share of various state and county taxes and fees, including vehicle-licensing revenue. Unaudited annual financial reports submitted to the state Department of Legislative Audit show that Cottonwood received between $7,000 and $9,000 in annual revenue in recent years and has spent between $4,000 and $8,000 annually.
Besides Griffee's seat on the town board, there is a vacant seat and another seat filled by 72-year-old Phil Stark, a retired Navy submariner who grew up in nearby Philip and lives in a trailer house in Cottonwood with his wife, Jo-Ann.
Stark was sitting next to a mini-fridge stocked with beer and fish bait on his deck Wednesday morning, while smoking a cigarette and staying cool under the dense shade of an awning and the trees around it.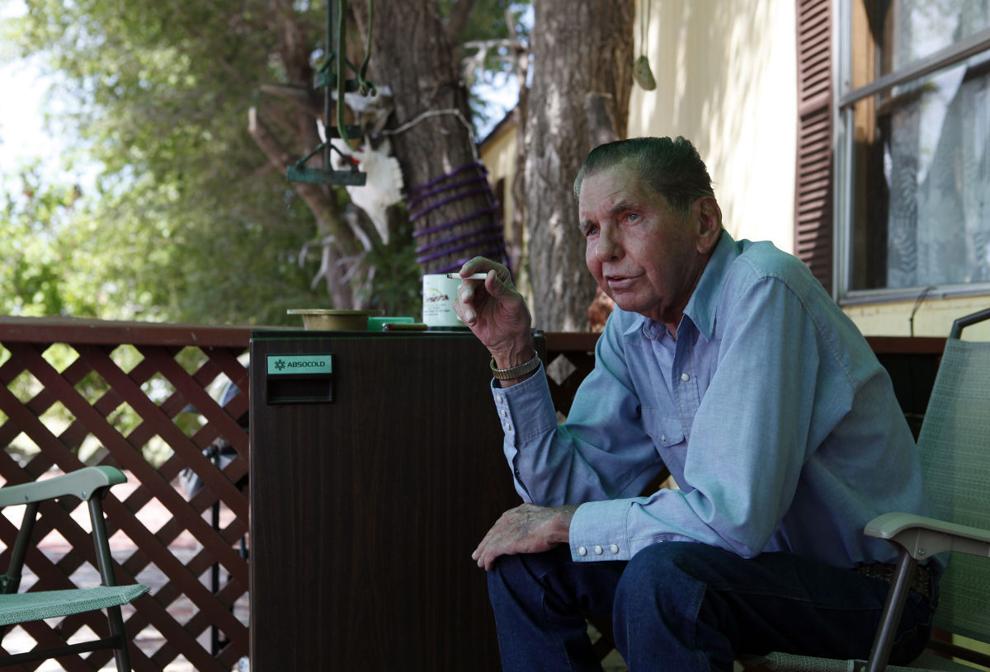 Stark seemed like a man unburdened by worry, and he sounded faintly amused by the town's recent troubles. But he also hopes the town survives and counts himself and his wife among the seven votes cast against dissolution.
He hopes the election returns will put an end to the strife, because in a town of 12, it's tough to avoid anyone.
"It's kind of like Rodney King said," Stark opined, recalling the victim of an infamous 1991 police beating in Los Angeles. "Can't we all just get along?"