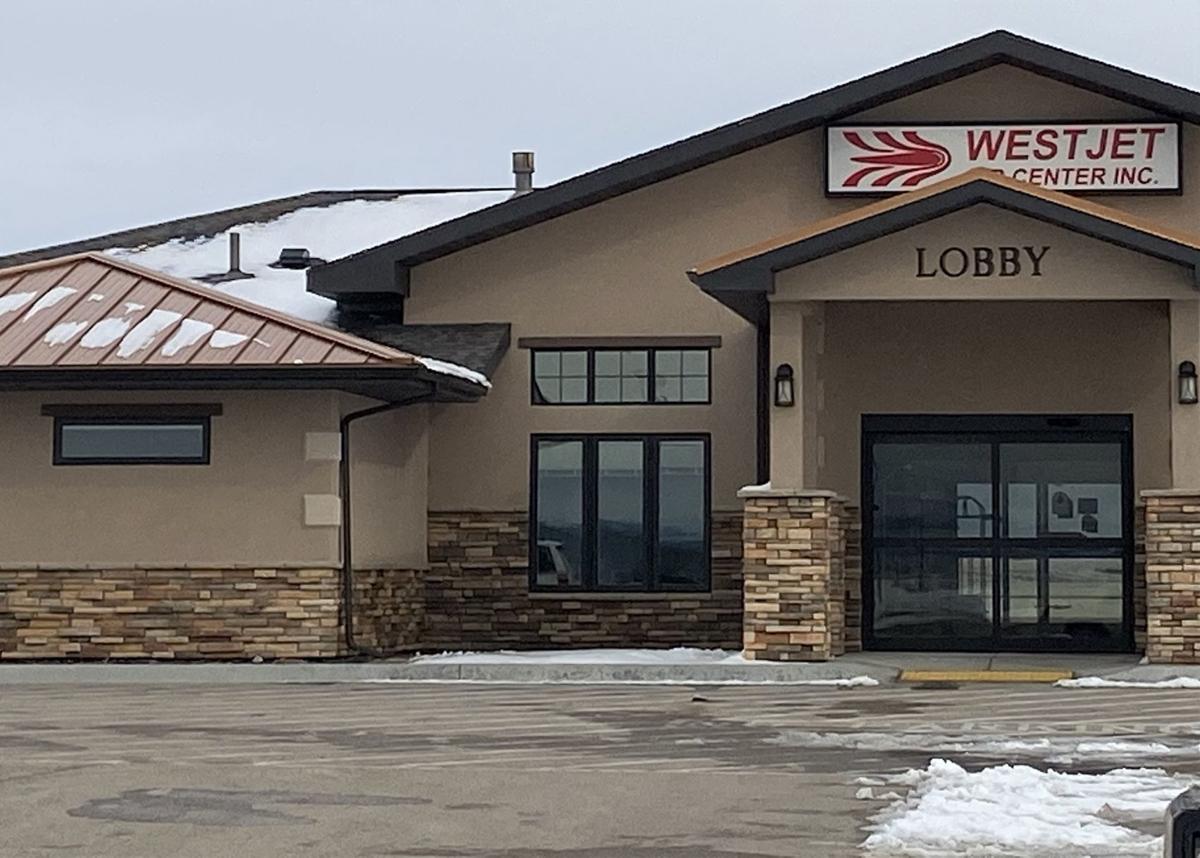 Lisa Modrick's future on the Rapid City Council is up in the air after a complaint made by the Airport Board president that is related to the ongoing dispute between Westjet Air Center and the airport.
Darren Haar's complaint, which will be considered by the City Council in an executive session, comes after he met privately with Modrick on Dec. 10, 2019, before a holiday party.
According to documents obtained by the Journal and two audio recordings, Modrick and Haar, the Airport Board president, met that day in a conference room at the Chamber of Commerce to discuss Rapid City Regional Airport and its stormy relationship with Westjet Air Center, a tenant at the airport.
Modrick is the director of operations for Westjet, the airport's lone fixed-based operator. She's held the position since October 2019.
Documents show that Modrick contacted Mayor Steve Allender on Jan. 2 to inform him that she "had something very serious to discuss."
Modrick claimed that Haar threatened her during the Dec. 10 meeting and as a result she had filed a report with the Federal Bureau of Investigation and contacted the Transportation Safety Administration. Allender agreed to meet on Jan. 6 at City Hall.
An audio recording of the Jan. 6 meeting was obtained by the Journal through an open records request. The partial audio recording was made by Rapid City Police Chief Karl Jegeris. Records show others there included Modrick's husband, Mike; Westjet Air Services owners Don and Linda Rydstrom; Westjet's attorney Aaron Galloway; and Assistant City Attorney Jess Rogers.
Lisa Modrick said Haar set up the meeting to discuss items that were "mostly about the airport, but probably some other stuff we're both working on." Modrick said she met Haar just prior to the holiday party.
Modrick said Haar questioned her decision to take a job with Westjet and began to talk in an "aggravated manner" and then made what she considered a threat to her safety.
In the recording, Modrick said Haar looked directly into her eyes and said, "I know where you live." Modrick goes on to say that Haar continued to be aggressive and went on a "permanent rant" about how people at the airport, particularly Westjet, needed to "start acting like adults."
"This whole time his body language was uncomfortable. He constantly looked away, and he just kept talking," Modrick said.
Modrick said she brought her husband along because Haar "made a statement that concerned me."
Modrick alleges Haar made a personal threat, saying he had "a plan" and that if he uses the plan "everyone will be sorry."
During the Jan. 6 meeting, Mike Modrick said he was concerned because Haar said "I know where you live" and that he had "a plan." Mike Modrick said he envisioned a scenario where Haar "drives by their house with a machine gun."
Lisa Modrick said after the Dec. 10 meeting with Haar, she went to the party outside the Chamber of Commerce office, said hello to some people there, and then went home and made notes about the meeting.
Modrick said she believed the Dec. 10 meeting with Haar was premeditated, possibly involving Rapid City Regional Airport Executive Director Patrick Dame and City Attorney Joel Landeen, to intimidate her and Westjet over long-standing disputes at the airport.
After Modrick made her statement, Linda Rydstrom said the situation was extremely serious and claimed a report had been made with the FBI and the TSA. Rydstrom said she believed Haar's actions "constituted a threat" to civil aviation.
Rydstrom also said because of the serious nature of the threat, she, her husband and daughter have been staying outside of Rapid City because they fear for their safety.
Jegeris' Jan. 6 audio recording ends before the meeting is over as he said he had another meeting to attend. However, documents show that Allender said he was very concerned by Modrick's initial call and had already spoken with Haar about it.
At that point in the meeting, the documents state Allender told the group that Haar had an audio recording of the Dec. 10 meeting. The mayor handed a letter from David Lust, Haar's attorney, to Modrick and Galloway. The letter states Haar would file a lawsuit for defamation if the claims of threats continued.
A city memo dated Jan. 20 from Rogers states: "The group's reaction to this news quickly turned to anger. Mrs. Modrick stated the fact that Mr. Haar had recorded the meeting solidified her belief that this was a premeditated effort. Mr. Modrick was very angry and stated that they were now 'at mach 10' and would be discussing legal options."
Lisa Modrick declined to comment to the Journal about the matter after three attempts were made to schedule an interview.
The Journal requested to hear the audio recording of the Dec. 10 meeting between Haar and Modrick. Haar's attorney, Lust, granted the Journal's request on Friday.
The conversation is congenial and for the most part friendly at the beginning with laughter heard at times. They also agreed that airport staff, tenants and the airport board should work together for the betterment of Rapid City.
You have free articles remaining.
Modrick and Haar also acknowledged there have been disagreements between Rapid City Regional Airport Executive Director Patrick Dame, airport staff and Westjet.
Over the one hour and 14 minute recording, Haar does refer several times to "adults not acting like adults" or "adults acting like children." Modrick seems to agree with verbal queues of affirmation. Haar said the behavior directed toward the airport frustrates him and said, "I'm not going to put up with it."
Haar said that he feels airport staff is being harassed. Modrick said there are tenants who feel harassed as well.
"You've got a big problem out there," Modrick replied. "It's been going on for years."
Modrick suggests Haar attend a tenant meeting to hear about the issues. Haar said he has been listening to all stakeholders at the airport and the complaints seem to come only from Westjet.
"I want to bring people together, come to solutions and rebuild communications," Haar said.
Haar continued saying he wishes to "level the playing field" for all tenants at the airport, and if the people at the airport don't start "acting like adults" he would "trigger something that would embarrass" everyone involved.
The recorded conversation between Modrick and Haar goes from one topic to another, some not related to the airport. Nowhere on the audio recording does Haar say "I know where you live."
Modrick's neighborhood does come up in the conversation in relation to the upcoming Rapid City Area Schools bond election and a conversation Modrick had with neighbors about it.
"In your neighborhood, I can see that," Haar replied to a comment Modrick made about the school bond election.
Only twice in the recorded conversation did Haar bring up having a plan, but every reference was dealing with finding a path forward at the airport.
After completing an assessment of the reported threat against Modrick by Haar, Allender wrote a Jan. 28 letter to Westjet Air Center and sent copies to members of the City Council.
In the letter, Allender acknowledged difficulties between the airport and Westjet over the past four years. However, Allender also questioned Westjet's intent in hiring Modrick, knowing she is a member of the City Council and the ongoing tension between Westjet and the airport.
"Ms. Modrick dismisses this alleged conflict as being no different that any other council member having a job," Allender wrote. "I believe this complaint against Darren Harr (sic) has proven to be a tipping point as to whether this conflict of interest is perception or reality."
Allender wrote he made the determination that Modrick's complaint against Haar did not "resemble the content, tone or context of the meeting," and that Modrick's allegation is "an out-right fabrication."
"No longer will I stand by while the airport and its officers endure these vicious attacks on their character and integrity," Allender wrote.
On Feb. 6, Haar and his attorney filed a formal code of ethics complaint with the city against Modrick.
In the formal complaint, Lust writes that Modrick and others made "many unfounded and outrageous allegations" against his client.
"Her lies and misrepresentation levied against a Rapid City citizen and volunteer member of the Airport Board are damaging to Mr. Haar and his reputation," Lust wrote. "Moreover, her conduct impugns the City Council, the Airport Board, and if left unchecked, will serve as a deterrent for anyone desiring to volunteer for City boards and committees."
Lust alleges Modrick violated the code of conduct resolution for a member of City Council.
Haar spoke with the Journal on Friday about his complaint against Modrick.
"Baseless, false claims were made before she knew our meeting was recorded," Haar said. "The recording shows our meeting was benign, yet productive. I don't understand what Lisa is trying to achieve by her fabricated claims. You'll have to ask her."
Modrick declined all requests by the Journal for comment.
Darrell Shoemaker, the city's communications coordinator, was able to confirm the city received Haar's complaint against Modrick, but said the city would not comment further at this time.
Shoemaker said the City Council will meet in executive session on Feb. 18 to discuss the matter. The council could take no action or decide to reprimand, censure or remove Modrick from office.