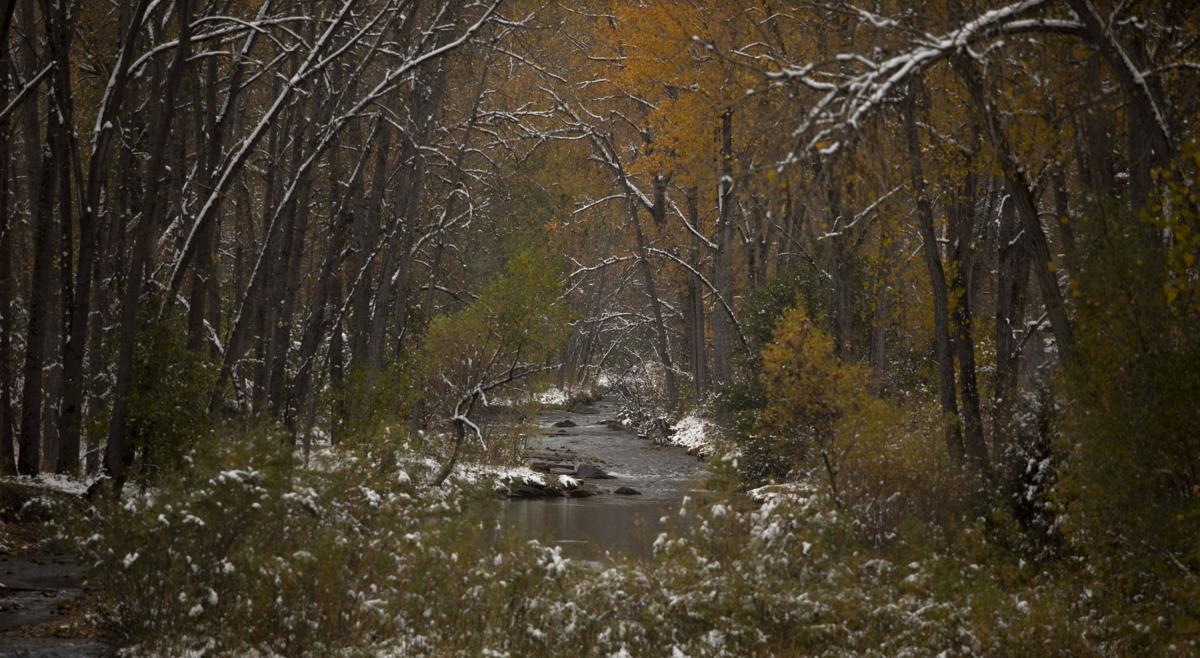 A Lakota-led group that's been patrolling Rapid Creek for the past few months to make sure homeless people are safe has now set up a winter housing camp outside the city. 
"Camp Mniluzahan is established by Creek Patrol volunteers to provide care and protection for unsheltered relatives along Mniluzahan (Rapid Creek), this winter and for years to come," the group says on its website. "This need has not been met by the city or other organizations." 
The camp has four tipis, a fire pit, and other infrastructure, according to videos and photos taken by Chynna Lockett, a group volunteer and member of the Independent Media Project. 
Representatives from Creek Patrol were not available for comment Tuesday but the group outlines its plans on its website, campmniluzahan.org.
The website does not share the location of the camp but says it's on land near Rapid City that's held in trust by the federal government for the Oglala, Rosebud and Cheyenne River Sioux tribes and was created with permission of tribal leaders. The camp is planning on providing shelter, food and bathrooms for residents and using volunteers for security, serving meals and medical needs. 
Camp Mniluzahan was created after the group first tried to establish it on Rapid City land near Lacrosse and Center streets. Law enforcement made them take the camp down on Friday night and arrested six organizers who remained in a tipi. 
That camp violated three city ordinances related to tents, special events and the flood plain, according to police spokesman Brendyn Medina. The arrestees were all charged with obstruction while three were also charged with resisting arrest. 
The Rapid City mayor, police department and the Pennington County Sheriff's Office have all been critical of the camp and organizers, saying the camp isn't necessary or safe. 
"Between the Pennington County Care Campus, the Cornerstone Rescue Mission, and a variety of other local outreach organizations, there will always be options to suit the specific needs of anyone we come in contact with, sober or intoxicated," Medina wrote in an email. "Our officers work tirelessly to leverage these reliable and safe options to make sure no one has to sleep outside. This new location would further distance our city's homeless population to access these much safer options."
The group is "enabling an already-vulnerable population to sleep outdoors during below-freezing conditions," Medina said. He also cited unnamed human service providers who say some homeless people "feel that they are being taken advantage of by the groups responsible for organizing these homeless camps. They feel that very little is being done to directly improve their quality of life, while this group continues to exploit their suffering in order to receive large monetary donations from all over the country."
Creek Patrol set up the four tipis in Rapid City after sharing a meal with homeless people on Friday afternoon. The group that organized the meal was not aware that Creek Patrol was planning on setting up the camp, Medina said.
About 10 officers and deputies arrived around 5:50 p.m. to provide traffic control and tell Creek Patrol that it was illegal to place the tipis at the site, Medina said. All but one homeless person left at this point and he was later taken to sleep at the Care Campus. 
About 30 Creek Patrol members took down three of the tipis but wouldn't take down the fourth one, Medina said. The six people who remained inside the fourth tipi were arrested around 10:35 p.m. and other Creek Patrol members then took apart the shelter. Half of those arrested have served as spokespeople for the group: Mark K. Tilsen, Hermus Bettleyoune and Carrie Middletent.
The "camp was evacuated by force by the Rapid City settler police" … "in violation of the land rights of the Oceti Sakowin and the human right and necessity to care for our unsheltered kin," Creek Patrol wrote on its website.
The tipis were set up on land that Creek Patrol previously identified as a spot for a winter camp and a future tiny home village, according to Mayor Steve Allender.
Allender said he told Chase Iron Eyes, Monique "Muffy" Mouseaux, and Nick Tilsen on Oct. 7 that he was opposed to any winter homeless camp but would look into tiny homes, funding and whether the land would be a good place for a new shelter or housing area. 
Mark and Nick Tilsen are brothers, and Nick is facing criminal charges after helping organize a June 3 protest near Mount Rushmore. Police Captain James John told Nick on Friday that he would arrest him and his bond would be revoked if the group didn't start taking down the tipis, a video posted to social media shows. 
On Saturday Allender and Police Chief Don Hedrick invited media outlets to a news conference at City Hall about Friday's events. Some Creek Patrol members and Lockett, who planned to livestream the event, also arrived but were not let in the building, according to a video she posted. 
"You're not coming in," you're not a journalist, Allender told Lockett. The group then asked whey they couldn't come in since it's a public building and Allender said it was closed to the public on the weekend and only open to invited media.
"We're not turning this into a circus," he said. 
"Given the circumstances and the temperament of the crowd, I envisioned allowing them to enter would produce a highly chaotic and non-productive scene," Allender said when asked what he meant by that comment. 
The video then shows Allender leaning towards Mark Tilsen, who he admitted he shoved. 
"They were angry, yelling obscenities, and in my mind were quite menacing given the fact that at that moment, only myself and the police chief were inside City Hall," said Allender, a former police chief.
He said Mark was holding the door open and was told many times to close it.
"I put my hand on his chest and pushed him backward with about the equal force it would take to open the door," Allender said. "In hindsight, I can see where I probably should have waited for additional police resources to arrive, however what I did could in no way constitute a physical assault."
The group then said Allender assaulted Mark and wanted Allender arrested, the video shows. Hedrick said he didn't want to arrest anyone. A man can then be heard saying that he would be in handcuffs if he had pushed the mayor or police chief. 
"No circumstances of the physical interaction meet the elements of an assault," Medina said, adding that the department would be open to seeking a third-party review if it receives a formal complaint about the incident.
He also said that a civilian who pushed a public official would not be charged if it was done in the same context: Trying to make someone close a door to a closed building they don't have permission to enter after being told to leave multiple times. 
The department, however, is looking into whether anyone in the group should be charged for failing to leave the property after being told to, Medina said.
Mark Tilsen, Bettleyoune and Middletent then hosted a press conference at NDN Collective later that day.
Creek Patrol created Camp Mniluzahan on tribal land outside of Rapid City on Sunday. 
Lockett posted a video showing what she said were unmarked police cars parked near the camp. Medina confirmed officers went to the site after seeing some group members post photos to social media indicating they were heading to a new campsite and receiving a tip about the location from "a member of the community familiar with Friday's event."
Medina said officers went to the site to confirm where it was located, determine who owned the land, and make sure the group was following all laws. He said the department knows the land is outside of Rapid City but is still working to determine who owns it. 
Now that Camp Mniluzahan is set up, the group is asking for more volunteers to help provide security, meals and medical support at the camp, its website says. It's also asking for supplies: Tiny homes, yurts, first-aid supplies, wood stoves, firewood and square straw bales.
The website says Creek Patrol is also continuing to care for those living along Rapid Creek by protecting the homeless community from police and civilian harassment while providing food, blankets and cold-weather gear.
Allender said groups that offer free meals were "enabling" homeless people to come to Rapid City, that there's been an influx of people from nearby reservations, and that "the homeless that are here from out of town should go home immediately."