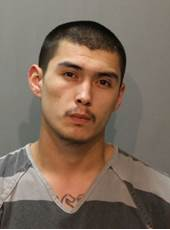 A Rapid City man who's been jailed for two-and-a-half years after being accused of trying to murder a sheriff's deputy has had his trial delayed four months after prosecutors announced they have more than 100 witnesses. 
Cruz De Leon, 24, was set to begin a three-day trial on Tuesday, but it was cancelled after the Pennington County State's Attorney Office filed a document on Jan. 21 saying they have 108 witnesses, including 70 law enforcement officers and six expert witnesses, court records show. 
A witness is someone who testifies during a trial; it does not mean they were a direct witness to the alleged crime.
This long list of witnesses means there's "insufficient time" to prepare for a trial and it's "abundantly clear" that more than three days are needed, defense lawyer Paul Winter wrote in a Jan. 28 motion asking to delay and lengthen the trial. 
State's Attorney Mark Vargo wrote in an email that he wasn't opposed to Winter's motion and added that there's "some realistic chance" that there may be be a resolution (a plea deal) before a trial is needed.
"I don't want that" since I've been in jail for two-and-a-half years, De Leon said in court Tuesday when Judge Jeff Davis asked him if he's OK with moving the trial back. "I just want to get this over with" but will listen to my lawyer, he said. 
Judge Jeff Davis rescheduled the trial for June 8-12 and warned "I'm not going to move it again."
Vargo told the Journal Wednesday that while this is long list of witnesses, they won't all actually be called to testify during the trial. He said not all of the law enforcement witnesses directly witnessed or immediately responded to the crime scene, but they all had some role in the investigation. 
You have free articles remaining.
Whittle said he fired twice at De Leon — hitting him once in the arm — after seeing De Leon point a silver revolver at him, according to the report. He told investigators that he hadn't realized that De Leon, who was sitting in a van, shot at him but several witnesses said they saw and heard De Leon fire his gun. The state forensic lab also found that two shell casings at the scene matched De Leon's revolver. 
If convicted, De Leon faces up to 25 years in prison on each of the three counts. He's also charged with meth possession and providing a false identity. 
Winter previously asked Davis to suppress all evidence gathered and observed after Whittle made contact with his client, according to his motion to suppress. He said Whittle had no reason to approach De Leon, order him out of the van and try to open the van's door since there was no "reasonable suspicion that criminal activity was afoot." 
Whittle saw that De Leon was "extremely nervous" and hesitant to provide his name so he asked De Leon to exit the van, Vargo wrote in his response. De Leon eventually agreed and began opening the door but then closed it and tried to start the vehicle. That's when Whittle tried to remove De Leon himself before De Leon pointed the revolver at him, Vargo wrote. 
He said Whittle was justified in approaching and giving orders to De Leon but even if it wasn't justified, De Leon firing at Whittle was a new criminal act and shouldn't be suppressed. Davis rejected the motion to suppress but didn't explain why, his court order shows. 
Whittle, firearm and fingerprint experts, and several adult and child witnesses are planning to testify on behalf of the state, court records show. 
De Leon is also facing two separate criminal cases. In one case, he's charged with four drug and gun crimes, including one that accuses him of possessing an illegal sawed-off shotgun on July 2, 2017, according to the indictment. 
In another case, he's charged with simple assault against a law enforcement officer for allegedly attacking a corrections officer in September 2017 at the Pennington County Jail. The officer found De Leon spraying another inmate with cleaning supplies and asked him to put it down multiple times, according to a police report.
The officer said De Leon looked like he was going to spray him so he pepper sprayed De Leon in the face. De Leon then started spraying the cleaning supplies on the officer and grabbed him around the back of his neck several times. The officer cut his head during the incident, the report says.