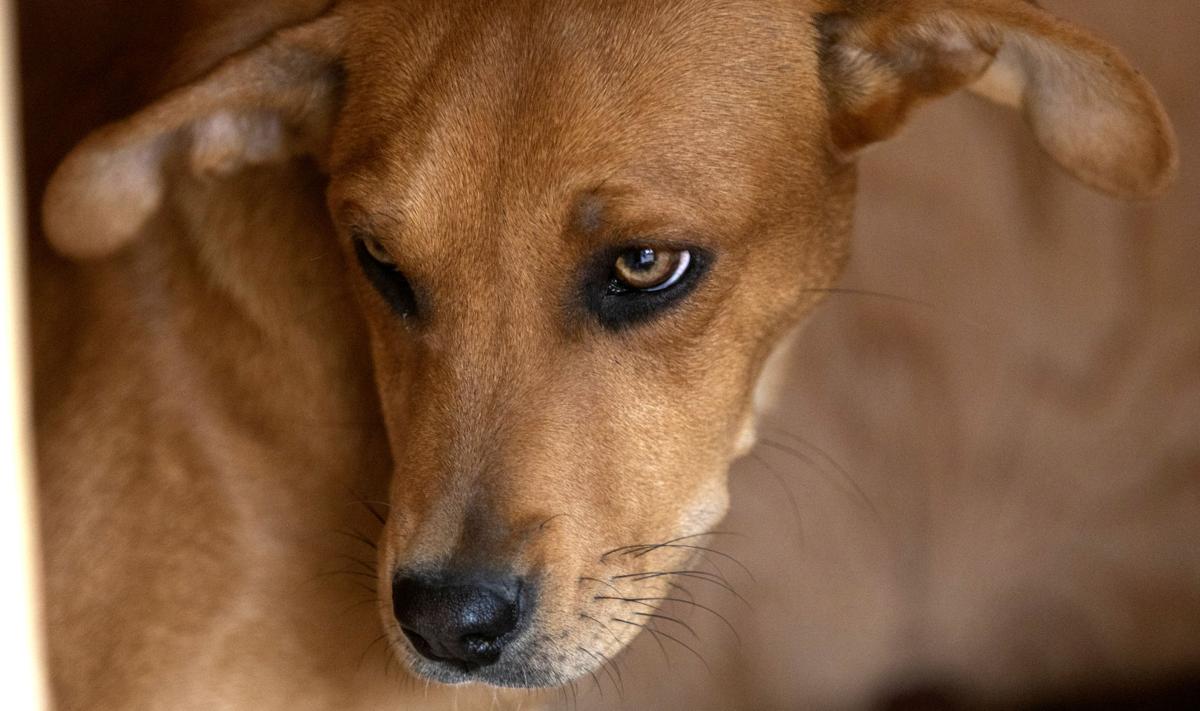 Dead puppies in a freezer, feces on a house floor, and a dog so injured he had to be euthanized were found at the home of a rural Lawrence County man who is also facing a statutory rape charge, according to court records. 
Thomas L. Mraz, 50, was charged Monday with five counts of animal cruelty and 26 counts of animal neglect, abandonment or mistreatment after law enforcement received a complaint on Oct 13. He was arrested Tuesday and released from the Deadwood Jail after paying a $1,000 surety bond. 
The animal cruelty charges are Class 6 felonies that are each punishable by up to two years in prison. The neglect charges are Class 1 misdemeanors each punishable by up to one year in jail. 
Mraz was previously arrested Oct. 11 on a Meade County warrant for fourth-degree/statutory rape and was released from jail after paying a $7,500 surety bond. The warrant was issued after Mraz was indicted July 20 for having sex with a 13-, 14- or 15-year-old on Oct. 16, 2019, in Meade County. The rape charge has a maximum punishment of 15 years in prison. 
What follows is from a report filed by a Lawrence County deputy in regards to the animal cruelty/neglect case: 
A Lawrence County sergeant went to Mraz's property between Whitewood and Nisland on Oct. 11 after receiving a complaint about dog neglect. She found numerous dogs, some with protruding ribs. The report says the sergeant arrested Mraz for his Meade County rape warrant but does not mention any further investigation of animal neglect. 
A second complaint about dog neglect was made just two days later that said Mraz has:
Dogs and puppies living in vehicles and campers;
Dead puppies in a freezer; 
Puppies living in a dirty bathtub; 
A dog that can't walk and drags his hind legs; 
A dog urinating blood;
A dog with a swollen snout from porcupine quills; 
Inbred dogs with deformed paws;
Feces throughout his house.
The person who called 911 also said Mraz feeds the dogs by pouring food on the ground once a day, causing them to fight for food. 
The sergeant went back to the property and she and the caller sent the deputy photos that showed some of the abuse as well as vehicles and "copious amounts of trash on the property."
Jennifer McCambridge, senior kennel tech at the Western Hills Humane Society in Spearfish, came to rescue three dogs and six puppies in need of "immediate medical care." Jack had a blind eye and paralyzed rear legs, Maya's snout was possibly infected from the porcupine quills, and Fredo was malnourished while caring for her six puppies in a bath tub inside an abandoned trailer. 
The above information was shared with a judge who issued a search warrant for the property. Deputies, two Whitewood police officers, a Deadwood community service officer and a Sturgis animal control officer arrived at Mraz's property around 7 p.m. that day. Law enforcement also brought along a veterinarian from Spearfish. 
"Very skinny and malnourished" dogs were found inside a van along with four dead puppies, one that appeared to have been partially eaten. The van was covered in urine and feces, and there was evidence the dogs had eaten the seat cushions. There was no dog food. 
Two law enforcement officers were bitten during the search. 
Mraz agreed to be interviewed by the deputy and a detective the next day, Oct. 14, according to the deputy's report. 
Mraz admitted the living conditions on his property were "not very good, probably" for him or the dogs. He said he used to clean up the dog feces inside his house — which has no heating —but gave up and just got used to the smell. Mraz said he's been stressed and is going through tough times.
The dogs came from California and some had deformed feet, Mraz said. He said he has vouchers from the Humane Society to fix the dogs but he hasn't had time to bring them in. He said he doesn't bathe them and only six have seen a vet. 
Mraz said he feeds the dogs once a day and most have their own bowl. He said the dogs drink "standing water" from a cistern and he gives them water if it's running low. He said he's given the dogs dewormer in the past but didn't do so after some recently got sick. 
"I don't know," Mraz said about why he has dogs living in a van. He said there are four dogs in the van plus the puppies, but he didn't know they had died. He said he brings them food and water once a day but hasn't cleaned the vehicle in a while. 
Fredo chose to give birth in the bath tub, but Mraz said he hadn't done anything to make sure she and the newborn puppies were OK. He said the puppies in the freezer had been there since last winter or fall because he hasn't had time to bury them. Mraz said two dogs recently fought with a porcupine, but he thought he got all the quills out. 
The deputy learned from the Humane Society later that day that Maya had to go to the vet to have the spines removed and an infection treated. He learned the next day that Jack would have to be euthanized due to his medical conditions. 
The deputy recommended the five felony charges in relation to Jack and the four dead puppies in the van. 
Jack "was in such poor health due to Thomas' failure to care for him that he had to be euthanized," the deputy wrote. Mraz "knowingly locked (the puppies) in the van and did not allow or provide any care which resulted in the death of the animals."
Sign up for our Crime & Courts newsletter
Get the latest in local public safety news with this weekly email.