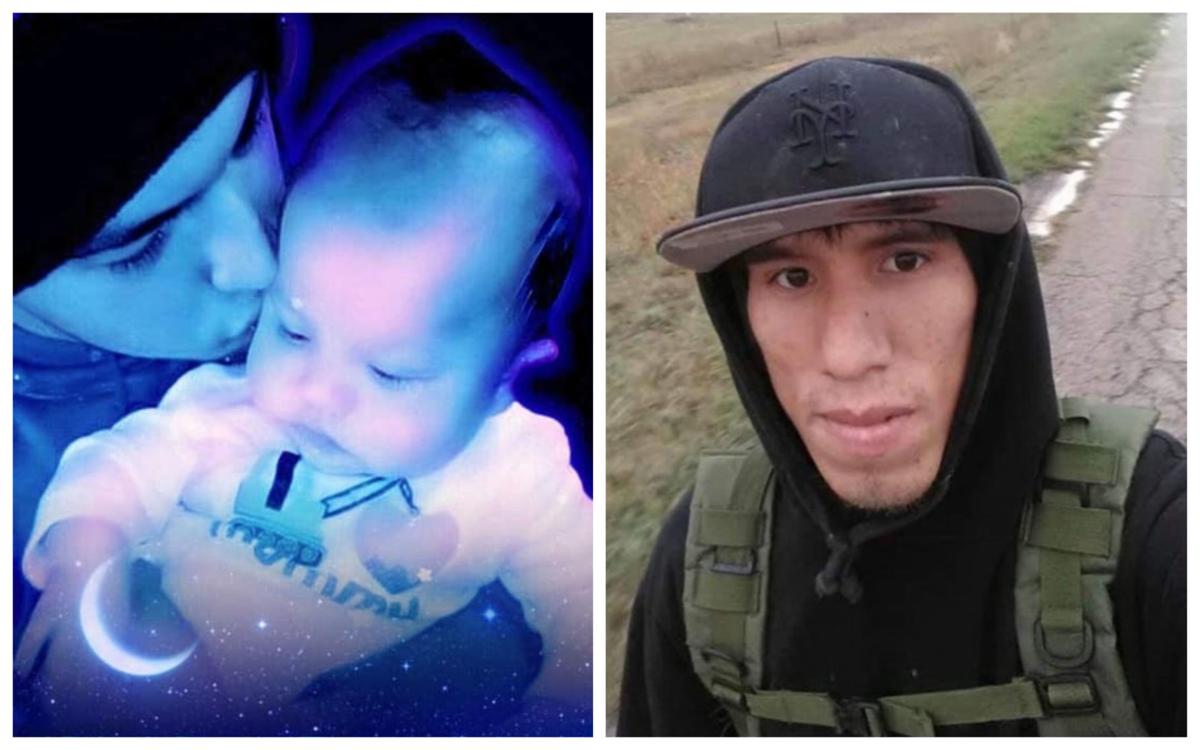 "It's a sad time but at the same time a happy time because we found them," said Willene Kills Enemy, mother of Robert "RJ" Kills Enemy Jr. and aunt of Vincent "Stevie" Little Dog.
"Although it wasn't the way we wanted, they still came home" which is a "major relief for me," she said.
"Right now my family is going through a hard time," said Garfield Steele, uncle to the cousins. "But at the same time we're feeling a lot of relief knowing that their bodies are back" and we can give them a proper burial.
RJ, 23, was found Friday, while Stevie, 25, was located on Monday, the family and Oglala Sioux Tribe wrote on Facebook.
Robert Ecoffey, chief of the Oglala Sioux Tribe's Department of Public Safety, said he's confident the bodies belong to the cousins due to the clothes they were wearing, but DNA testing will confirm their identities.
The cousins were last seen the night of Dec. 27 north of Manderson after a police officer pulled up to them and a third person, Ecoffey previously told the Journal.
The group took off running and the officer briefly pursued them, Ecoffey said. The third person made it to safety but the cousins didn't return that night, which had heavy snow, high winds and freezing temperatures.
The Oglala Lakota County Sheriff's Office, tribal agencies, and many volunteer organizations and individuals searched for the cousins by foot, horseback, ATVS, and with the help of dogs, drones and aircraft for more than a month. The formal searches were suspended in early February to wait until warmer weather melted away unsearchable snow drifts, creeks and marshes.
Steele and Willene said they're thankful for all the searchers; volunteers who supported the searchers with logistics, food and water; and for everyone who's called the family since the cousins were found.
How they were found
The first body was found early afternoon on March 13 when a rancher searching for a missing animal stumbled upon the body and called 911, Oglala Lakota County Sheriff Joe Herman told the Journal.
Herman said he called a coroner and they went to the site, about four or four-and-a-half miles south of where the cousins were last seen. The body appeared to be RJ and they did a cursory search in the nearby area for Stevie.
A snow storm was coming in so the initial search for Stevie was called off until Monday, Herman said. Volunteers, including Steele, found the second body Monday afternoon "fairly close" to the first body.
The cousins would have traveled through a difficult landscape, including streams, before ending up where the bodies were found in "pretty rough terrain" and ravines, Herman said. Searchers on horseback had previously been through the area but it was impossible to completely search and clear it when there was more snow.
Willene said her heart physically hurts when she thinks about what her son and nephew went through.
She and Steele previously told the Journal that they were concerned someone hurt RJ and Stevie. They pointed to scattered clothing found in the area, a plastic window cover with blood on it, and the fact that a group of people the cousins didn't get along with had stopped by Stevie's house.
Ecoffey said his investigation and the bodies don't point to any foul play, that the cousins likely died of exposure. Autopsies have already been completed and the doctor's final report will identify an official cause and manner of death.
He said officers interviewed the people who stopped by Stevie's house and found that the blood on the window cover wasn't related to this case. DNA found on the jacket did match RJ, but no DNA was found on his hat. The jacket was found nearby where the cousins were last seen while the hat was found between there and where the bodies were recovered, Herman said.
Willene said the family will hold a funeral for the cousins once their bodies are returned.
RJ and Stevie both enjoyed sweat lodges and other Lakota ceremonies, and were helpful to their families and greater community by cooking food for funerals, powwows and other events, family previously told the Journal.
Stevie, who lived eight miles north of Manderson, was a quiet person who enjoyed playing basketball. He and a twin brother were raised by their grandmother after their parents died.
RJ, who lived in Manderson, had recently started a new job to support his two-year-old son, girlfriend and her parents.
Sign up for our Crime & Courts newsletter
Get the latest in local public safety news with this weekly email.