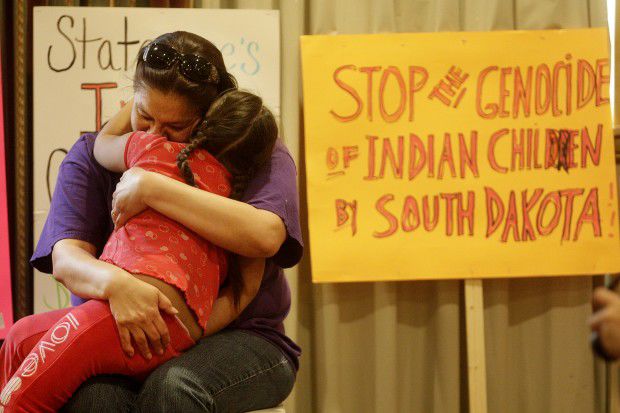 A federal judge ruled last week that the Indian Child Welfare Act — a decades-old federal law meant to keep Native families and tribes together — is unconstitutional.
Reed O'Connor, a federal circuit judge in Texas, wrote on Oct. 4 that ICWA is a "race-based statute" that doesn't meet the "strict scrutiny" required for such laws. Among other arguments, O'Connor also said ICWA illegally gives tribes the power to legislate federal rules and allows the federal government to dictate state practices.
ICWA, passed in 1978, says Native children removed from their homes should be fostered or adopted by a member of their extended family, other members of their tribe, or a family from another tribe unless there is a good reason to not to. 
The judge sided with the states of Texas, Louisiana and Indiana, the biological mother of a Native American child, and three couples who wanted to adopt Native children. The plaintiffs had sued the U.S. government and several federal agencies and their leaders to argue that ICWA is unconstitutional. Four tribal nations later signed on as defendants.
This is the first time a federal judge has ruled that ICWA is unconstitutional, said Matthew L.M. Fletcher, a tribal judge and director of the Indigenous Law and Policy Center at Michigan State University. He said it's unclear if the ruling is meant to apply nationwide, or only to plaintiffs in this case.
He said the ruling will be appealed to a federal appeals court and if that court also says ICWA is unconstitutional, "the chances are basically 100 percent" that the case will end up before the U.S. Supreme Court.
Fletcher, a member of the Grand Traverse Band of Ottawa and Chippewa Indians, said while the Supreme Court has heard cases related to ICWA in the past, it has so far refused to hear challenges to the entire law. He said he's not sure how the current court would rule on this case.
"If ICWA is struck down in whole or in part, the victims will be our children and our families, Native children and Native families," the leaders of the tribal defendants — the Morongo Band of Mission Indians and the Cherokee, Oneida and Quinault nations — said of the ruling in a press release.
"Before ICWA, as many as one-third of all tribal children were forcibly removed from their families and their communities by state governments. Thorough and objective analysis of the systematic removal of Indian children from Indian homes found many removals were wholly unjustified. These policies devastated tribal communities and we refuse to go back to those darker days," the release said.
Fletcher said if ICWA is repealed, tribes won't be able to intervene on behalf of Native children and states won't have to turn cases over to tribal courts. He said more indigenous children will be adopted far away from their families and raised without the knowledge and resources of their tribes.
Seven states and more than 100 tribes wrote letters in support of the defendants. The Goldwater Institute, a Phoenix-based libertarian organization that has challenged ICWA in courts, wrote in favor of the plaintiffs.
"Today's decision is a great victory for the rights of Native American children throughout the United States, who deserve the same strong protections against abuse and neglect as their peers of other races," Timothy Sandefur, the organization's vice president for litigation, said in a press release. "ICWA denies them that protection and prioritizes their race over all other considerations."
That notion that the law is race-based and an unconstitutional use of race is the longest and perhaps the most controversial part of O'Connor's ruling.
O'Connor said ICWA is a race-based law because it defines Native American children as any child who is not just a member of a tribe but is eligible to join one based on their ancestry. And he said ICWA doesn't pass the "strict scrutiny review" that shows that the law is narrowly tailored and furthers a compelling government interest.
"The statute is broader than necessary because it establishes standards that are unrelated to specific tribal interests and applies those standards to potential Indian children," O'Connor wrote. 
The defendants argued that ICWA defines Native children based on political categories related to tribal membership, not race. 
Fletcher said the Supreme Court has long held that Indian law, in general, is about "questions of politics, not race" and treaty relations.
While courts records show the defendants have yet to appeal the case, Fletcher said the U.S government always appeals cases it loses, and he is confident the tribes will join in, too.
In response to the ruling, the Department of the Interior, one of the government defendants, said it strongly opposes any effort to undermine ICWA.
"For nearly forty years, child advocacy organizations across the United States have considered the Indian Child Welfare Act to be the gold standard of child welfare policy, " Tara Mac Lean Sweeney, assistant secretary of Indian Affairs, said in a news release.
"The Department will continue to work with tribes and states to implement ICWA moving forward. We reiterate our support for ICWA's goals of ensuring the safety of Indian children, maintaining Indian families and promoting tribal sovereignty," she said.
Mark Vargo, state's attorney for Pennington County, said he has yet to read the ruling but doesn't anticipate the county will make any changes to how it handles ICWA-related procedures. 
He said the federal court's decision can be a persuasive authority for courts outside its jurisdiction in northern Texas. That means while the decision can influence outside courts, it's not an authoritative ruling that dictates what they must do. 
"Unless and until a South Dakota District Court, the Eighth Circuit or the U.S. Supreme Court ruled similarly, we will follow the law," Vargo wrote in an email. 
Vargo took a similar stance when he decided to keep to the status quo after a local federal appeals court recently overturned an earlier ruling that said the county must give parents more rights during initial ICWA hearings.