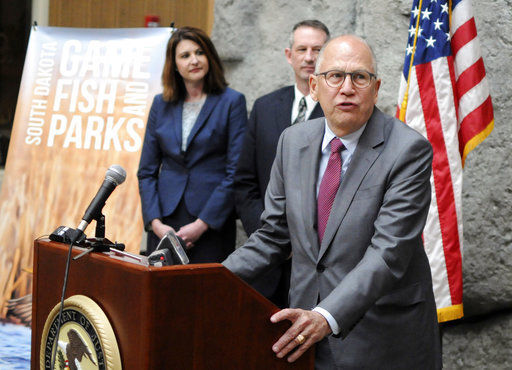 The first person in a Rapid City family's eagle trafficking business pleaded guilty Friday morning, court records show. 
Troy Young Fairbanks (Young) entered his plea at the federal court in Rapid City to the charge of violating the Bald and Golden Eagle Protection Act, a crime punishable by up to one year in prison and a $100,000 fine. 
Prosecutors will recommend Young be sentenced to probation and have agreed to drop his charge of conspiracy to commit wildlife trafficking, according to his plea deal. Young has agreed to pay a $1,000 fine plus an unspecified amount of restitution after being involved with transactions of a golden eagle, red-tail hawk and buteo hawk that are collectively valued at $13,600.
Young, his father Troy Fairbanks and his brother Majestic Fairbanks were three of 30 people and pawn shops indicted in 2017 as part of Project Dakota Flyer, a two-year investigation into the illegal black market for eagle and other migratory bird parts. 
Project Dakota Flyer used undercover techniques to purchase eagle and other protected bird parts from 51 suspects in South Dakota, Wyoming, Montana, Nebraska, Iowa and over the internet, according to Journal archives. People were found to be trafficking more than 35 species from every continent except Antarctica. 
The Fairbanks are enrolled members of the Standing Rock and Lower Brule Sioux tribes and were involved with Buffalo Dreamers, Troy's dance group, according to Journal archives. But they were also involved in the illegal eagle trade from July 17, 2014 to Feb. 11, 2016, according to the factual basis document Young signed.
The federal government learned about their business in 2014, when a non-Indigenous confidential informant (CI) learned that Troy was involved with killing and selling eagles and eagle parts, the document says. 
Young offered to sell the CI a Cheyenne Dog Soldier headdress made of more than 800 turkey feathers that year, the document says. Then, in 2015, Young helped his father sell raptor feet, an eagle head, eagle wings and 223 loose feathers to the CI for $6,021. Troy also showed the CI an eagle feather bustle that Young had built using four birds. 
The USFWS forensic lab found that the items purchased by the CI came from at least two golden eagles, three bald eagles, two hawks, one white stork, one Himalayan vulture and one Andean condor, an endangered species, the document says. 
Troy and Majestic are scheduled to plead guilty on Dec. 6, Troy at 9:20 a.m. and Majestic at 9:40 a.m.