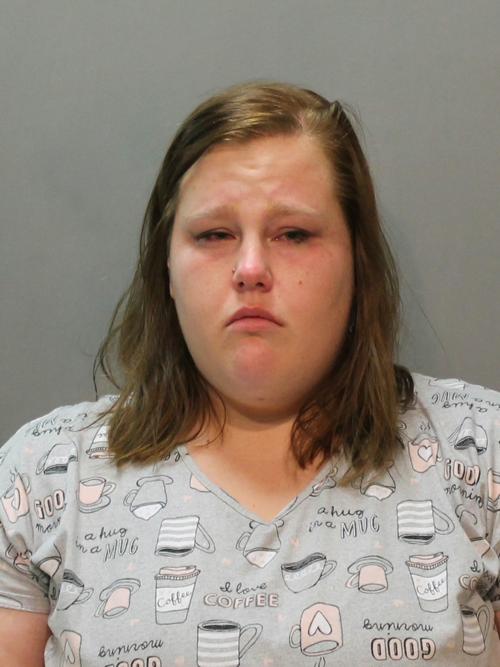 A former Rapid City special education teacher was sentenced Thursday to probation and community service for repeatedly hitting a 12-year-old boy, who is unable to speak or walk, in the head with a ball.
"We trusted her" and "she broke that trust, just completely smashed it," the boy's grandfather said of Shea Lindsey. "We don't want her teaching again."
Lindsey, a 26-year-old former middle school teacher, was sentenced to one year of supervised probation and 100 days of community service during the hearing at the Pennington County Court. 
Judge Jane Wipf Pfeifle also ordered Lindsey to pay a $1,000 fine, complete moral reconation therapy, and have no unsupervised contact with anyone under the age of 18 during her probation term. The judge said Lindsey can be sent to jail for up to 180 days if she fails to follow any of the orders.
Lindsey, who was out of jail after posting bond, was sentenced after pleading guilty in June to simple assault for the May 13, 2019 incident. She could have been sentenced up to one year in jail.
Wipf Pfeifle said she wouldn't send Lindsey to jail since both lawyers were OK with probation and community service, and because evidence shows it's unhelpful to do so for people like Lindsey with no or limited criminal history.
Lindsey was hired by Rapid City Area Schools in August 2018 and had a clear background check, the school spokesperson previously told the Journal. She was placed on administrative leave on May 14, 2019, the day the school learned about the incident.
A surveillance video played during the hearing showed a group of students and teachers playing in a school gym. Lindsey stands next to the 12-year-old student who is in his wheelchair. 
Lindsey then picks up a large blow-up exercise ball and hits it against the boy's head before it bounces back to the ground and her hands. She repeats the action several more times before her supervisor walks over. She hits the boy one more time directly in front of the supervisor. 
The student's disability means he couldn't tell Lindsey to stop, lift his hands to catch the ball, or move away, said Prosecutor Lara Roetzel. She said the video shows the hit made the boy's head move each time and that the last throw moved the entire wheelchair. 
Lindsey "absolutely knew" the student wouldn't be able to catch the ball but took "six direct shots" at his head, Roetzel said.
Roetzel said Lindsey's interviews with court services and mental health professionals show she "takes no responsibility" for what she did. She said Lindsey believes the charge is a false accusation and that it was a "he-said, she-said situation."
Roetzel said that situation is impossible since the student can't speak for himself.
The video is "very disturbing," the boy's grandfather told the judge. "He couldn't run away."
The grandfather said the family has had wonderful experiences with Rapid City's special ed teachers until this incident. He said he hugged his grandson after school that day and he flinched, something he's never done before.
Roetzel asked the judge to sentence Lindsey to a year of supervised probation and either 10 days in jail or 100 days of community service.
Paul Andrews, Lindsey's private defense lawyer, said his client had a provisional teaching license and agreed to let it expire and never teach again as part of the plea deal.
He said Lindsey did think the child abuse charge was a false accusation and was referring to that charge, not the one she pleaded guilty to, when speaking with court services and mental health professionals.
Andrews said his client agreed that the simple assault occurred only during the last hit, when her supervisor told her she was being too rough.
Lindsey had a "good reputation" as a special ed teacher before this incident as evidenced by letters of support from students' parents, Andrews said. "She understands that what she did was wrong."
Lindsey read a letter apologizing to the boy's family and said she understands she "could have hurt him."
"Could?" Wipf Pfeifle interrupted.
Lindsey responded that she didn't intend to hurt the boy and she regrets what she did. It "could be viewed" as trying to hurt him, she later said.
Lindsey said she loved working with the boy and misses him and all of her other students.
Andrews asked Wipf Pfeifle to sentence his client to one year of probation plus the community service.
Wipf Pfeifle said she believes the letters from the other parents but they aren't relevant to what she did to this student.
You're "still struggling to take responsibility" by saying you only knew it was wrong to hit the child after your supervisor told you so, she told Lindsey.
Sign up for our Crime & Courts newsletter
Get the latest in local public safety news with this weekly email.