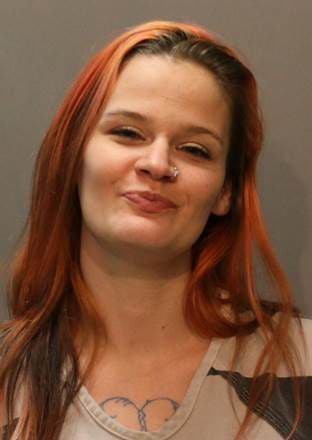 The fourth and final suspect in a fatal motel shooting, assault and kidnapping was arrested Monday morning in Rapid City after evading authorities for nearly a month.
Tracy Laughlin was taken into custody during an 11:40 a.m. traffic stop near Eglin and East North streets, according to a news release from the police department. 
Laughlin was not found during a chance traffic stop, according to police spokesman Brendyn Medina. The Pennington County Sheriff's Office Warrants Task Force was in the area and made the stop after learning where Laughlin might be hiding out. 
Laughlin, Travis Nelson, William Long and Gilbert Reyna are all charged with aiding and abetting first-degree murder for allegedly killing Jesus Vance while committing a kidnapping on April 9, according to their indictment.
The four defendants will face the death penalty or life in prison without parole if they are convicted of their murder charge. 
Before Laughlin was found, there were multiple social media posts saying she had died by suicide. It's unclear if those posts originated from someone who truly thought Laughlin had died, or if Laughlin and/or a friend started the rumor to try to avoid police detection, Medina said. 
"Rumors are hard to trace back to their source," he said. "Not knowing where it started, we really don't know what the motivation is." 
It's unclear if the kidnapping mentioned in the murder charge relates to the alleged kidnapping of a surviving victim or Vance as well. 
The four defendants are also charged with aggravated assault and second-degree kidnapping against Jake Williams.
They allegedly used a "cutting instrument" against Williams, a 37-year-old from Rapid City who was found outside the motel with cuts to his face that required staples to heal, according to police reports.
Williams was allegedly found with methamphetamine, a gun holster, a gun magazine and 9 mm rounds, according to police reports and a federal indictment. 
He is charged in state court with meth possession and in federal court with illegally possessing the ammunition since he has been convicted of a felony. 
The four murder suspects were identified after police detained and sought interviews with everyone inside two cars that were pulled over April 9 after surveillance footage captured the vehicles fleeing the motel shortly after the shooting. 
Reyna and Long were arrested while everyone else from the cars were released. Laughlin and Nelson were also charged but had escaped before police pulled over the vehicles, Medina said. 
Nelson was arrested last Thursday after officers learned he was in Box Elder and a police dog found him hiding in a culvert on Bennington Drive. He made his initial court appearance on Monday morning but no new details about the incident were revealed. His bond was already set at $500,000 cash-only. 
Witness interviews lead police to believe there is a "drug distributing component" to the shooting, Medina previously said. Police also believe Vance and the five defendants knew each other.
It's unclear how the alleged kidnapping and assault of Williams are related to the shooting of Vance and what preceded both incidents. Most police reports are sealed and police and prosecutors are declining to comment due to the ongoing investigation.
Vance, a member of the Cheyenne River Sioux Tribe, is from Takini on the reservation but grew up in Rapid City, several states outside of South Dakota and in Germany while living with his aunt, who is in the Army. He had been living in Rapid City since May 2020.