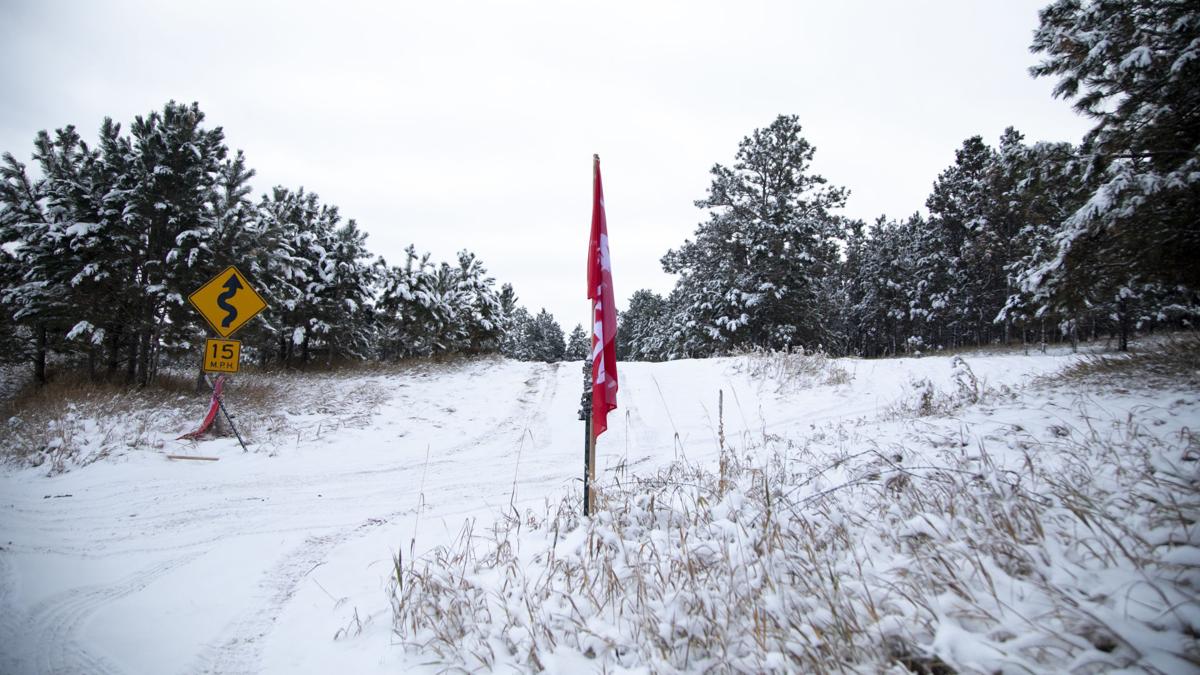 Six people are facing city and state charges for allegedly setting up a Rapid City homeless camp without the proper requirements and then obstructing and/or resisting being arrested after refusing to leave.
"Just because (the land is) owned by the city doesn't mean that the public can do whatever they want on that property or that they own it," City Attorney Joel Landeen said Tuesday. "You can't just do stuff without permission … On some level it's common sense, you can't just start setting up structures on city land without permission, as a general rule."
Supporters say they are being criminalized for helping people, and that law enforcement and the courts don't have jurisdiction since the group was on land that was stolen by the U.S. government after being promised to the Lakota people in now-broken treaties.
The group of six were "remaining in ceremony in an act of defiance against ongoing settler-state violence towards unsheltered relatives," Camp Mniluzahan and Creek Patrol posted on its social media outlets. "These charges hold no validity on stolen land. This is Oceti Sakowin territory. We are caring for our relatives on our homelands."
Join us for court support on Tues. Dec. 15th! We will begin at NDN Collective at 7:00am. Please honor Covid safety protocol and prepare to be masked and physically distanced. Pilamayapi for your continued support and solidarity.https://t.co/oqmhX9RZhC pic.twitter.com/Jt6jXmxAh9

— Camp MniLuzahan (@CampMniLuzahan) December 12, 2020
Daniel Yazzie, Mark Tilsen Jr., Hermus Bettelyoun, James Pipe On Head, Mary Frooman and Carrie Middletent were all charged by the Pennington County State's Attorney Office with obstructing police officers. Tilsen, Frooman and Middletent were also charged with resisting arrest.
All six were later charged by the Rapid City Attorney's Office with breaking three Rapid City codes related to trespassing and failing to obtain permits for special events and structures in flood plain zones.
The state's attorney deputized the city attorney's office to handle both cases, Landeen said. The obstruction and resisting charges each carry a punishment of up to one year in jail, and each code violation can be punished by up to 30 days in jail.
Landen said the city charges are "related to the legality of their occupancy of the area in the first place, setting up the camp in the first place," while the state charges are related to the "action of the defendants after they had been asked to leave and refused to do so."
The six people, all or most of whom are regular volunteers at the camp, declined to comment during a court hearing on Tuesday. Creek Patrol and camp volunteers have declined requests to be interviewed about the need for the patrol and camp — what they provide that the city and nonprofits don't — how the camp is connected to the Land Back movement, and the day-to-day operations of the camp.
The police reports shed light on the alleged actions of the six people and response from law enforcement.
At least 19 officers responded to the camp by arriving at the tipis or working from behind the scenes, according to the reports.
An officer wrote that he was contacted by his supervisors as the tipis were being set up around 4:30 p.m. on Oct. 16. He said he arrived on scene and saw Captain James Johns telling the group to take down the tipis.
The Rapid City-Pennington County Mobile Response Team was sent to the scene two hours later, the reports say. Although the team arrived and was on standby, they did not end up deploying, according to police spokesman Brendyn Medina.
"Their training and operations are focused more around large gatherings and keeping the peace and being able to disperse unlawful assemblies," he said of the MRT.
Officers wrote in their reports that they provided the group setting up the tipis with maps and handouts of city codes so it knew it was in a flood plain zone and violating city code, but group members responded that they weren't in that zone. They said they negotiated with the group for hours to avoid arrests. 
The group began taking down the tipis around 8 p.m. after Johns said he would declare an unlawful assembly if they didn't do so, Lt. Mark Eisenbraun wrote in his reports. Three were taken down "fairly quickly," an officer wrote.
Officers realized around 10:05 p.m. that there hadn't been recent progress on the fourth tipi so Johns told a woman that if the group didn't start taking it down by 10:20 p.m. he would declare an unlawful assembly, Eisenbraun wrote. The woman communicated that message to the group inside the tipi, which said it planned to stay inside. 
No action was taken, Eisenbraun wrote, so Johns approached the tipi at 10:20 p.m. to tell the group that this was an unlawful assembly and if they don't immediately take the tipi down, officers would, and anyone who interfered with them would be charged with obstruction. The group continued singing and didn't respond but one man eventually left.
An arrest team approached the tent and Eisenbraun said he told the six remaining people that if they leave now they won't be arrested, but if they remain they would be arrested and charged with obstruction. Eisenbraun said he ordered the arrest team to start making arrests because the group continued singing after his second final warning. 
The group sang while linking arms as the officers began arresting them, according to police reports and videos posted to social media. 
"These six people made a conscious choice to stay there knowing the consequences and essentially forcing the police to arrest them," Landeen said.
Eisenbraun wrote that some of the people resisted arrest so were charged with that crime. Tilsen is described as resisting being handcuffed but officers wrote conflicting accounts about the two women.
Some say Frooman complied but Middletent resisted by holding onto poles and ropes within the tipi to prevent officers from taking her away and then acting as a deadweight. However one officer describes one woman as holding onto the tipi while another acted as a deadweight.
Refusing to leave an area after being ordered to do so and then resisting arrest is a common tactic used by people during civil disobedience protests, such as during the July 3 protest and the Civil Rights Movement.
Courts have ruled that even if people think they are being unlawfully arrested, or a judge or jury later agrees that they did not commit an underlying crime, they still aren't allowed to resist arrest, said Landeen, a former criminal defense lawyer. He said people should make this argument through the courts, not with law enforcement.
There is a "public interest in not encouraging people to resist arrest, to (instead) comply with police orders," he said, adding that it would be difficult if each officer had to have a legal debate with people before arresting them.​