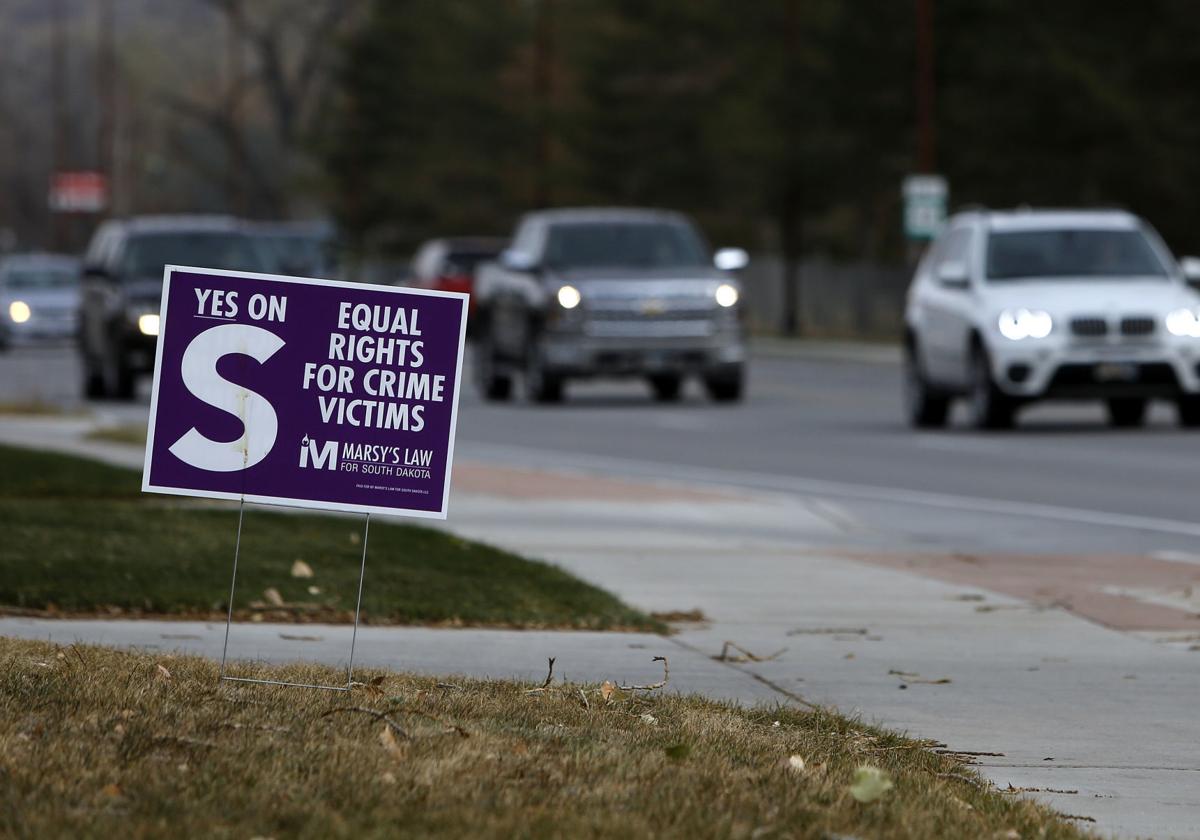 A victim's rights group wants South Dakota officials to prioritize crime victims when making decisions about releasing inmates due to the coronavirus outbreak. And it accused the ACLU of ignoring the state's constitution. 
"While Marsy's Law for South Dakota appreciates the need to take extraordinary measures to prevent the spread of COVID-19, government and criminal justice officials must also remember that victims have rights enshrined in the South Dakota Constitution that must be considered," the organization said in a Monday news release.
"ACLU of South Dakota's call to release offenders and prisoners, without consideration for victim rights, ignores the constitutional rights of all South Dakotans," national outreach director Erinn Mahathey was quoted as saying.
Marsy's Law for South Dakota led the successful 2016 ballot measure to add a Crime Victims' Bill of Rights to the state's constitution. Voters approved the constitutional amendment with a 60% margin. In 2018, 80% of voters approved changes to the amendment that make victims opt into most of their rights. The national group, Marsy's Law for All, has helped pass similar amendments in nine other states.
The group's press release came after the Journal reported last week that the ACLU of South Dakota wants officials to release certain groups of defendants from jail and inmates from prison to help prevent the spread of the virus.
"We have not and would not suggest that victims' rights be ignored," ACLU Policy Director Libby Skarin told the Journal. "But we can't pretend that this public health crisis is business as usual. The lives of inmates, staff and anyone they've come in contact with inside or outside of South Dakota's correctional facilities are at stake."
Public health officials say the best way to prevent COVID-19 is to avoid large crowds and close contact with others, and keep yourself and your surroundings clean.
This is often difficult or impossible to do in jails and prisons, which house hundreds of people in close quarters, and have workers and new inmates — some from out of state — coming and leaving each day. Inmates also have access to fewer sanitation products than those in the outside world.
An inmate in the low-security unit of the women's prison in Pierre tested positive for COVID-19, officials announced Monday. Nine women escaped from that unit later that day and one of them — who's awaiting COVID-19 test results and has symptoms of the virus — was arrested in Rapid City and booked into the Pennington County Jail.
Marsy's Law, Vargo respond 
"Marsy's Law for South Dakota urges government officials to prioritize their constitutional duty to allow victims to be notified and heard before the release of inmates or pretrial offenders, while taking any measures to address the potential spread of COVID-19," Mahathey said in the news release. "Notification of inmates' release — whether early or on schedule — is now a constitutional right provided to crime victims."
"We appreciate that government and law enforcement officials must make difficult decisions to help alleviate the spread of COVID-19, and we support extraordinary efforts to contain this global pandemic," Mahathey added. "But we want to make sure the interests of victims are considered and their constitutional rights are upheld throughout every step of the criminal justice process, even in this time of crisis."
Marsy's Law created 19 crime victims' rights within the Bill of Rights section of the South Dakota Constitution, and most of them say the rights are available "upon request."
Victims have the automatic right to have "the safety and welfare of the victim and the victim's family considered when setting bail or making release decisions," the constitution says. Upon request, they can also have the right to receive notice of and to be present at all court proceedings, including those that involve inmates being released. 
Mark Vargo, Pennington County State's Attorney, said his office and judges always follow Marsy's Law, including during the COVID-19 outbreak. 
Vargo said prosecutors always discuss bond with victims when a defendant is first arrested, and the victim is told that defense lawyers can bring up bond — and a judge can decide to modify it — at any future court date.
He said prosecutors don't call victims before every single hearing, but prosecutors remember the input victims give, and victims have the right to contact prosecutors about bond or other concerns. 
Victims can also sign up for SAVIN, a free and confidential state program that provides automatic notifications about the status of inmates, such as when they are moved to a different facility or released.
"We can't simply ignore the circumstances our community is facing" and how COVID-19 has created the need to ensure safety within the courthouse and for jurors, inmates and staff, Vargo said. "We continue to have both victims and public safety in every decision that we make." 
Vargo said that a jail review team, comprised of members from across the local criminal justice system, has been analyzing jail inmates to see if their bond can be reduced or cancelled, but it's ultimately the judge who decides what to do.
We're "reserving the jail for people that have a violent history or people who have a violent offense" or are a "very clear danger to the community" for racking up multiple DUIs, he said. 
The "overwhelming majority" of people being released are accused of crimes without a direct victim, such as drug crimes or probation violations. He said a few people accused of forgery or non-violent thefts may be released. 
Marsy's Law is named after Marsalee "Marsy" Ann Nicholas, a college student who was stalked and killed by her ex-boyfriend in 1983, the news release says. A week after Marsy was killed, her mother and brother were confronted by the accused murderer, who they had no idea had been released on bail. In an effort to honor his sister, Henry Nicholas formed Marsy's Law for All in 2009 to help add victims' rights to state constitutions and provide resources to other victims' rights organizations. 
Concerned about COVID-19?
Sign up now to get the most recent coronavirus headlines and other important local and national news sent to your email inbox daily.