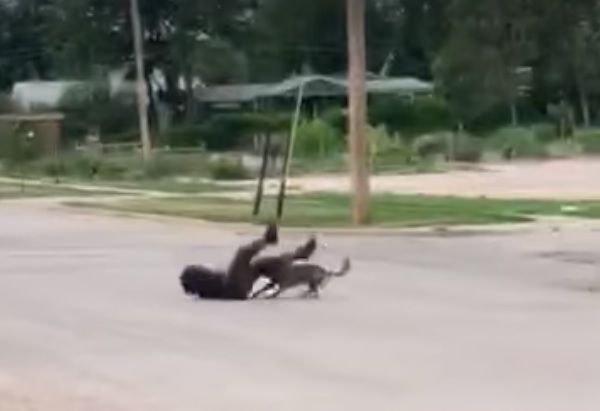 A state trooper had his police dog attack a man in Rapid City after the man said a teenager walking behind him had a gun, the Highway Patrol said in a Friday evening news release.
That statement can't be heard in a witness's video of the incident. The news release largely lines up with what is seen in the video and what a witness told the Journal.
Highway Patrol is currently investigating the incident. The release did not name the trooper or say whether he is on leave or any modified duty during this time.
The trooper observed two people — a man and a teenage boy — fighting with each other and trying to fight others at 3:41 p.m. on Friday near the intersection of Pine and East Watertown streets, the release says. The trooper told both people, who appeared to be under the influence, to go home.
A 30-second video of the incident filmed by Ethan Zain, an 18-year-old Rapid City resident, shows the trooper telling the man to "come here" twice. Zain said the trooper spent about five minutes telling the two people to stop moving but they didn't listen.
The man also cursed at the trooper, kept walking towards him and tried to physically engage him, the release says. The trooper again told the pair to go home but the man kept approaching the trooper, who told him to stop multiple times.
The man then told the trooper that the teen had a gun, the release says. Both people approached the trooper which is when he had his dog attack.
The video shows the man standing at close range to the trooper and dog as the teen walks towards them from across the street. The teen is nearly at the man when the man lunges toward the trooper and dog. The dog almost immediately attacks the man.
There was then a "violent altercation" between the man and the dog, the release says. The trooper deployed his stun gun to subdue the man until backup arrived.
The video shows the dog attacking the man and the man hitting back with this hands and feet for about 30 seconds. The trooper is then seen using his stun gun. Zain said he didn't hear the trooper give any warning about using the weapon.
The man was taken to the Rapid City hospital for serious but non-life threatening injuries, the release says. He's charged with disorderly conduct, interfering with a law enforcement support animal, and assaulting, threatening and interfering with a law enforcement officer.
The teen was taken the to the Pennington County Juvenile Jail and is charged with obstruction and interfering with the animal. The video shows the teen was trying pull the dog off the adult suspect.
Highway Patrol will update the public as it continues to investigate. ​