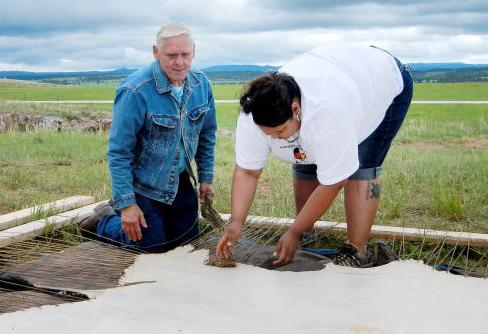 A Hot Springs man who works in Indigenous northern plains art owes $29,900 in restitution and fines for illegally selling bald and golden eagle parts.
Larry Belitz, 77, was sentenced July 10 at the federal court in Rapid City to one year of probation and ordered to pay $19,900 in restitution to the U.S. Forest Service plus a $10,000 fine after pleading guilty to violating the bald and golden eagle protection act.
Belitz illegally possessed and sold bald eagle, golden eagle, and other protected migratory bird parts as part of his business between February 2013 and February 2015, according to a news release from the U.S. Attorney's Office in South Dakota.
He was originally indicted on a count of violating the Lacey Act, two counts of the migratory bird treaty act, and two counts of the bald and golden eagle protection act.
Belitz owns Sioux Replications, a mail order business that specializes in constructing and selling Native American art, according to the factual basis document he signed. He also runs the Lakota Cultural Museum.
The Lakota Cultural Museum says it owns items that belonged to Crazy Horse and Black Elk, pipes smoked by tribal leaders as they signed historic treaties with the U.S. government, and items from the massacre and later occupation at Wounded Knee.
The Sioux Replications website says Belitz has written books and created DVDs; taught Native American culture and history courses; and served as consultant for or loaned items to the Smithsonian, movies and documentaries. Belitz says he and his wife serve meals and teach the Bible twice a month on the Pine Ridge Reservation.
Belitz was one of 30 people and pawn shops indicted in 2017 as part of Project Dakota Flyer, a two-year investigation into the illegal black market for eagle and other migratory bird parts.
Project Dakota Flyer used undercover techniques to purchase eagle and other protected bird parts from 51 suspects in South Dakota, Wyoming, Montana, Nebraska, Iowa and over the internet, according to Journal archives. People were found to be trafficking more than 35 species from every continent except Antarctica.
Eagles are sacred and play an important cultural and spiritual role in many Native American cultures so tribal members can keep feathers they find, kill eagles with a permit, and lend and exchange feathers for free, according to a fact sheet by the U.S. Department of Justice. Native Americans can sell art made with eagle parts but can only be compensated for the labor and other material, not the value of the birds parts.
Belitz declined to comment on his conviction when contacted by the Journal.