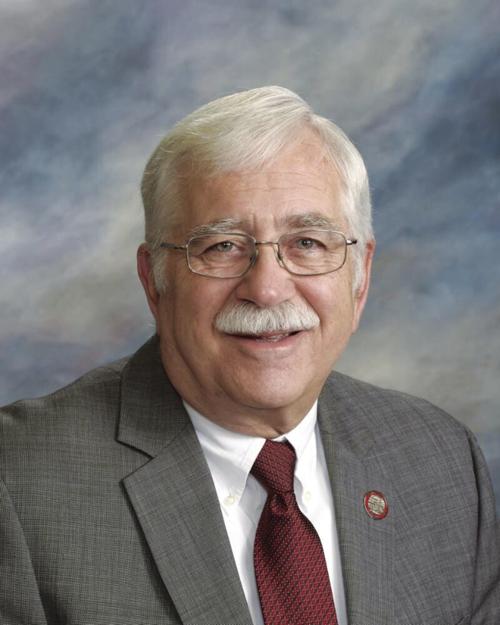 A House committee killed a bill Monday that would have given young people convicted of serious crimes the chance to ask for parole once they turn 50 after the bill narrowly passed in the Senate.
"We have made promises to the victims and to the public that life means life in South Dakota" and there's already "an option for these folks through the executive clemency process," said Charles McGuigan, Chief Deputy Attorney General.
"All you've heard here is scary stories, and I won't deny that every one of these people committed a horrible crime. The question is that we need to balance that retribution and that rehabilitation," countered Sen. Arthur Rusch, a former judge and prosecutor who introduced Senate Bill 146.
SB 146 would limit sentences of life in prison without the chance of parole to those who committed their crimes when they were 26 or older. People between 18 and 25 would be eligible for parole when they turn 50.
The bill, which is retroactive, would eventually impact 73 prisoners serving life without parole for crimes they committed when they were 25 or younger, McGuigan said. Thirty-three are serving time for first-degree murder while 20 are in for second-degree murder. Eleven were convicted of first-degree manslaughter while nine are in prison for other crimes.
Proponents included Rusch and Rep. Charlie Hoffman, a Republican from Eureka.
"If we are a country of forgiveness and not revenge, this bill makes great, compassionate sense," he said.
Committee members heard testimony from lobbyists for an anti-death penalty group and the criminal defense and trial lawyers associations. They also heard from Stephen Manlove, a Rapid City psychiatrist who evaluates criminal defendants, and Darrell Middletent, a longtime councilman for the Lower Brule Sioux Tribe who visits people in prison.
Manlove has testified that science shows that the decision making and impulse control parts of our brains don't fully develop until we are 25. That's why studies show people are much less likely to commit violent crimes after the age of 25, he added.
Others stressed that the bill is not a "get out of jail free card," that it only gives people the chance to ask for parole and the board will only let people out if they are rehabilitated and safe to live in the community. They said the bill will save taxpayer money by no longer incarcerating these people for the rest of their lives. 
Proponents say the fact that Gov. Bill Janklow commuted the life sentence of Debra Jenner — who was convicted of murdering her daughter — but the parole board has repeatedly refused to grant her parole, is evidence that this new law will work.
McGuigan and Paul Bachand, executive director of the state's attorneys association, opposed SB 146.
If people's brains don't develop until they are 26, why do South Dakota laws allow 18-year-olds to get married, sign contracts and serve as mayors, Bachand asked. 
"If you buy that, there's a lot of things you have to change," he said. "We don't buy this concept of age."
He said he's worried the bill would be used by Briley Piper, the only South Dakotan on death row, to argue for a new trial since he was under 26 when he and two others burglarized, kidnapped, tortured and murdered 19-year-old Chester Allan Poage at his Spearfish home and in Higgins Gulch in 2000.
Arguments about SB 146 opening appeals for cases unrelated to the bill are "bogus," Rusch told the Journal.
Judges will also begin to sentence young people to extremely long sentences with the chance of parole rather than life without parole, McGuigan argued. The South Dakota Supreme Court has upheld a sentence of 261 years with the chance of parole for a 16-year-old who helped kidnap a taxi driver who was then murdered by his friend. 
Lifers can already seek parole through executive clemency, McGuigan added. He listed six people who've had their life sentences commuted to a term of years, including three who've already been released.
SB 146 would give young lifers the chance to also go to the parole board because governors grant a "very minimal" amount of clemency requests, Rusch told the Journal. 
McGuigan said there are experts who question whether a lack of complete brain development means people can't fully understand the consequences of their actions and be viewed as fully culpable.
Rusch argued the research should mean that young people are less culpable and have the chance to change as they grow up.
Rep. Doug Barthel, a former Sioux Falls police chief, said juries convict defendants "knowing full well what the sentence would likely be … That group of 12 unanimously decided that they were comfortable with that, they knew what was coming for (the defendant)."
His statement contradicts South Dakota law, which explicitly bans judges and lawyers from telling jurors what maximum or mandatory punishment the defendant will face if convicted. The only exception is for death penalty cases, where the jury decides the sentence. 
Rep. Bethany Soye asked about recidivism data for people convicted of homicides in other states with similar laws to SB 146, but Rusch said he didn't have that specific data.
A report from the U.S. Department of Justice that analyzed two-thirds of all prisoners released in 1994 found that those convicted of homicide had the lowest three-year arrest rate compared to people convicted of other crimes. 1.2% were re-arrested for another homicide.
Homicide offenders are less likely to recidivate than people incarcerated for non-violent crimes, according to the 2020 "Understanding Violent-Crime Recidivism" study. However, when they do recidivate, they tend to commit more violent crimes and homicides.​